Wednesday' August 8' 1984 — to Ngorongoro Crater
This is now Wednesday evening in our game lodge room in Ngorongoro Wildlife Lodge. Fifteen feet outside my window begins a descent into the Ngorongoro Crater' the floor of which is two thousand feet below. The circular Crater floor has a diameter of a little more than ten miles' with an area of about one hundred square miles. A salt lake sits in the middle. Within the Crater walls reside a profusion of protected wildlife. The day has been exciting and delightful' but I am ahead of myself. Our Africa trip began last Sunday' August 5' and I have just now had time enough to write about it.
Author's Note: In 1984 my wife Aggie and our son John traveled to Tanzania and Kenya for a safari experience. John was then eleven years old — a terrific age to appreciate the wonderful sights. This tour was strictly for sight–seeing and taking photographs.
On Sunday' Aggie' John and I drove to Columbus in time to catch the 11:55 a.m. flight to New York. At JFK Airport we found the International terminal where we boarded an Iberian flight to Madrid. At Madrid we changed to a flight to Frankfurt. At Frankfort we took a room at the Hotel Sheraton for about six hours' and then boarded a flight to Adis Ababa. There we changed to a flight to Kilimanjaro Airport near Arusha' Tanzania. Bert von Mutius' our Tanzanian guide' met us at Kilimanjaro and escorted us to Ngorongoro. We arrived here last night at 7:30 p.m.
The travel was more than tedious; it was exhausting. We spent about forty–eight hours straight either flying or sitting around airports or waiting for a flight in the Frankfurt airport hotel. We managed about three hours of sleep per day in this travel. This is not recommended.
The Ethiopian Airline plane was the least burdensome. Its food was tolerable' and the stewardesses were quite pretty. Aggie and I decided that the Ethiopians' typical skin color is like black coffee with a little' but not a lot' of cream mixed in.
I knew we were in Africa when I saw the military watch towers on Addis Ababa's airport perimeter. Addis Ababa is the capital of Ethiopia' in about the middle of the country. I thought Ethiopia would be arid and brown' but on the descent the land appeared green and rolling' with few trees.
The Kilimanjaro Airport terminal at Arusha' near Mount Kilimanjaro in Tanzania' is an ugly structure made of unpainted poured reinforced concrete. Construction had never been completed' for I saw lots of missing ceiling tiles' and the electric outlet holes had no electric apparatus in them. The place looked tacky. Most of the public buildings built since Independence (around 1961) look tacky. I suppose there is only so much money available for capital improvements' and an awfully lot to do. As a result' buildings are cheap and look cheap. Aggie and I believe that African shambas' or huts' fit much better into the African landscape than do these so–called modern buildings.
Upon entry at Kilimanjaro Airport' we were told to fill out two forms' one to identify us and the other to declare how much money we brought in. We will not be allowed to sell dollars on the Tanzanian black market' nor to buy goods in dollars. We shall have to change money into Tanzanian shillings' at about sixteen shillings to the dollar. Then on the way out we'll declare how much money we changed' and show the receipts for money changing. The trouble is' nobody counted our money on the way in. We could easily have understated our cash' and then had dollars to spend on the black market. Also' nobody checked our luggage on entry through customs. Obviously the Tanzanians very much desire tourist business.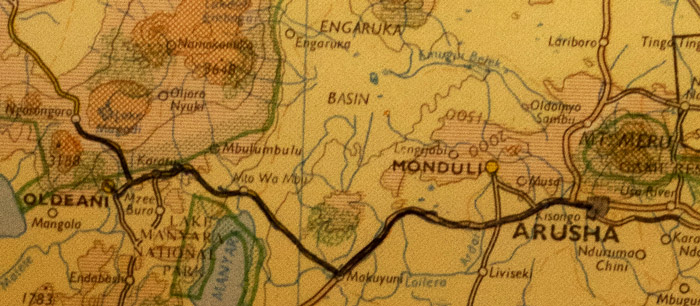 map

o

f arusha

t

o ngorongoro
After entering the country' Bert von Mutius' our professional guide' took the ten of us in two VW minibuses to Mount Meru Game Lodge for lunch. Mount Meru is a companion mountain to Mount Kilimanjaro. Both mountains were completely obscured by low–lying clouds. At the lodge we saw beautiful sweet–smelling flowers' mostly bouganvilleas. The lodge keeper also kept around some wild game such as zebras and antelope and water birds such as flamingos.
After the late lunch we commenced a four–hour drive to Ngorongoro Crater. Tanzania is one of the ten poorest countries in the world. It looks it. There were no attractive buildings on the route through the outskirts of Arusha town to the Crater. We saw few motor vehicles. There were lots of corn patches' some banana trees' and a good bit of coffee planting. On occasion a farmer had planted banana trees mixed in with corn on the outer boundary of his coffee field.
The countryside seemed neither lush and rain–foresty' nor dry and desolate. The temperature was pleasant' about seventy degrees. The humidity seemed neither too wet nor too dry. The sky was overcast.
Bert explained that Tanzania features lots of different habitats in a relatively short range. There is lush forest. There is dry plain. There is considerable farmland' although only 10–12% of the arable land is under cultivation. Most of the wild game country is not arable; it is best suited for National Parks' wild animals' and tourists.
As you drive through the countryside' you see a lot of people on foot. They do not have automobiles' but the people do seem to have some place to go to. They do not just stand around. Bert said this is relatively fertile and prosperous farmland' and few people starve here. People do starve in other parts of the country. Bert maintains that starvation is a result not only of lack of food' but also of the lack of a road network to move food from the lands of plenty to the lands of privation.
Not everybody near Arusha was poor. We saw a very large coffee plantation run by a Swiss. I'll write about socialized land ownership in a later entry. We saw an airstrip near the coffee plantation where five or six private planes parked.
How can I describe my initial impression? Africa smells different. Profuse flowers. Wood smoke. The people look different. Not only are there more blacks here (white men are unusual to see about)' but the blacks often dress in native costume. We saw a fellow in what I took to be a Sudanese skirt. Many ladies wore long shawls and full–hanging clothes. Many Arusha and Masai tribesmen wear red or white cloaks. We very commonly saw a tribesman driving several cattle along the side of the road or across a field. The cattle look different. Most of them have a fatty hump at the shoulder—just like the cattle you see in National Geographic all the time. The trees look different. There are lots of acacia trees' with the flat tops. Baobab trees have very thick trunks. Lots of trees are bearded with Spanish moss and filled with weaver bird nests. Sometimes a honey log' tended by native beekeepers' hangs from a tree branch. The roads look different. There are few of them. Almost all are single lane; not very many are paved. The paved roads are in various stages of disrepair. The best roads are well–packed unpaved lanes' at which teams of laborers use hand tools to repair water wash-outs.
Ngorongoro Crater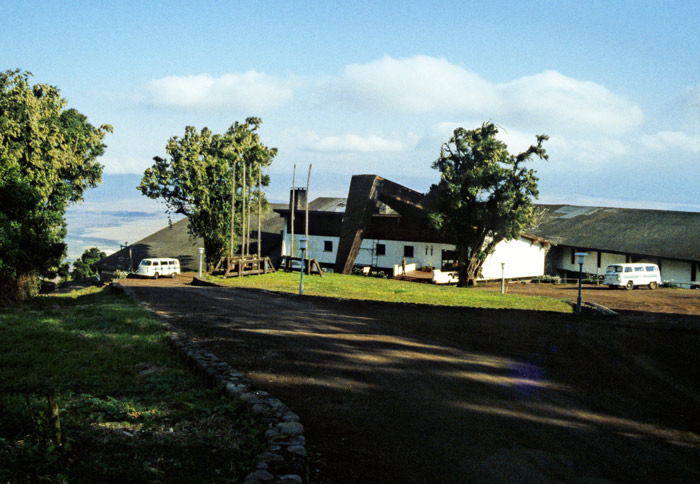 ngorongoro wildlife lodge
We were a little delayed getting to the Ngorongoro Wildlife Lodge because six lions' ten to fifteen buffalo' and two serval cats got in the road at various times. Believe it or not. Night fell at 6:30 or 7:00 p.m. as we were working our way up the road to the Crater rim. Our African driver (Bert does not himself drive; instead' he talks) turns around says "Simba" to Bert and "lions" to us. In the headlight glare ahead we see two lionesses and four cubs walking peacefully along the road. The driver dims and brightens his lights a few times' and the lions move off the side of the road to let us pass. One cub runt had to scramble a bit to get out of the way.
Farther on we came across wild Cape buffalo' which look like oxen with funny hats on. The hats are bulky' deadly horns. They looked silver in the VW's lights' although they are actually black. They readily moved aside' off the road. Bert said they had walked up from the Crater bottom to graze on the more tender grass on top. The lions followed the buffalo.
Serval cats are spotted wild cats similar to bobcats. They hunt at night' and we were lucky to see them' Bert said.
On the way to the lodge before we got to the National Park we had also seen ostriches' Thompson gazelles' a baboon' zebras' and several Masai initiates. These last are young Masai tribesmen who are going through the rites of entering manhood. They paint their faces with white coloring in dotted designs and wear black cloaks or robes. They are due to be circumcised. Although they no longer must kill a lion to enter adulthood' we saw two initiates hunting for smaller game with bows and arrows.
ngorongoro wildlife lodge— washing
Bert holds that Tanzania's hotel services are far inferior to Kenya's' but its game preserves and parks are far superior to Kenya's. We have good reason to believe the first assertion. The Ngorongoro Wildlife Lodge was designed by the British' probably before Independence. It sits perched on the very rim of the Ngorongoro Crater. I look out of my hotel window into the Crater. This location is unique in the world. John has used the hotel telescope on the back terrace to spot big game on the Crater floor' two thousand feet below. Unfortunately' the hotel turns off the electricity on purpose after the morning flurry' and again after the evening activities. You have to use a flashlight to find the bathroom at night. There is no warm water; sometimes the hotel staff will bring a bucket of hot water' and sometimes they will not. I had to take a cold shower' my coldest since my Grand Canyon raft trip.
On the other hand' the hotel food is good (not great' but good) and ample. The coffee is superb' strong and rich' and not at all bitter. It actually tastes the way American commercials say coffee is supposed to taste.
Thursday, August 9, 1984
I am a day behind. This is the account of our game drive in the Ngorongoro Crater. About 9:30 a.m. two government–owned landrovers pulled up in front of the Hotel. We piled in' together with lunch packs' caravan gear and the like.
Friday, August 10, 1984 — Game Drive in the Crater
I am two days behind. We have arrived at Nairobi, and are safely lolling at poolside. A fellow has just asked us if he may prepare two cushions upon lounges for sun–bathing. There is no tipping here. We said sure. Today' luxury. Tomorrow' to the bush at Amboseli in Kilimanjaro country.
Okay' back to the Crater.
The landrovers are designed so that one person sits in front and three people can sit cross–ways across the rear seat. I sat on one of the lengthwise benches in the rear. Each passenger could stand up in one of two hatches built into the roof of the landrover. I spent most of my time standing up' looking around. You feel like General Patton' standing in the hatch while the landrover slowly proceeds across the Crater floor.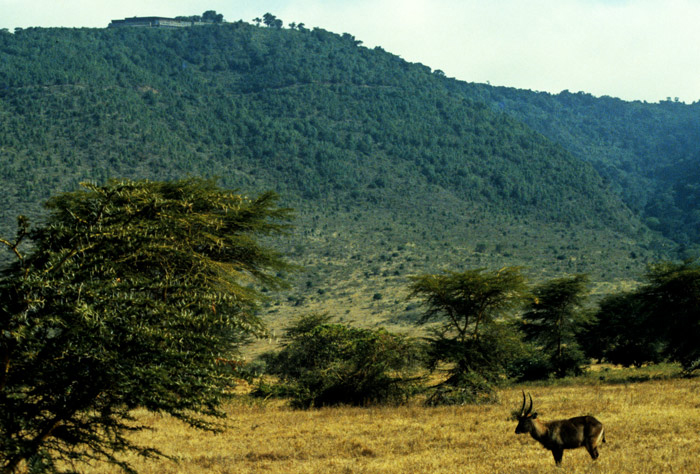 view

o

f

t

he lodge

f

rom

t

he crater floor
After we descended by switchbacks down to the Crater floor' we took a few moments to survey the scene. The Crater rim rises up all around you. When you are standing at one end of the Crater' the far rim appears as a rise way away' where the distance greatly dims the details of the horizon. There is a soda lake (or salt lake) in the middle of the Crater. Much of the remainder of the floor is flat plain' with occasional shrubs or small trees. An acacia forest spreads on the side of the Crater floor nearest the overlooking Wildlife Lodge.
The Crater is a totally protected wildlife area' meaning visitors are not allowed to pick anything or to hunt. Bert told us that poachers cause problems in the Crater' as they do everywhere else. Anyway' the animals feel secure in the Crater' so that although they are able to walk up and out of it' they choose not to walk (or fly) away from it. As a result' the ten-mile circle presents an incredible array of wildlife.
cheetah

i

n crater
Our landrover driver was Mik (pronounced "Meek")' who works as a guide for the Tanzanian government. He was first rate driving the landrover and spotting game at the same time. For example' he was driving along and suddenly said "Cheetah"' he then proceeded to drive about a half mile to where two cheetahs were loping along. Magnificent animals.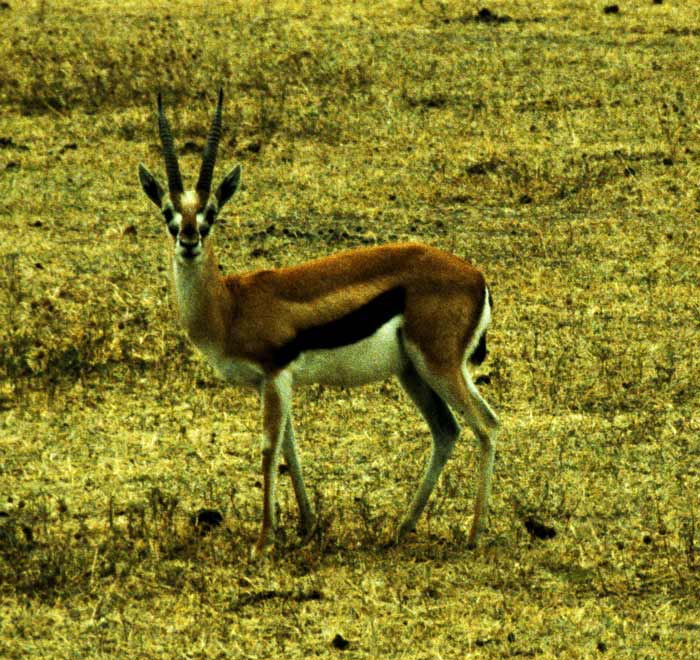 thompson's gazelle

i

n crater
Landrover technique reminded me of whale watching. The vehicle stays on the worn roads until the driver spots game. He then may leave the road to drive slowly toward the animal. Since there are several landrovers on the Crater floor at any given time' when one landrover makes a sighting and moves toward the animal' then stops to look' other landrovers soon cluster about. In this way a pride of lions or other prized sighting will "circle the landrovers"' although the trained drivers are careful not to complete a circle around a wild animal.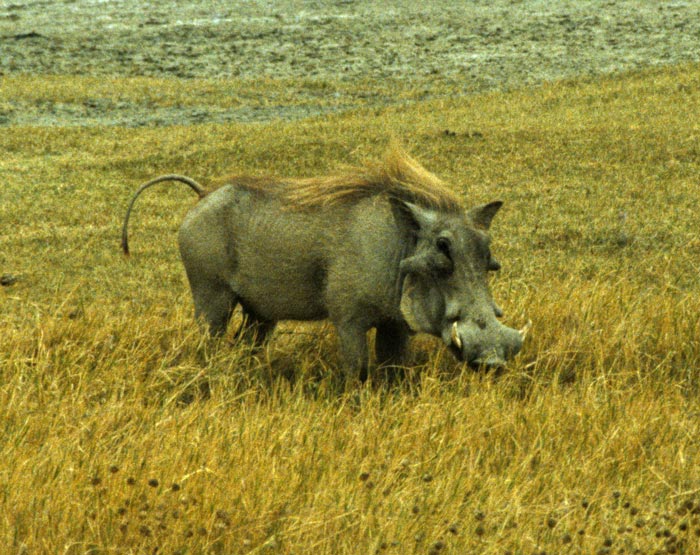 warthog

i

n crater
Bert told us the government does not limit the number of landrovers allowed into the Crater. I wonder what effect the landrovers have on the animals. Most predators feed at night or in the early morning and late evening. If the two cheetahs which we observed had been hunting' we certainly ruined the hunt. Also' it seems as if the landrover tracks do not ruin much of the grazers' habitat. If many landrovers roam around down there day in and day out' though' I would worry a bit about bad effects on animals and habitat. Surely the Crater floor is large enough to sustain a modest amount of game–viewing indefinitely. If I were running things' though' I would regulate the number of vehicles allowed down there. I can say that' since I've been down there already.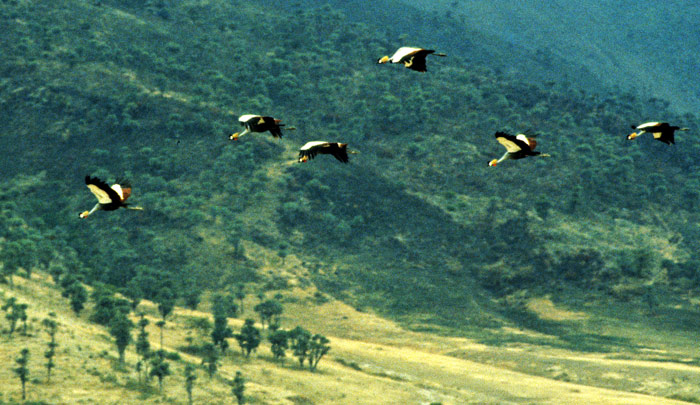 crowned cranes

i

n crater
I took some notes on the Crater drive. The day began overcast and foggy' but the Equatorial sun burned away most of the clouds. The temperature started out about 60°' with a breeze. Then the air warmed just a trifle' until we enjoyed what reminded me of the weather' breeze' and sunshine of a perfect football Saturday.
Glorious. Exhilarating. How can one use words to describe the good feeling on the Crater floor? You just knew you were in a place of extraordinary beauty' unique in the entire world—a microcosm of nature in ecological balance.
Wildlife List -- Ngorongoro Crater
Birds
Crested Crane
Blacksmith Plover
Crowned Plover
Pink Flamingo
Egyptian Goose
Kori Bustard
Secretary Bird
Kite (lunch snatchers)
Ostrich
Yellow Weaverbird
Superb Starling
Maribou Stork
Mammals
Cheetah
Thompson's Gazelle
Grant's Gazelle
Hertebeeste
Wildebeast
Zebra
Lion (several lionesses' 3 males' 5 cubs)
Elephants (5)
Hippos
Bat-eared Fox
Hyena
Golden Jackals
Warthog
Waterbucks
Buffalo
Eland
The Great Rift Valley illustrates a separation of two tectonic plates in East Africa' north to south. Where the plates have pulled apart' a valley lies in the middle. The Ngorongoro Crater lies in a volcano on a plateau lying back from the top of the rift wall. The rift wall itself is relatively low' only several hundred meters high. Below the rift wall near Ngorongoro lies a salt lake called Lake Manyara. Situated around the lake in a horseshoe shape' with the long direction running north and south' is Lake Manyara National Park. It is a small park containing only 43 square miles. Ian Douglas–Hamilton studied elephants at Lake Manyara Park. Lions sleep in trees there.
Oldeani
We left the Ngorongoro Wildlife Lodge about 9:15 a.m.' and drove down the road taking us into the Great Rift Valley. On the way we stopped at the town of Oldeani to pick up some beer and Double Cola ( I do not know why Double Cola got the Tanzanian franchise' and Coca-Cola missed out). We got the beer' but the bar was out of Double Cola.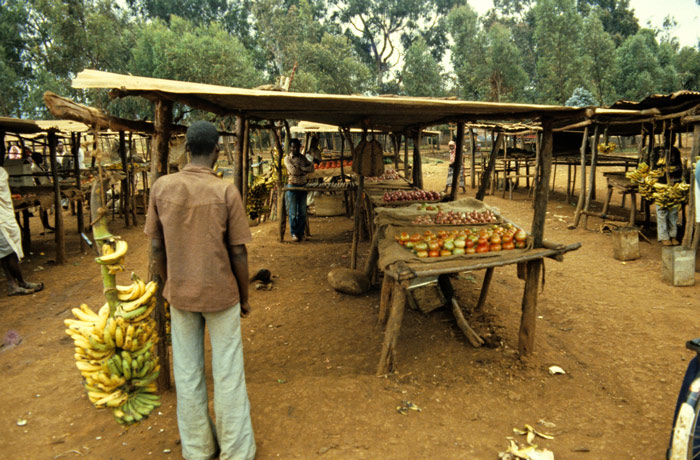 oldeani village market
Meanwhile' we tourists got out of the VW buses and looked around the Oldeani Village center. The village features a market for fruits and vegetables. We photographed the market. There were piles of bags of wheat, which the governing marketing agency will pick up for distribution. If the government did not market the grain' private operators would ship it to drought areas and charge exorbitant prices to starving people. Accordingly' the government maintains military checkpoints between regions to search for contraband foodstuffs.
The soil at Oldeana looked like the red clay of Georgia. I saw one fellow operating a hand press to make clay bricks in ovens. They don't have to use the sun nowadays to bake the bricks. One block away from the village center or marketplace I saw a building' probably a residence' being built with these red clay bricks.
At the marketplace several of our people were photographing the villagers. One fellow posed happily for a picture with one of our ladies' then gave her a tomato for a gift. The children crowded around our VW bus' asking for ball–point pens or "sopu". We didn't have any soap' but we had a few pens. Aggie saw a lady balancing a large basket load on her head' with a baby on her back and her arms swinging free.
Our bus then drove down to the Village of Karatu to look for Double–Cola. On the way into Karatu we saw a bubbling brook' with several Africans digging in it with shovels. We found out later they might have been digging for gold flakes. Mtaki' our driver' said he wanted to go to the "Rifti Valley Bar" to look for Double Cola. Failure again. We finally found the pop and drove off to Lake Manyara National Park.
Lake Manyara National Park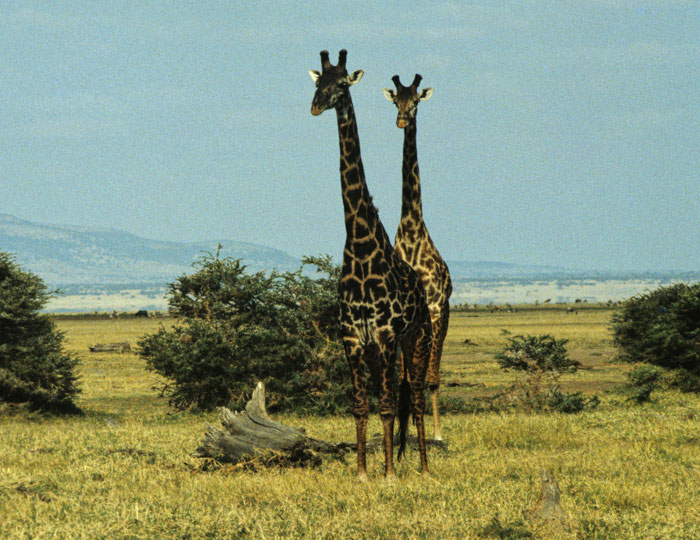 giraffes

a

t manyara
At Manyara' because it is so small' tourist vehicles must stay on the established roads. This' it seems to me' would allow virtually unrestricted tourist use. On the park road we saw six giraffes at once' feeding on acacia' and a busfull of Italians with a broken–down engine. While our bus took the Italians' driver back for help' we walked alongside the other bus across a plain close to the Lake. We could see thousands of pink dots in the distance—flamingos. There was a vulture which couldn't fly away, and so was probably ill. It just shuffled along on its feet.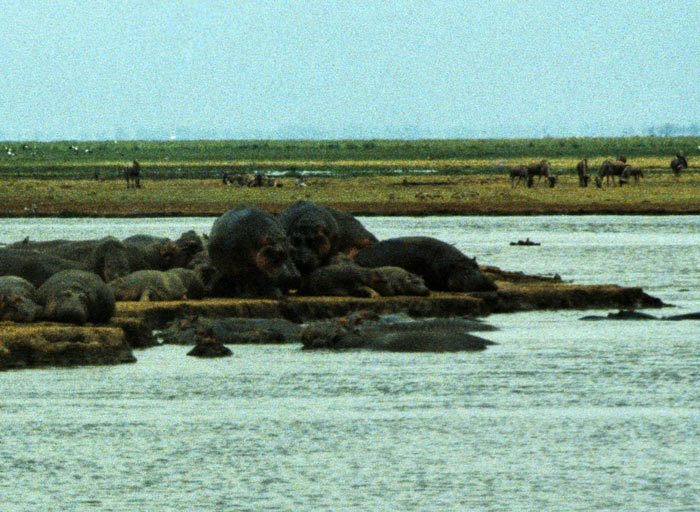 hippos

a

t manyara
Since it was a cool day' most of the hippos lay on the shore' out of the water. One of the ladies in our group got a little too close to a hippo in the water' and the hippo started to get agitated' flapping his ears and snorting. Betty came back in a hurry' and Bert admonished her' saying that hippos are rather nasty creatures' and are faster than they look. Most of the Africans killed by wild animals are hippo victims.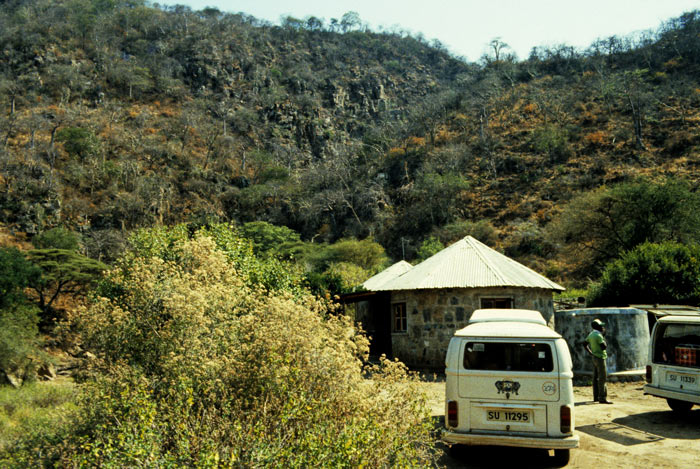 ian douglas–hamilton's camp

a

t manyara
After our bus returned from its mercy errand' we drove to Ian Douglas–Hamilton's camp' now occupied by Herbert Prinz' a Dutch biologist working under a grant from an English University. Ian Douglas–Hamilton is a noted field biologist who studies elephants. Herbert studies Cape buffalo' to try to find out how the herd makes decisions such as where next to feed. Upon observations from far off' he concludes that the herd moves whichever way the plurality of the cows want. After resting' one cow will get on her feet and point in a direction. Another will do the same thing' except perhaps pointing in a different direction. After all these direction votes are cast' the herd always moves in the direction most favored by the cows.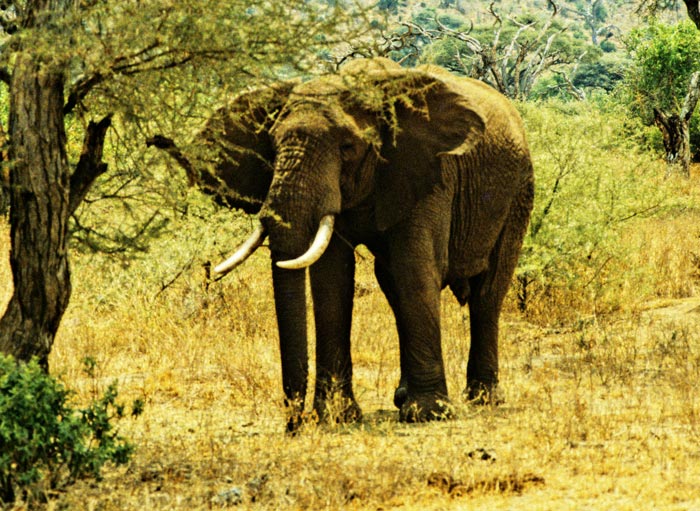 elephant

a

t manyara
Herbert also found and is taking care of a baby black rhino wounded by poachers. The poacher speared it in the shoulder and in the back along the spine. The rhino had gained twenty pounds since Herbert started to care for it' but it looked awfully sick to us. It couldn't walk because of the shoulder wound.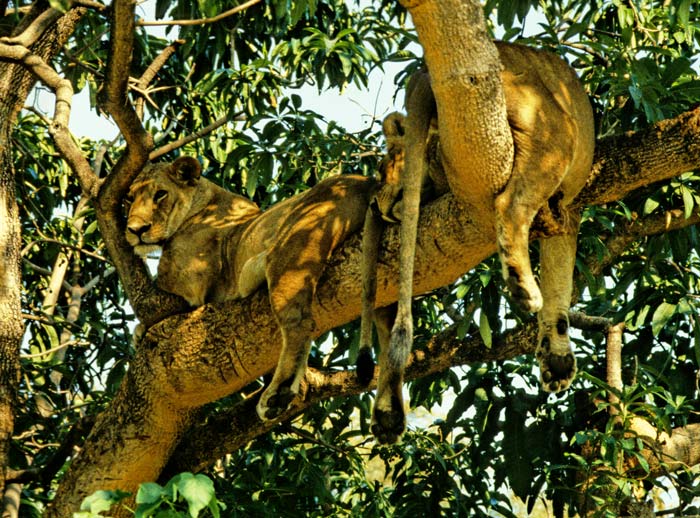 lions

i

n tree

a

t manyara
After our picnic visit at Herbert's camp' we drove along a game trail out of the park. We saw impala' lots of baboons (impala and baboons often feed together because the impala likes the baboon's food leavings)' and a bathing elephant. We had watched all day for the famous tree simbas of Manyara. Finally' near the end of the game trail' we found three lionesses in a tree very close to the road. Any of the three could have easily jumped into the bus. Fortunately' they were sleepy. One of them eyed us a little warily. Aggie and I thought she may have been a nursing mother' because of her full–looking teats. Bert thought some cubs may have been hiding in the brush someplace.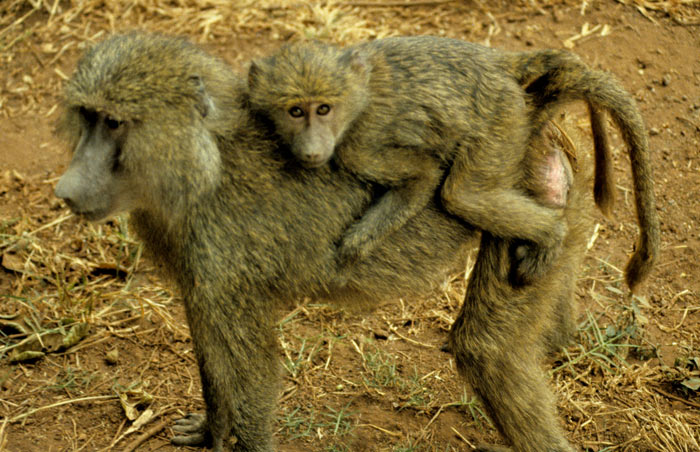 baboon

a

t manyara
After we left the park we went back to Karatu to the crafts market set up there for the tourists. The merchants would take trade as well as money. The stall keepers especially coveted brightly colored T–shirts. One offered John one of the eratz Masai spears for his Wildwater T–shirt. John took it off and made the trade. Bert later commented that it was a pretty good deal. I bargained for a giraffe batik and a tembo (elephant) batik. The problem was I did not have the slightest idea what the value was. I decided I am about as good at Karatu bargaining as I am at Las Vegas gambling' so I should leave both alone. Again the children asked for pens and sopu. No soap.
About 5:15 p.m. we left the market for the long drive to Arusha. It turned out to be an eventful trip. Near Arusha we had a flat tire. the jack would not fit in the jack socket' so Bert and I had to lift the left rear end so that Adam and Mtaki could fit on the spare. White man's burden.
While we changed the tire' the Tanzanian army shot off artillery rounds into a field across the road from us. The spare was low on air' but Mtaki drove on anyway. He didn't have any choice' really. By 7:30 p.m.' after dark' we were close to our night's lodging' and Mtaki regaled us with stories of highway robbers. They would "show you a gun" and steal your vehicle' valuables and even your clothes' leaving you naked on the road. Also' we drove through three military checkpoints. Mtaki said the soldiers were looking for weapons or drugs or anything else the government wants to look for. Bert stoutly maintained they were looking for food contraband. I am inclined to believe Mtaki' because I think food checkpoints would be placed on roadways crossing regional borders' not in the town of Arusha. Anyway' our minibuses were waved through checkpoints' for tourism is a favored industry.
We finally arrived at the Ngare Sero Mountain Lodge in the foothills of Mount Meru. This was a nice place to visit. We had hot water for baths. We had good food. The lodge itself used to be a coffee plantation. The main house is a "big house"' complete with veranda for drinking gin–and–tonic with Memsab. Below the house is a pond with dam and spillway. Paths lead through gardens of bright flowers.
On the morning of Friday' August 10' we left Tanzania for Nairobi' via Air Tanzania.
Nairobi' Kenya
This afternoon we visited the National Museum of Kenya. We saw the elephant Ahmed's skeleton. In 1970' then–President Kenyatta decreed that a particularly large elephant be provided a guard around–the–clock to ward off poachers. The elephant became a national symbol' and died of natural causes in 1974. When alive Ahmed stood nine feet high at the shoulders' and his tusks weighed 148 pounds each. A large elephant.
The National Museum is associated with the Leakey family. In the anthropology section' Don Johansson's Lucy find is labeled a collateral line of human–like primate which became extinct early on. Johnasson' of course' believes that Lucy is a direct ancestor of Homo sapiens. Richard Leakey puts his find' Homo habilis' as the direct ancestor to Homo sapiens.
We walked back to the hotel from the National Museum. The walk took about forty minutes. We strolled along the Uhuru Highway' past Uhuru Park' and then downtown.
Tomorrow we go to the Amboseli National Park.
Saturday, August 11, 1984 — Amboseli National Park
Today we loaded Nissan minibuses from the Nairobi Hilton at about 9:15 a.m.' and drove south to the Amboseli National Park. The route is four–lane hardtop for a few kilometers southeast from Nairobi' then two-lane hardtop south to a village called Namanga' and then dirt washboard road east to Amboseli.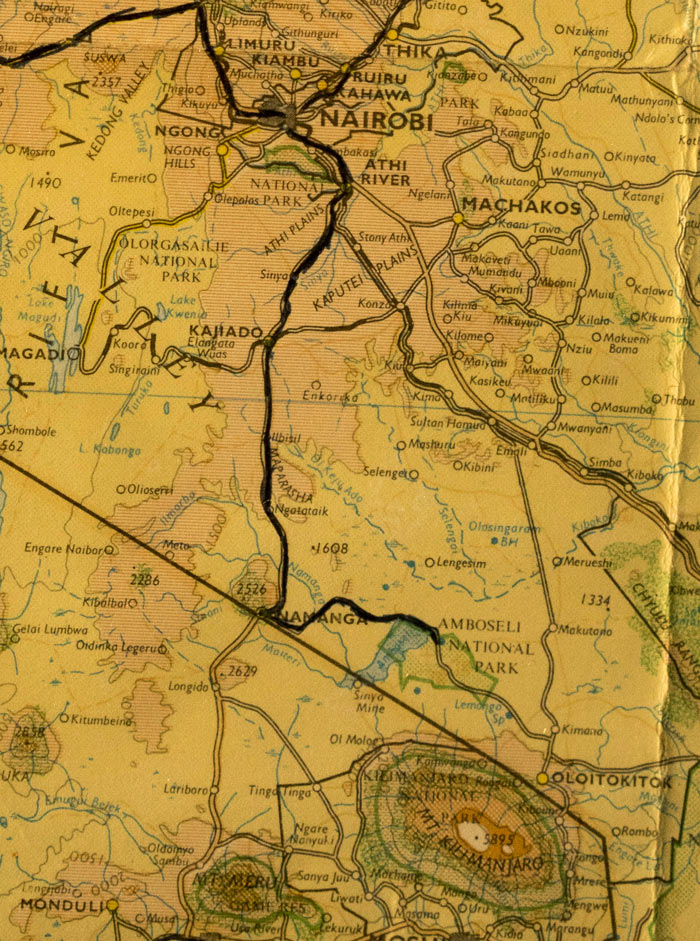 map

o

f nairobi

t

o amboseli
The washboard road jolted us so roughly that the back door of the minibus broke open and most of the luggage back there fell out. My camera bag and our day bag fell out as well. We discovered the loss when the bus stopped at the park entrance. We turned around and drove back the way we came. Fortunately we met an oncoming vehicle which had picked up all our gear. I recovered the day bag' which is fine' and the camera bag' which appears to be in good order. The bag is well–padded' so I am hopeful that the camera did not break when it fell out of the vehicle.
As we turned the minibus around to proceed on our way' it got stuck. We all had to pile out and push the bus out of the sand. Not a particularly pleasant time.
Amboseli National Park is just north of Mt. Kilimanjaro' over the border in Tanzania. It is very dry here. It hasn't seen adequate water' I am told' for two years.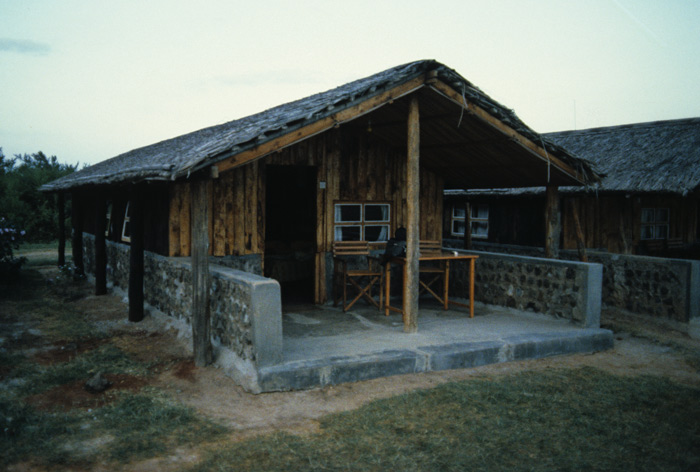 amboseli lodge
The map shows a lake at Amboseli' but all we can see is dry' dusty lakebed. Still' the Amboseli Lodge has running water for sinks' showers' and swimming pool. The rooms are in separate little huts' which Aggie and I appreciate very much. John is in the hut next to us.
It is 3:07 p.m. and John is swimming in the pool. I will "collect him" in eight minutes, and we shall prepare for a game drive beginning at 3:30.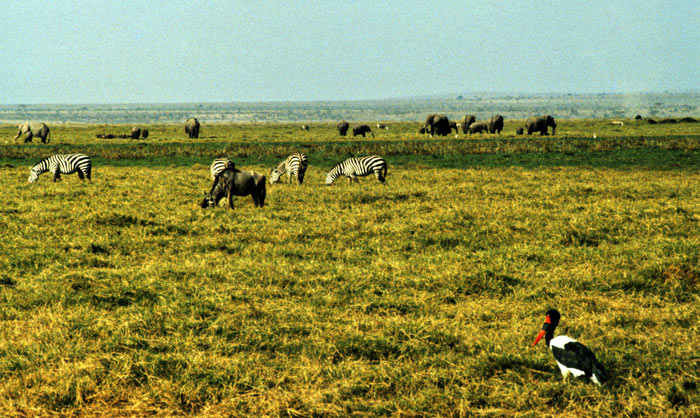 amboseli scene
We pick up the narrative after the game run' which was quite successful. We saw all the usual animals and all the usual birds. In addition' we saw a dead zebra being scavenged by a flock of vultures and one maribou stork. They go for the eyes first. It was a trifle macabre to see a vulture dive headfirst into a zebra's eye socket.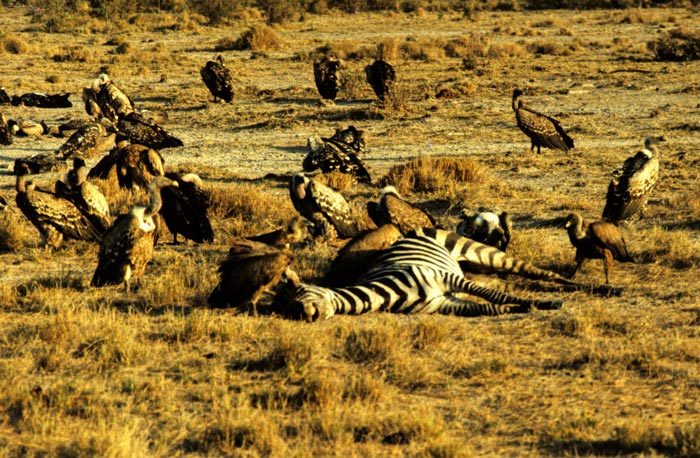 vultures

a

t amboseli
Finally' we saw two black rhinos (in Swahili' Kifaru)' an adult and a juvenile. They were walking across the plain. The rhinos spotted the ten minibuses looking at them' and changed direction' strolling all the while. The two sauntered right past our van! I could have hit the big one with a basketball.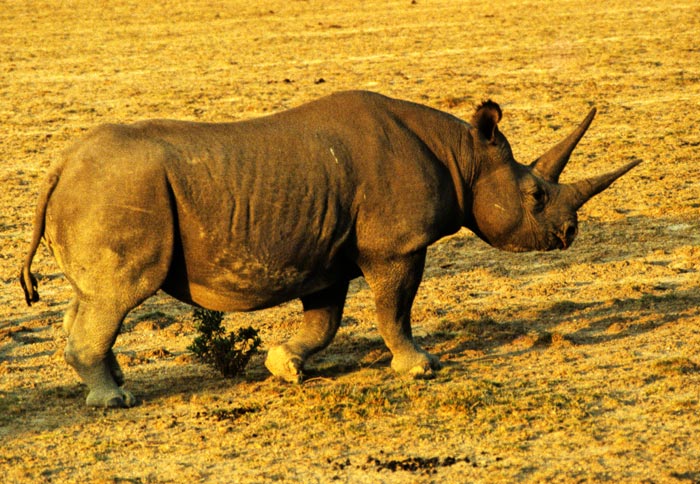 black rhino

a

t amboseli
Dinner featured roast lamb with mint sauce or jelly' and a lot of other stuff. Plain' but good. Afterward' we gathered at the lounge and drank excellent Kenyan coffee. I mentioned to Aggie that every cup of coffee I have drunk in Africa tasted better than every cup of coffee I have ever drunk in the U.S.
By the way' I should mention that not all of Amboseli is dry. We found out that the lakebed is usually dry. Much of the remainder of the park is green' and some of it is positively marshy. A water table travels down from the Kilimanjaro mountain area and surfaces at Amboseli. That' I suppose' is what makes it a park. The other districts in southeast Kenya are so dry' we were told' that the government is allowing the Masai to water their herds at the fringes of Amboseli.
The camera seems to work.
Sunday, August 12, 1984—Amboseli Second Day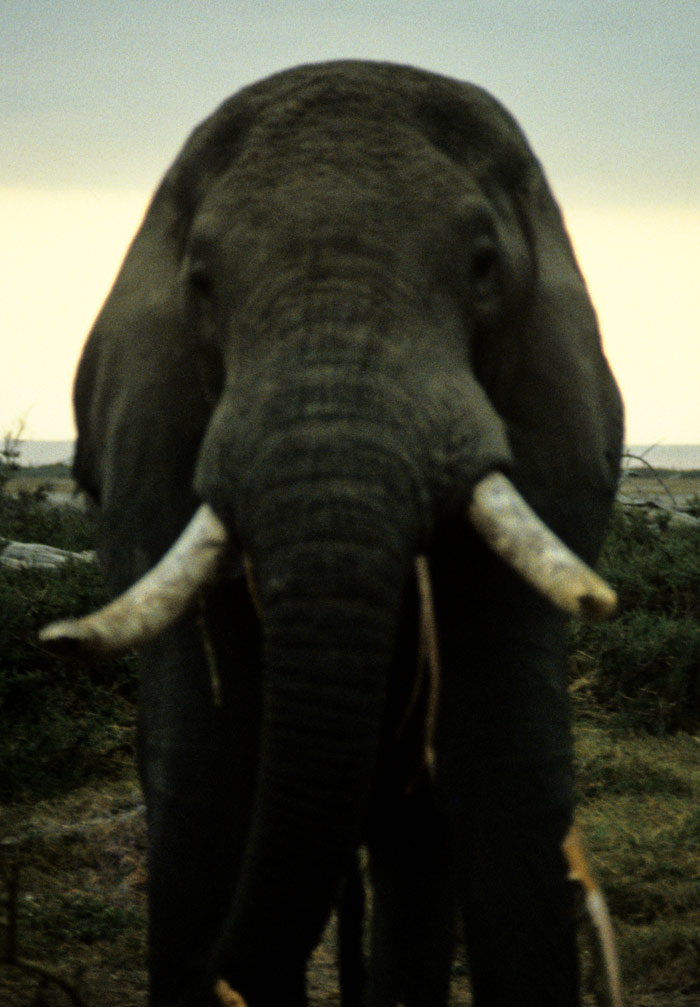 elephant

a

t amboseli
This morning we took an early morning game drive' beginning at 6:30 a.m. The outstanding features of this drive were close–up elephants (one elephant with baby) and a lion kill. We missed the charge and the strike' but we saw the lioness killing the wildebeest' seemingly by slow strangulation' the lion closing its mouth over the mouth and nostrils of the wildebeest. By the time the animal died' another lioness with ten cubs of various ages appeared. The lionesses lay down for a rest' and the cubs jumped and scampered all over the place. Once two boisterous cubs leaped at their mother, who tolerated the roughhouse for a few moments' and then cuffed one of the cubs away. The cubs moved a little away from the mother' then continued to wrestle. Several of the cubs chewed on the dead wildebeest but didn't seem to be able to bite through the skin. The lionesses didn't eat at all' and no male lion appeared while we were there.
Tanzania was wetter than Kenya' and at least the northern part of Tanzania appeared lush. Yet people starve there.
I do not know how much the socialistic scheme of land ownership affects agriculture. In Tanzania the government owns the land' and deals out leasehold interests. The leaseholds can last quite a long term' but if a tenant goes out of business' the right of possession reverts to the government. Since the Tanzanian government is thought to be corrupt' one wonders how this land dealing sits with the people who have to work the land. How much bribe does one have to pay to acquire and keep a parcel of land?
We thought a little bit about how to go about helping the Tanzanian people. I suggested water control projects' a network of simple roads' and technical assistance to get higher crop yields. One must take into account that part of the idea is to avoid introducing labor–saving techniques and machinery' but instead to put people to work. Maximize labor and crop yield and crop distribution.
Also' I think one must always link birth control aid to medical aid. Otherwise you get hordes of idle' starving people.
Back to Kenya. At the Kilimanjaro Safari Lodge at Amboseli National Park' we met our trip's Harvard Museum of Comparative Zoology representative' Rob Dorit' and his wife Jillian. When we met Jillian' she explained that she is writing her doctoral thesis on Shakespeare's romantic plays. Ag mentioned that she had had an excellent beginner's course in Shakespeare at Ohio University from Paul Murray Kendall. Jill said' "That's my father!" Turns out that Jillian is Jillian Kendall. Professor Kendall had moved to Kansas' and died about ten years ago. Jill was thrilled to hear Aggie's chance remark.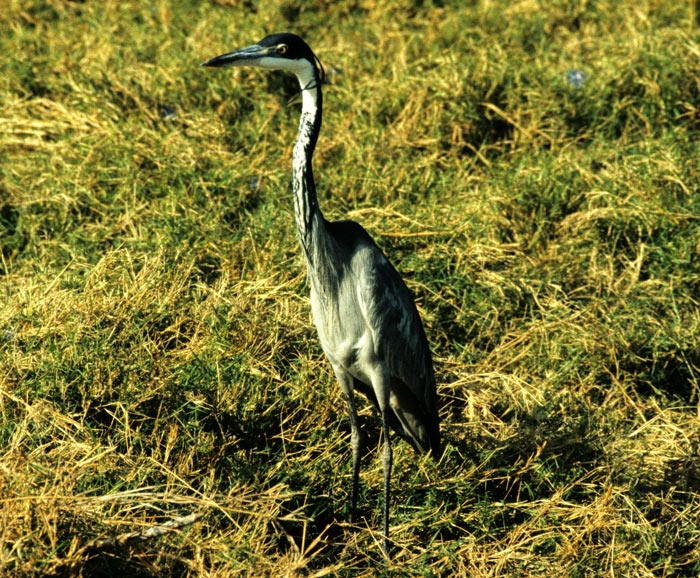 goliath heron

a

t amboseli
The late afternoon game drive was our best yet' in part because Rob and Jill went along to provide commentary. At one point' we could see marsh' lake, and plains habitats in one view. We saw elephants and cape buffalo' but ignored them in favor of the birds: maccoa duck' African jacana' spoonbill stork' white pelican' sacred ibis' black coot' goliath heron' spur-winged goose' blacksmith plover' great white egret' African darter' and Egyptian goose. Later we identified drango' black-headed heron' and saddle-bill stork. We saw three male cheetahs sunning' and drove to within about thirty feet of them. Five pelicans performed unison diving' to drive fish and then harvest them. Finally' we saw two rhino standing face-to-face.
At 7:00 p.m.' Rob delivered his first lecture. He wondered aloud whether there is any reason why a male lion will kill all the existing cubs when he takes over a pride. This appears counter to the evolutionary interest of the species' since the idea in evolution is reproductive success. For a male lion to kill off cubs appears to be paradoxical behavior in an evolutionary sense. Rob's answer is that the male lion feels no loyalty toward these cubs; his instinctual behaviors incline toward presenting his own individual genes to future generations of lions. Since the existing cubs would obstruct that endeavor (i.e.' the females nurse the cubs' and are not fertile while they lactate)' the male commits infanticide upon cubs not related to him.
Monday, August 13, 1984—Masai Village
Today we drove from Amboseli back up to Nairobi to the Norfolk Hotel. This hotel fairly drips with British colonial manners. The waiters lay out warm plates' and use a fork and spoon to dish food onto the plates. All in the English manner. The hotel itself is a square with a courtyard in the middle. All very posh.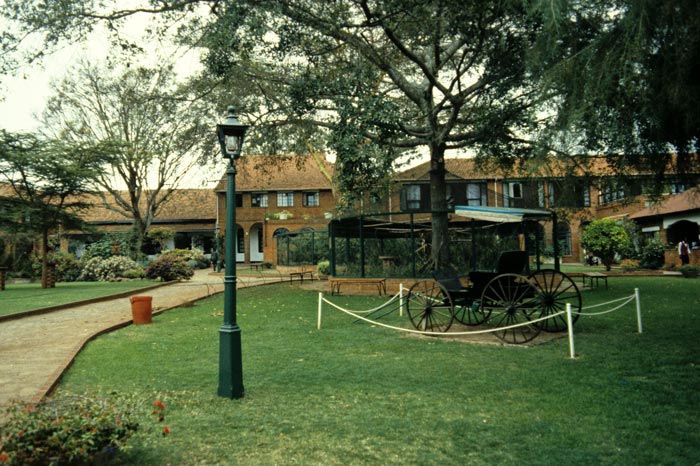 norfolk hotel

i

n nairobi
After lunch some of us went to Mayer's Ranch' about fifty kilometers north from Nairobi. After paying an admission' we walked through the village of Masai tribesmen and women who stay at the Ranch. Picture taking was allowed. Afterward we watched Masai Morani (young warriors) performing ritual dances.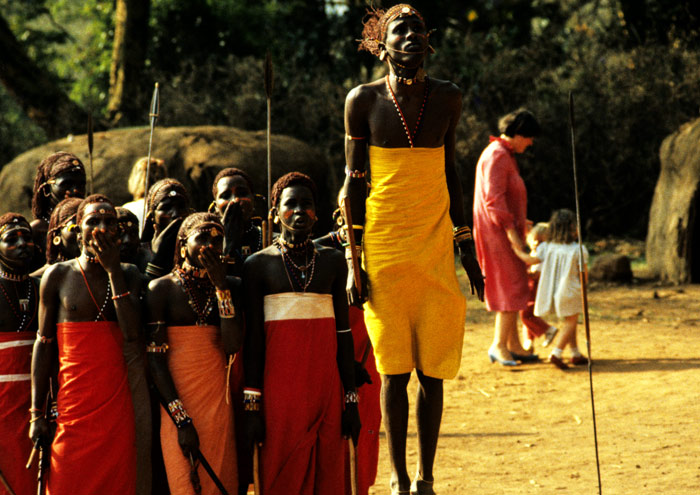 masai dance
These dances portray a lion hunt. Masai hunters find a lion sleeping in the bush. Three or four hunters jump up and down' as high as they can' while shaking their shoulders. This disturbs the lion and rousts him out of his slumber. When the lion comes out' a young Masai who must prove his manhood catches the lion by the tail. This maneuver is said to be fatal to half of the hunters who try it. When the lion turns on the tail–grabber' a buddy is supposed to leap forward and spear the lion through the heart.
If all goes well' the warriors form a single file and walk to a chanting rhythm. This walk is sort of a funeral dance honoring the dead lion' and lasts for about a mile. Afterward the warriors begin skipping to a faster chant' and must continue skipping all the way back to the village.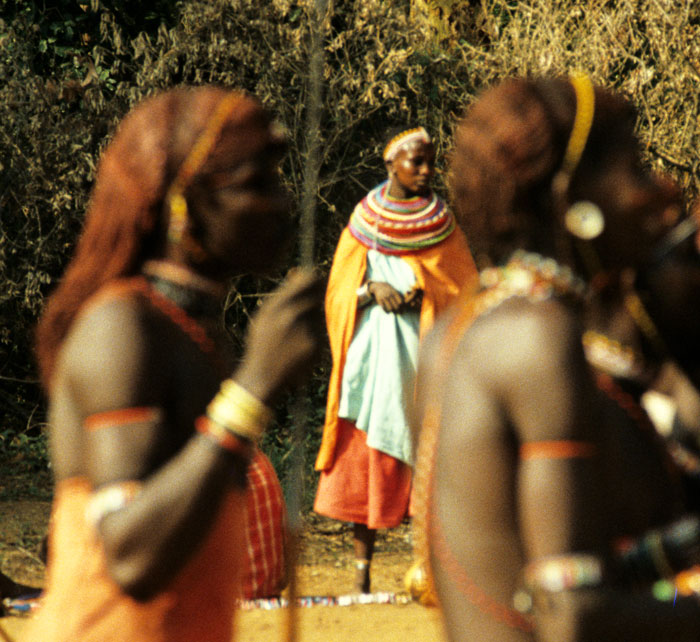 masai village
After the dances we were invited to view the Masai crafts for sale. This time the sellers did not paw at us for a sale. Indeed' we didn't realize for several minutes that the items were for sale; we thought at first that the Masai were just showing the stuff to us. Aggie saw a bead and shell necklace that really appealed to her' and the Masai woman offered to sell it for 150 shillings. It did not occur to me to bargain' and Aggie thought about bargaining but decided not to. We agreed the necklace was worth 150 shillings (about $11.00)' so we bought it at that price.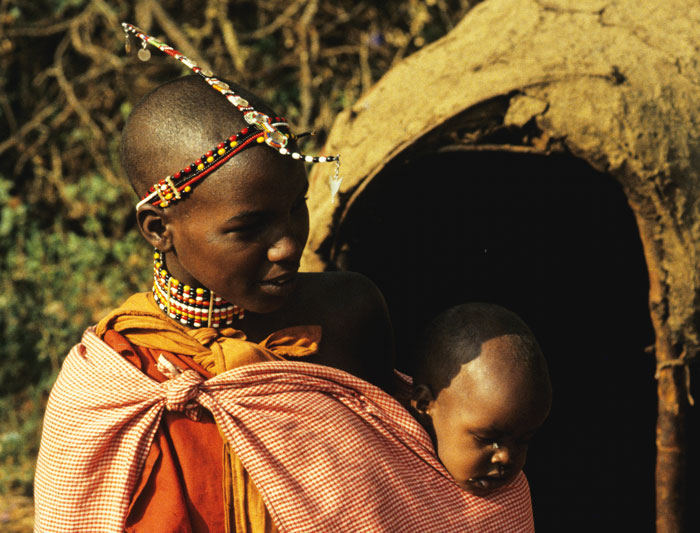 masai mother
We then proceeded on up to the main ranch house for tea. The view was stunning' set in the Rift Valley with high slopes reaching up behind us. The lawn was perfectly green and well–manicured' and alive with flowers. Their sweet scents wafted through the air.
One of the fellows who runs the place told us a little about the Masai. At age thirteen' Masai boys are circumcised as a rite of passage into manhood. The circumcision is designed to be painful' and the victim is not permitted to cry out' grimace' or even twitch. The village girls watch the ceremony' and they applaud if the initiate passes the circumcision test successfully. The girls themselves are also circumcised' but stories differ whether the circumcision excises the clitoris.
From age 13 to 21' the young Masai warriors' the morani' must live in a special village by themselves. They may not marry or own property. Girls from the age of eleven are encouraged to sleep with the morani' who share the girlfriends with their buddies. The morani practice the ritual dances every day' and eventually become warriors. Since the Masai women and young children do all the work around the village' the adult Masai males appear to be essentially unemployed these days.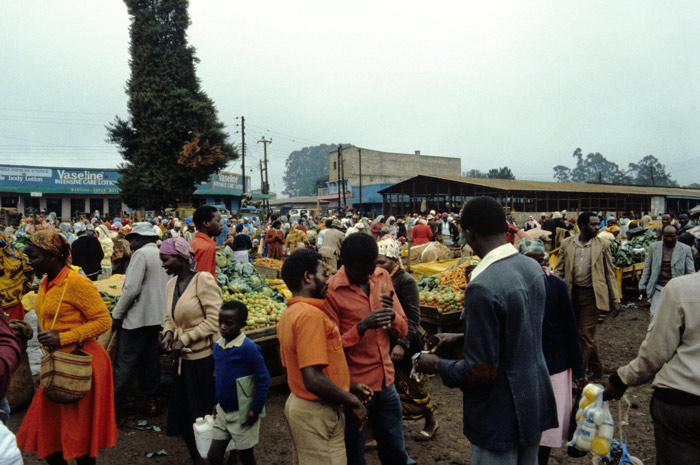 village market—mount kenya region
On the way back from Mayer's Ranch' we chatted with our driver Wilson. Wilson is a member of the Baluti tribe. He has a wife and three children and resides in the countryside near Nairobi. His parents are still living and reside a couple of hundred kilometers west of Nairobi. His father dislikes the Kikuyu tribe' but approves of the changes in Kenya over the past many years. Wilson visits his father every three months or so.
Wilson's traditional name is Aseka; he received the name Wilson at a mission school. He is unquestionably proud of Kenya. He votes regularly' but says that politicians compete especially for the more predictable women's vote. Wilson related that when the first President of Kenya (Mzee Jomo Kenyatta) died' everybody expected the tribes in Kenya to go to civil war to see who would take over the government. Instead' the politicians engineered a smooth transition of power. "That Khadaffi is crazy"' Wilson says. "He is using all that money to buy weapons instead of trying to build up his country." One of the things he accomplishes in his work' Wilson obviously believes' is building up his country. Back in Tanzania' Mtaki also believed he was helping build up his country. That kind of pride is good to see.
We watched the President' Mr. Moi' go by. Two motorcycle "polisi" race ahead' sirens wailing. Everybody pulls over. Ten or so Mercedes sedans whiz by' with motorcycle escort. In the middle of the line of sedans is the President's long black limousine. All at about fifty miles per hour. No picture–taking of the President' please.
Tuesday, August 14, 1984—Mountain Lodge at Mount Kenya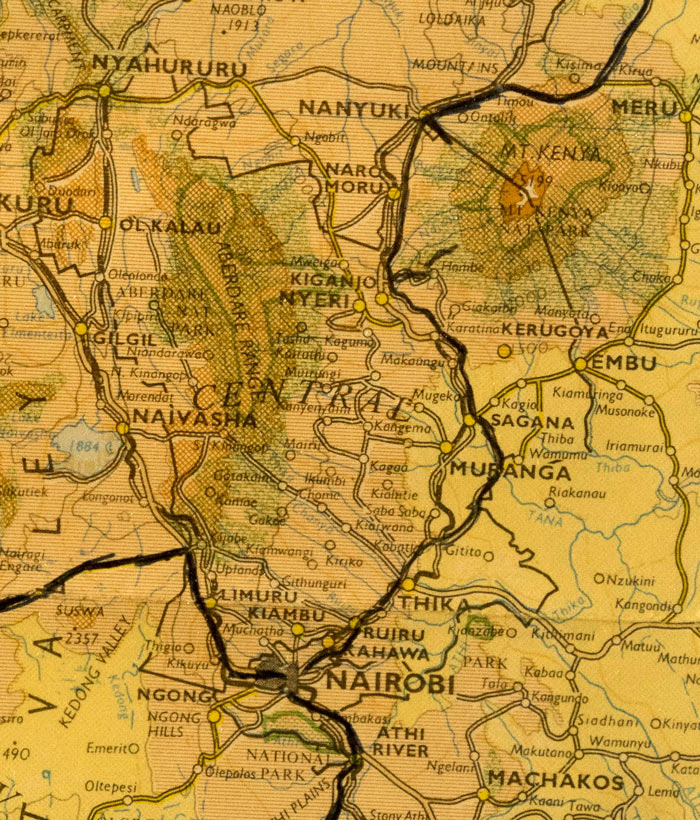 nairobi

t

o mount kenya
From Nairobi we drove up to Mountain Lodge on the slopes of Mount Kenya' which at 17'000 feet is the second–highest mountain in Africa. Mountain Lodge is constructed around a waterhole' and the guests are restricted to the hotel. There are several viewing areas at the hotel—next to the bar' on the roof' outside each room which faces the waterhole' and even in a bunker built out close to the waterhole.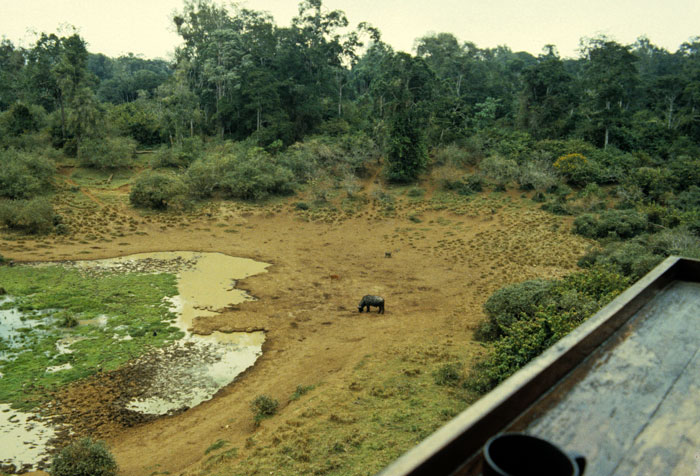 mountain lodge—room balcony
What you do is sit at a viewing area with your coffee or drink and look at and around the waterhole. At night the waterhole is lit' and lots of guests stay up most of the night' watching. We saw so many birds that I felt compelled to buy a field guide to East African birds.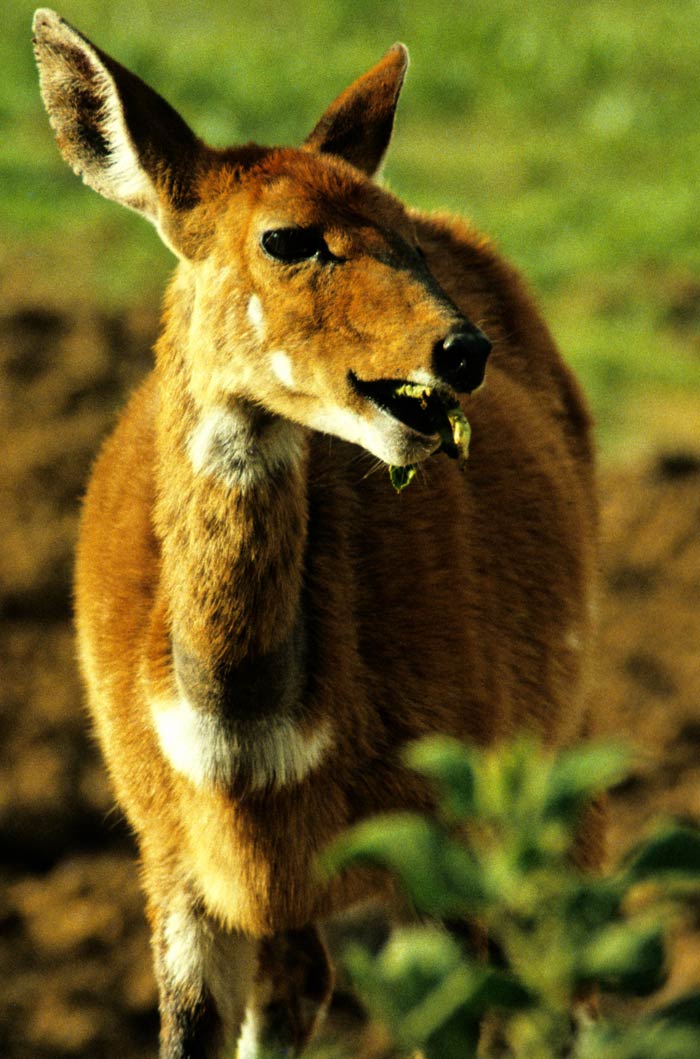 Bushbuck

a

t mountain lodge
Game—we saw Waterbucks' bush bucks' bush pigs' black-tipped mongoose' white-tailed mongoose' genet cat' Sykes monkey' together with the usual cape buffalo and elephants. Birds—too numerous to list. Behaviors—elephants charging buffalo' ears flapping' trumpeting' chasing them away from the waterhole. The elephants did not seem to want to hurt the buffaloes' just to chase them away. We saw juvenile buffalo nursing.
Rob mentioned that after a while' watching big game will pall' but bird watching will spice up game viewing. The birds of Africa are truly striking. We see brilliant greens' reds' and blues. Putting names to these birds is intrinsically interesting and diverting.
Wednesday, August 15, 1984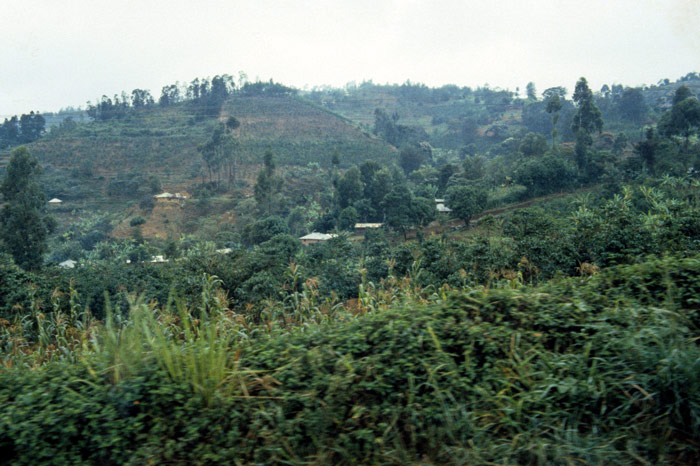 countryside—mount kenya region
Today' from Mountain Lodge we drove around the base of Mount Kenya to Mount Kenya Safari Club' just outside Nanyuki. We checked into the Club' which is a hotel cum country club (all the best white people are members)' and goofed off the whole day. We walked the grounds' swam in the pool' and rested. Posh place. We don't even know if I'll be admitted to dinner' since I did not bring a jacket. Oh well. I hope that's my worst problem this trip. Nothing else to report' except we did spot some rare Colobus monkeys on the drive up here. And a peacock just flew up to the hotel window and is now looking in. And Mount Kenya has been socked in with low–lying clouds.
Thursday, August 16, 1984—Samburu
This morning the clouds were gone from Mount Kenya for an hour or so' and we saw the peaks in the distance.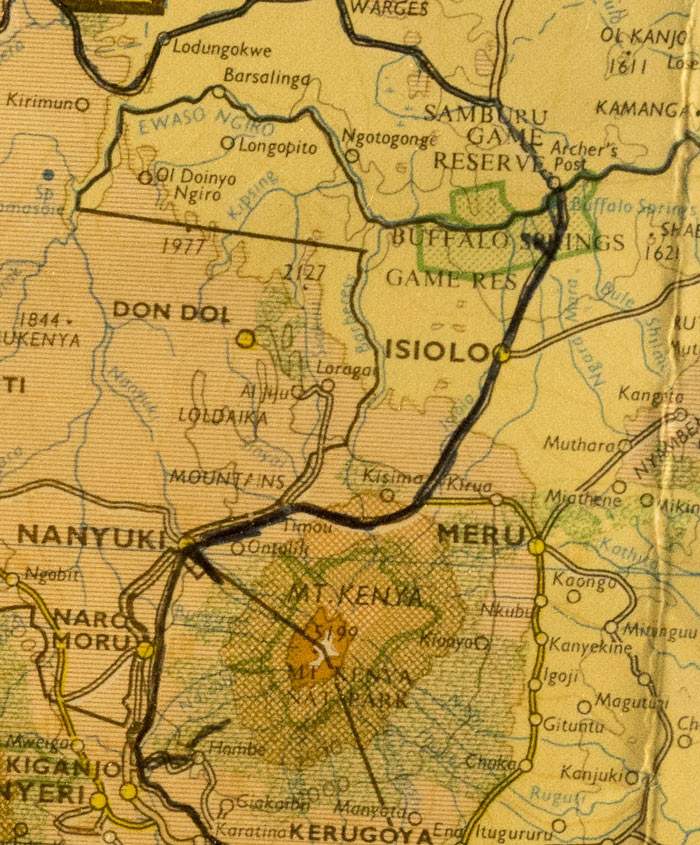 mount kenya

t

o samburu
We loaded up and drove to Samburu River Lodge. Samburu is just north of Isiolo' which is the gateway to the northern desert districts of Kenya. Now this is desert country quite similar to Grand Canyon country. Hot and dry' about two thousand feet lower in elevation than the Mount Kenya Safari Lodge.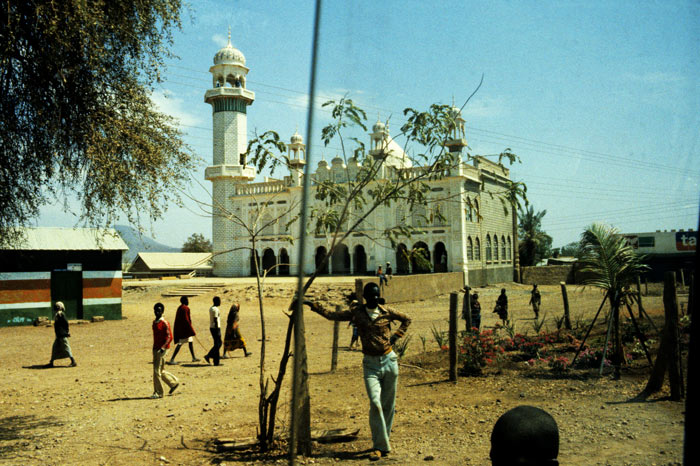 isiolo town
I expected all of Kenya to look like this' but the country has varied environments. Amboseli contains bone–dry lakebed' well–watered acacia woodland' and even marshland. Nairobi is sort of middling and nondescript. The south foothills and slopes of Mount Kenya are characterized by lush vegetation. Farmers grow corn' bananas' coffee' tea' sisal' and pineapples in that area. It is Kikuyu country. It seems that the clouds dump rain south of the Mount Kenya peaks' for north of Mount Kenya the country appears quite dry. All the northern district is said to be arid.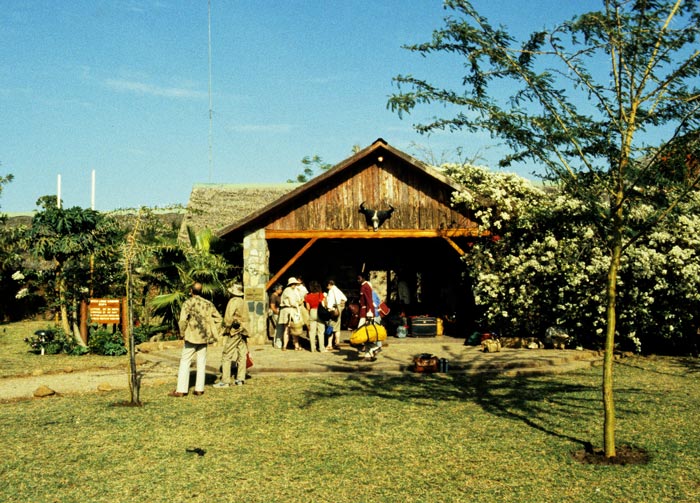 samburu river lodge
This tourist lodge' the Samburu River Lodge' sits on the bank of one of few rivers which run through Samburu. Because of the drought' this stream is down several feet below normal water level. There are main buildings and numerous duplex huts aligned along the bank. Orange and pink flowers abound. Vervet monkeys' red and yellow–billed hornbills' superb starlings' doves' and the like flit about and chirp. The swimming pool is centrally located. Opposite the veranda on the other side of the river is a watering place for water buck and cape buffalo. Also on the far bank is a clearing where the staff hang bits of goat carrion' and then light the clearing at night' hoping for a leopard to appear.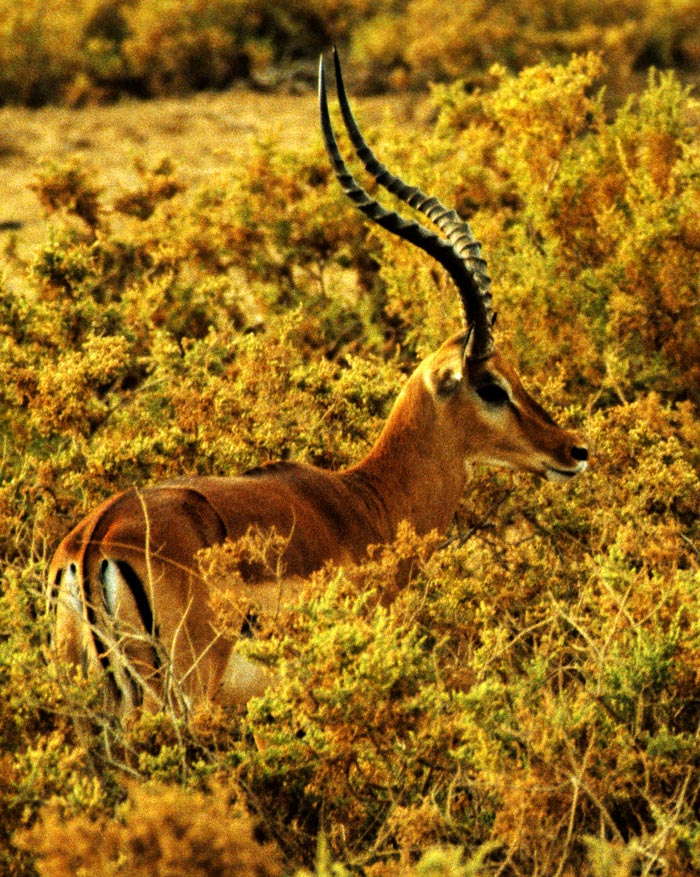 impala

a

t samburu
We take game drives in the morning and in the evening. We spend the middle of the day resting' relaxing' and re–organizing (e.g. washing clothes' repacking' and the like).
Thursday evening we took a game drive out into the dry bush. This desert supports a surprising variety of wildlife' although the density is necessarily more sparse than in the south. The Crater' of course' has the highest wildlife density of all. Anyway' on this first Samburu game drive we saw several new dry–country species— Grevy's zebra' reticulated giraffe' oryx' and gerenuk. We saw peculiar feeding behavior for an antelope: the gerenuk stands upright on its hind legs to browse on tree vegetation higher than other antelope can reach' but lower than where giraffe usually eat. Thus the gerenuk neatly fills an otherwise vacant ecological niche.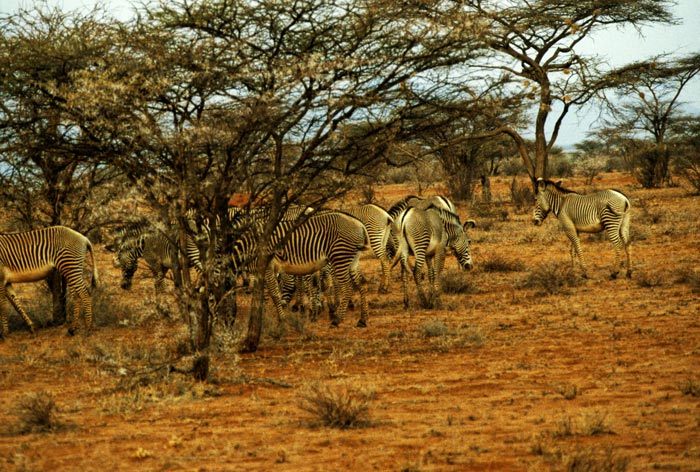 grevey's zebras

a

t samburu
The food at Samburu Lodge is very good. Thursday lunch was a variegated buffet'with cold meats' tongue' turkey' several salads' avocado' meat pastry' and several kinds of cheeses and desserts. After the evening game drive and after Rob's second lecture' we had barbecued beef. Rough life. On the down side' the Lodge has no place to walk' for we are fenced in to protect us from the animals.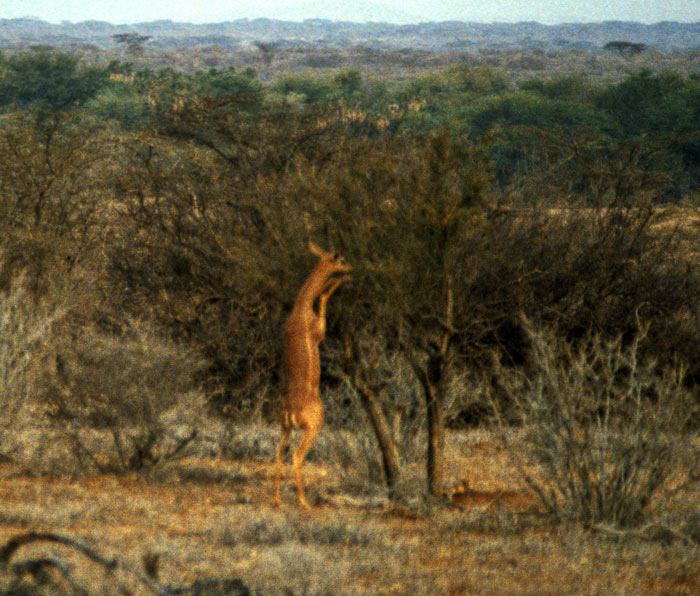 gerenuk

a

t samburu
Back to the evening game drive for a moment. We started at 4:00 p.m. and drove around for a couple of hours. It gets dark about 6:30 every day' and we are supposed to be off the range by then. This time we in Van #4 were following Van #2 because our driver Jackson is not familiar with Samburu. Van #2 halts in front of us' and we find out a fan belt had broken. The tourists in #2 pile into #4 until we have thirteen people in the van. Jackson drives toward the river but ends up at a tent campsite instead of the lodge. One of the tenters' drivers points out to Jackson a trail' just wide enough for the omnibus' which will lead back to the correct road. By now the darkness is deepening. Aggie and Jean are singing camp songs. Suddenly Jackson makes some sound. I don't remember what he said. I looked out of the minibus to our right front. There in the dim glare was an adult leopard! It moved to our right and off into the darkness.
Lots of visitors on safari' perhaps most visitors—never see a leopard. Tour guide Suzanne has never seen a leopard at Samburu' although she has seen leopards at other places. Unfortunately' she left Van #4 to stay with the driver of disabled Van #2' so she missed the leopard. The leopard is considered to be a remarkable and unusual sighting.
Friday, August 17, 1984—Samburu Home
This morning we arose early and left on a 6:30 game drive. The drive was uneventful. We saw the usual—Impala herds' both bachelor and harem' elephants' and various antelopes. We try to do a little bird watching. We spotted two different eagles' but had a hard time identifying them.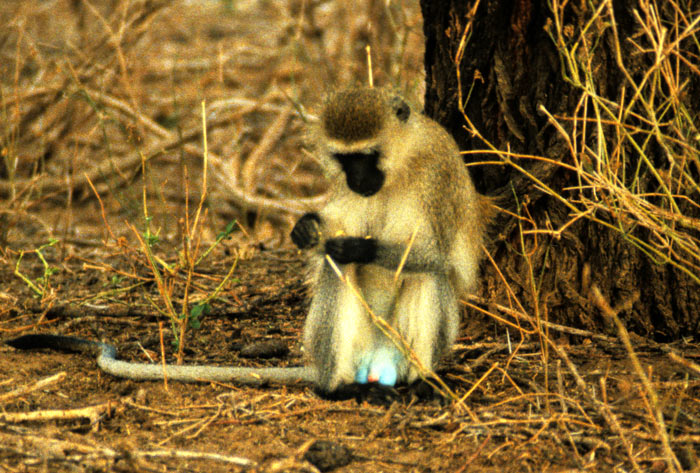 vervet monkey
We have lots of vervet monkeys in and about the lodge. If you look at the crotch of a male vervet monkey' you see a set of genitals colored bright blue-green. Unmistakable. Rob said the color attracts females.
For the afternoon game drive we first went to a Samburu village. Actually it was the family home belonging to a fellow who works at the Samburu River Lodge. He has three wives and at least six children. One of his wives is pregnant. His mother and a mother-in-law or two live in the home area. The houses are very simple huts made of skins and cardboard stretched over a sapling frame. Each house looks like a small hogan' and each wife claims a separate hovel.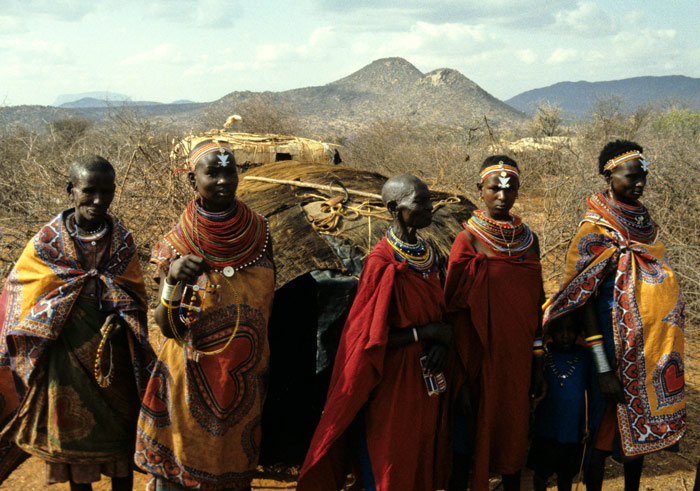 samburu family
For the occasion of the visit' all this fellow's wives and relatives wore their Sunday best. They displayed bead headdresses and around their necks' fancy bead necklaces. One of the wives showed Betty a wooden milk container. Betty offered to buy it' and the wife sold it. As I recall' the price was one hundred shillings' or about eight dollars. After that' gourds and milk bottles appeared' one after another' each one bigger than the last. One of our group bought one of the ladies' necklaces' for four hundred shillings.
samburu home
This African head–of–household seemed well off under Kenyan standards. He had bomas or thorn corrals for sheep' goats' and donkeys. He had three wives and many children. We speculated that from now on' however, the family will enter the beadwork,' handicraft' and tourist business. During our visit we probably laid more cash upon this family than it had seen for quite a while.
After visiting the Samburu family' we drove off to view game. The drive was quite a lot of fun' as usual. By this time we are looking particularly for unusual animals or unusual behaviors. On this drive we saw a crocodile feeding on a dead cape buffalo' which the crocs had pulled into fairly deep water. Most of the feeding went on underwater. Back on the bank several gorged crocs dozed in the sun. A yellow–billed stork contentedly speared fish around where the crocs were sleeping.
Saturday, August 18, 1984—Maralal and Great Rift Valley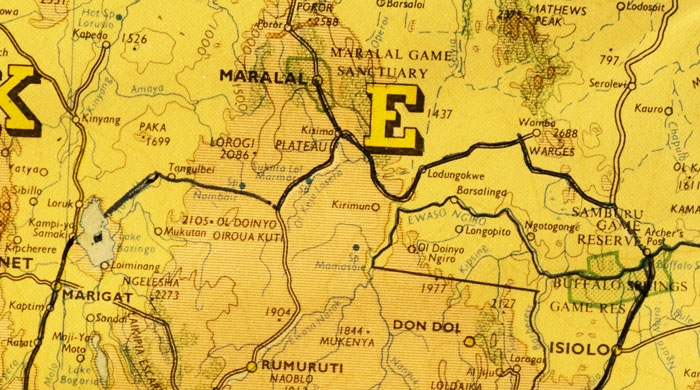 samburu

t

o maralal

t

o lake baringo
From Samburu' which had been a delightful stay' we drove for four or five hours to Maralal' a stopping place between Samburu and Lake Baringo. The road to Maralal is terrible. Maralal sits half way up an escarpment which forms the east wall of the Great Rift Valley. The road rises steeply upward. Jackson had to downshift. Jackson couldn't find second gear. Jackson couldn't find first gear. We all got out and pushed the pile of junk up the hill. The affair with the failing minibus pissed me off mightily for a time.
Maralal Lodge lies within a game preserve. You sit on the back porch and look at such game as zebras' eland' and cape buffalo. Several of our group attended a leopard baiting at a blind' but the leopard failed to appear. Aggie and I went with two others of our group and driver Joseph to drive the rest of the way up the escarpment over to the east wall of the Great Rift Valley.
When we reached the summit' we found a plateau with Samburu and Turkana tribal villages. These people herd cattle' so their villages feature huts and bomas. Some of the villages consisted of the typical conical thatched huts' but others had low hogans made of cow dung plastered over a tree branch frame. The bomas often were more–or–less permanent corrals' made of stout sticks thrust in the ground' with pliable vines and branches interwoven through the uprights.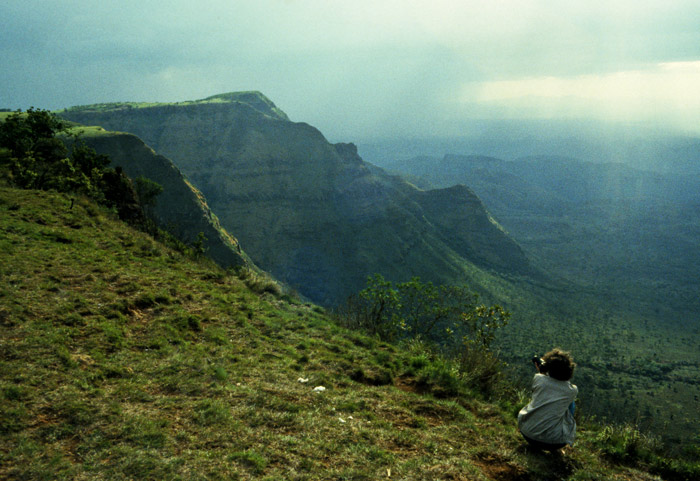 great rift valley

a

t maralal
This high plateau seems much greener and wetter than the lowlands between Maralal and Samburu. The highlands have grass; the lowlands are barren except for scrub bushes' and are dotted with cattle carcasses. Rob says that many of the lowland herdsmen have driven their cattle to Ethiopia to look for range and water. Unfortunately' they left behind their old people' women'and children' and many of them are starving. I do not know what the government is doing about starvation. We have not actually seen starving people' probably because they are too weak to stand by the roadside to beg for food.
Back to the high Maralal plateau. We found hundreds of acres of beautiful green wheat fields. The government had hired a white farmer to show the Africans how to cultivate wheat fields with tractors and how to contour the large fields to the shape of the hills. The soil looks good and the land is well cleared' with lots of water and sun. We thought the fields looked terrific' and hoped the tribesmen would turn on to agriculture. They traditionally herd cattle' though' and will likely continue to do so.
The escarpment road ended suddenly at the rim of the east wall of the Great Rift Valley. The top of a cliff looked over a grassy valley with trees' goats' cattle and waterholes below. We even heard the animals' sounds wafting up to us on the breeze. Farther off were a series of rough ridges across the Great Rift Valley. We could see the west wall' hazy in the distance. Off to the southwest' very far away' we thought we saw a body of water which may have been Lake Baringo' which lies within the valley.
After a while we came back from the edge of the cliff' because the breeze chilled us. When we came back to the minibus' we saw Joseph' our African driver, reading an English–language paperback book. He was listening to American country–western music being broadcast over one of the Nairobi radio stations. I do not know whether the radio signal came from Nairobi itself' or was being re–broadcast.
Sunday, August 19, 1984—Lake Baringo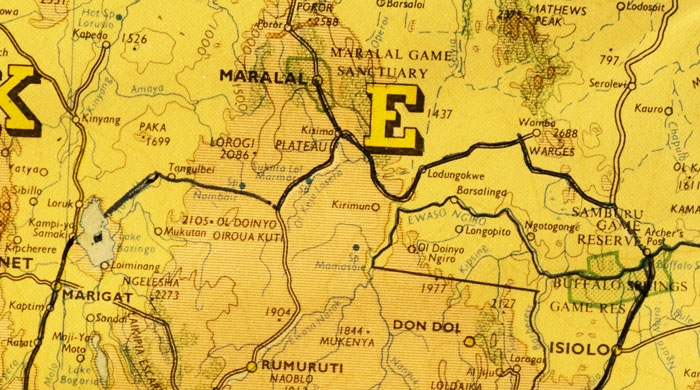 samburu

t

o maralal

t

o lake baringo
During the morning we drove from the Maralal plateau to Lake Baringo' a slightly salty lake lying in the Great Rift Valley. Our abode is Island Camp, a collection of tents and huts comprising a kind of resort. Actually each tent or hut does have a toilet' sink and shower. The place even has a swimming pool.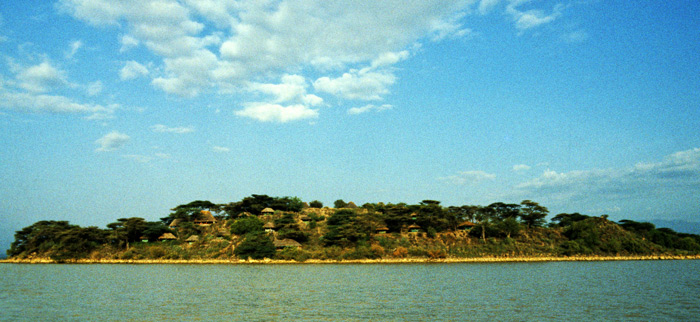 island camp

a

t lake baringo
Lake Baringo looks dirty all the time because very fine dust particles of volcanic origin remain suspended in the water. Nevertheless the local people' called Njemps' fish successfully for delicious tulapia and huge lungfish.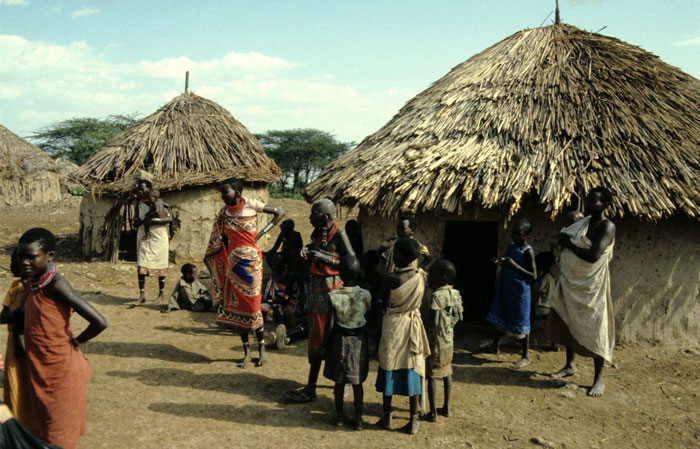 njemps village

a

t lake baringo
At 3:00 we took a boat ride over to another island to visit an Njemps village. These people own cattle' goats' and chickens. They fish' as I have indicated' for tulapia' catfish' and lungfish' which they smoke for sale at the town market across the lake.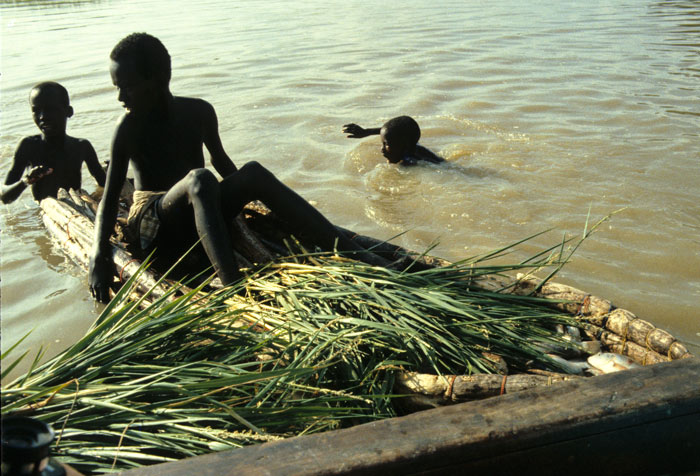 njemps balsa boat
The Njemps cut sticks of balsa wood about the size of baseball bats. This wood is literally as light as a dry sponge. The Njemps dry the wood in the sun for several days' then soak it in water for two days or so. After soaking' the wood becomes pliable' and the Africans bind the balsa sticks together in the form of a boat. Each boat easily supports one fisherman using net and spear.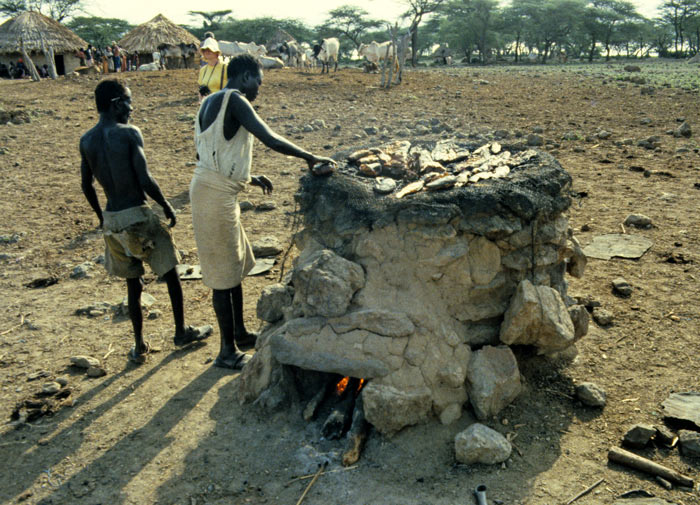 smoking fish

a

t njemps village
While we were at the Njemps village' an expert from another village was visiting and advising on improved techniques for smoking fish. An expert consultant' as it were.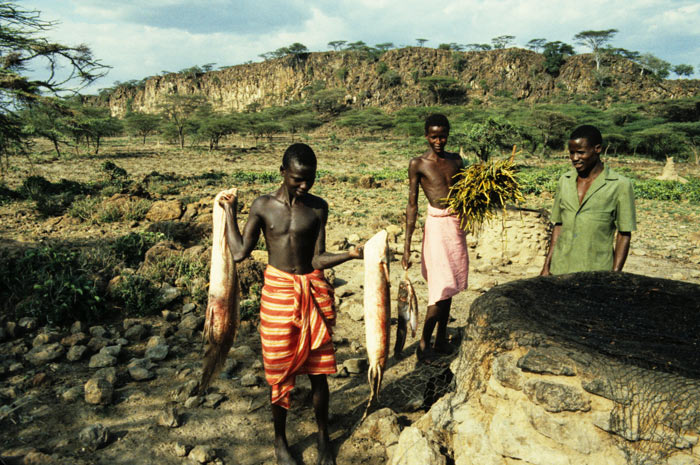 lungfish

a

t njemps village
The middle of the day at Lake Baringo is quite hot and fit only for a siesta. During the evening' however' a stiff breeze blew over the island' cooling it considerably.
Monday, August 20, 1984
This morning John and I took a boat cruise across Lake Baringo to observe water birds. We found plenty. We saw the Pied Kingfisher actually hover in midair' then dive into the water for fish' then immediately surface and fly up into the air again. A bird might repeat this hovering and diving behavior as many as five times in quick succession.
The largest bird at the lake is the Goliath heron' with great wings and a long neck. Another similar bird is the black African darter' which swims with its body completely under water and only its long' flexible neck and head above water. From this half submerged position it can readily break the surface and fly away. One often finds smaller birds adorned with brilliant green' blue' and red colors.
At about 4:30 I took a nature walk across the island. Four of us broke away from the main party and walked along the right side of the island. We found large volcanic rocks strewn about. We clambered over them to a high point with a magnificent view of the lake and the next island over' and the marsh below.
At the marsh we found a variety of birds. Pied Kingfisher hovering in the air' then diving into the water. The smaller' more colorful Malachite Kingfisher. Great white egret and the smaller yellow–billed egret. Goliath heron. The brown African Jacana' which has enormous webbed feet so that it can walk upon and across lily pads in the marsh. Black crakes and cormorants. We even saw an osprey far off in the distance.
Perhaps one hundred yards off we saw a hippo surfacing. Every five or ten minutes the animal thrust his nostrils and eyes above the surface and exhaled–inhaled with a loudly audible snort and whoosh. Then he would disappear again. Nearer the shore an African fisherman ventured out with his two hand–sized paddles propelling his tiny balsa boat. A fellow on shore hollered to him' presumably in the Njemps language' about the hippo. The fisherman tried to drive the hippo away by remaining a respectable distance away and beating a tin can. Didn't work. He threw a stone at the hippo. Didn't work. Finally he sprint–paddled across the path of the hippo over to his fishing grounds. Throughout' the hippo appeared uninterested' but the fisherman simply could not take a chance. The hippo would have been quite deadly if enraged. I do not know' but the fellow on shore may have been a pre–arranged hippo and crocodile spotter. Later I saw a lady washing at the lake shore' and a fellow was watching her' too. Perhaps watching for crocs or hippos. Perhaps not.
John and Matt' a thirteen year old intensely interested in reptiles' found the dismembered skeleton of a monitor lizard. John related that evening that he and Matt had taken one of the pillowcases from John's room. They put the lizard pieces in the pillowcase' and took the package to Matt's room. There Matt found hiding places to pack the reptilian remains for smuggling into the U.S. John of course took the pillowcase back to his room and put a pillow in it. He told me' for what it is worth' that he did not use that particular pillow for sleeping.
Tuesday, August 21, 1984—Lake Nakuru and Kericho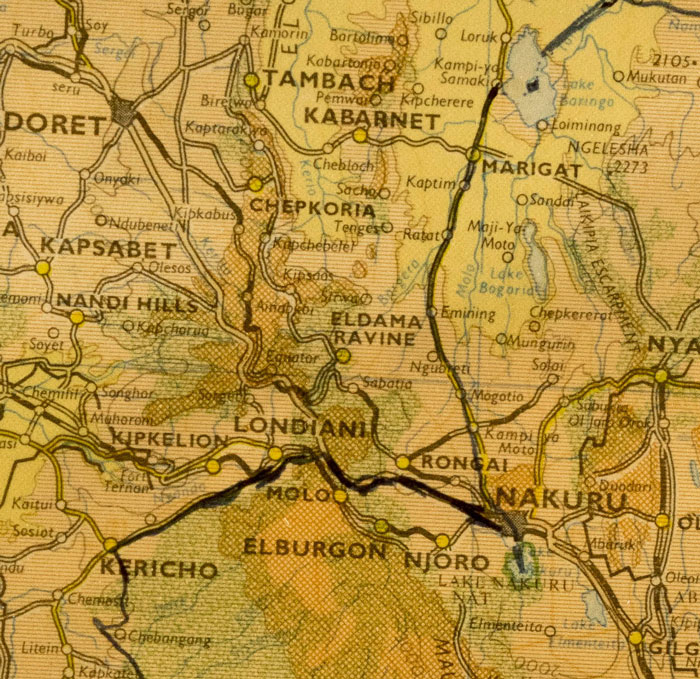 lake baringo

t

o lake nakuru

t

o Kericho
Today we drove south from Lake Baringo to Lake Nakuru' thence to Kericho. All this is northwest of Nairobi. Tomorrow we go to the Masai Mara' the plains region west of Nairobi. By the time we return to Nairobi on Friday we will have virtually circled the city.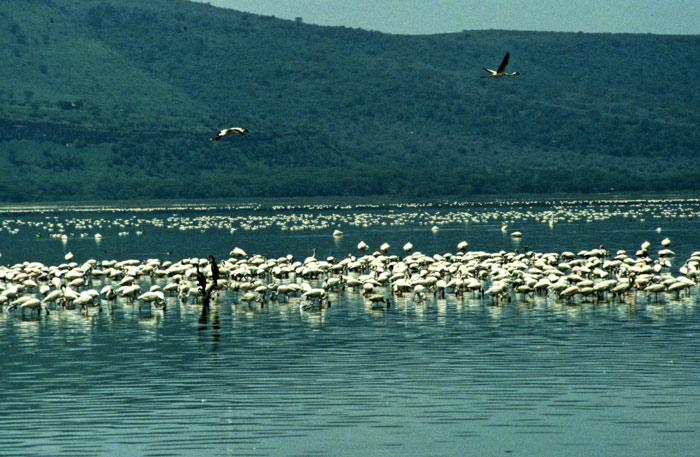 flamingos

a

t lake nakuru
Lake Nakuru is a soda lake hosting about three hundred thousand pink flamingos. When you stand on the lake shore you see broad bands of pink' shimmering in the equatorial sun. There are also avocets' pelicans' and similar water birds. I read that the soda lake supports algae and soda–tolerant plankton' but no fish. The flamingos eat the algae' and their droppings fertilize algae growth. We saw lots of pelicans diving in unison' and I suppose they were dipping for minute creatures of some sort.
We took a picnic lunch to an overlook above Lake Nakuru. The lake from up there showed pink dots and several bands of pink near the shore. Flamingos. Close up were hyrax' which look like vicious guinea pigs. The hyrax's toes are stubbed' and Rob maintains that these toes provide evidence that this small ratlike animal is the closest living relative to the elephant.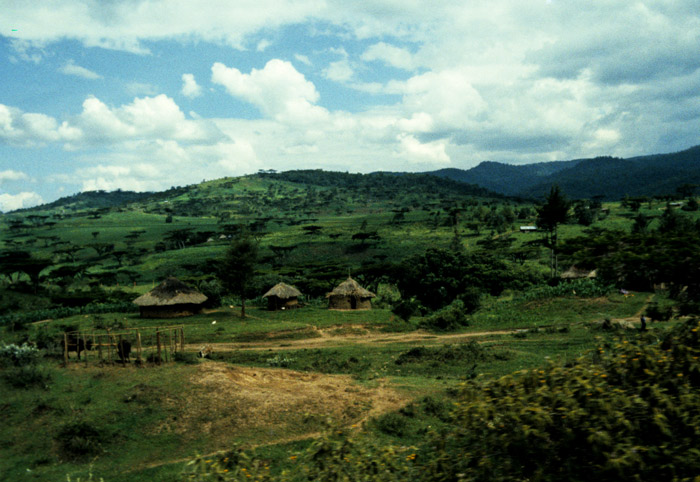 on

t

he road

t

o kericho
From Nakuru we drove south and west' up into more highlands. In Kenya the lowlands are hot and the highlands are cool. Kericho is the tea–growing region' where it rains nearly every day. On the drive uphill we saw terrain that looked for all the world like southeastern Ohio' except for the shambas and acacia trees. Conifer forests were cleared near the settlements' and the cleared hillsides were planted in corn.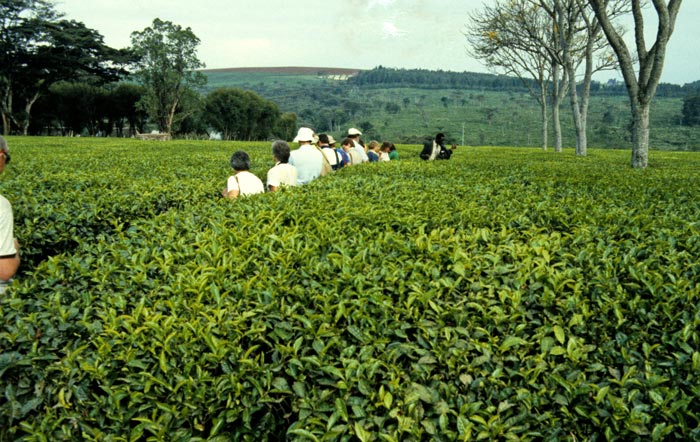 tea field

a

t kericho
Near Kericho we saw hundreds of acres of close–growing pale green hedges about four feet high. That is tea. Workers go through the hedges and pick new growth—two leaves and a bud. They toss the tea leaves into baskets on their backs. When a basket is full the workers take the tea leaves to a weigh house for quality checking and weighing. Each worker is paid by the weight of tea leaves picked. Like cotton–picking' I suppose. The tea then goes to the tea factory for processing. After four or five years the tea bushes are pruned close to the ground' and will take another five years to become productive. If a tea shrub is never pruned' it will grow into a tree as high as twenty–five feet. If properly cared for' a tea shrub will survive and produce for at least sixty years.
A word about food. We have eaten three squares a day while on safari' and many of us' including me' are heavier now than when we came. For breakfast we have fruit juice (orange' which tastes like grapefruit' or grapefruit' which tastes like orange' or passion fruit' which tastes like neither) and fruit' usually pineapple and bananas. Milk and dry cereal are always available. Oatmeal is not available. After the fruit course we have eggs' sausage and bacon. Toast and butter comes with the breakfast' as does coffee or tea.
Lunch is usually served buffet–style with hot soup' hot meat' cold meat' salad' desserts' and cheese. If you want water' you often have to ask for it. The tour director Suzanne has let us know whether the water is fit to drink. Usually the table water is OK' but the tap water is not. Dinner' served at 7:30 or 8:00 p.m.'is a sit–down affair. We usually have a soup' a fish course' and a hot meat course' with potatoes and a green vegetable. Dessert or cheese follows' and coffee or tea is served in the lounge after dinner. We have found tulapia fish quite good' but most of the meat is mediocre.
Wednesday' August 22' 1984—Masai Mara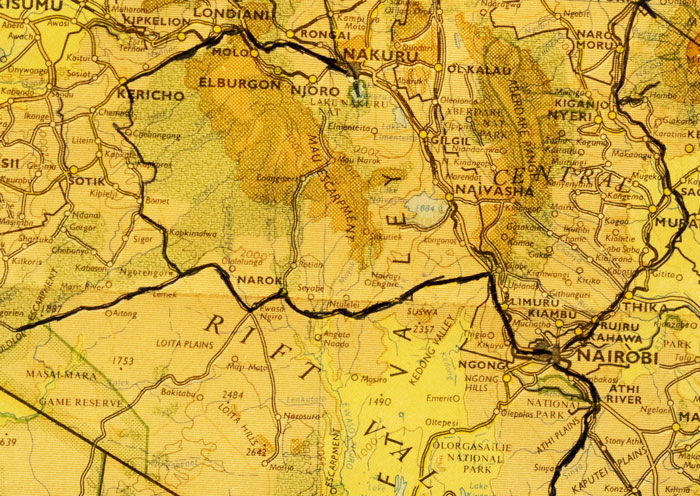 kericho

t

o masai mara
The trip from Kericho to the Masai Mara was long and grueling' over washboard roads for six hours. We arrived at the Kichwa Tembo (Elephant Head) camp at about 2:30 p.m.' ate lunch' and drove over to the mobile camp. We left as soon as possible on a game drive.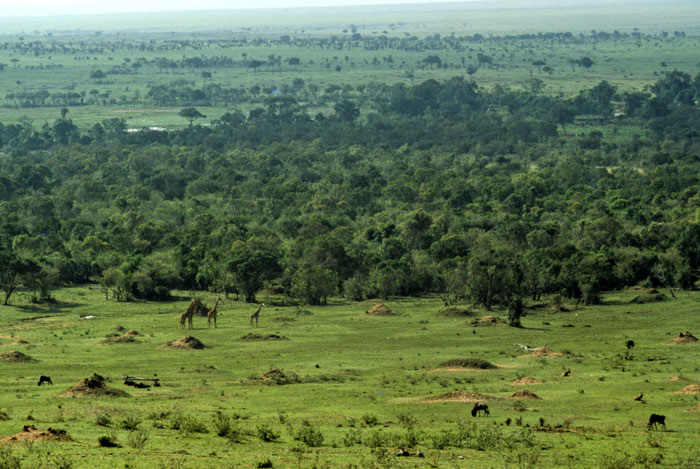 masai mara
The Mara is a geographic extension of Tanzania's Serengeti Plain. The plain is grassy' in contrast with Samburu' which has no grass. As a result' the Mara supports wildebeest. The population of wildebeest in the Mara is estimated at over a million. The plain has much wide open space' and some very gently rolling hills. Recently the Mara has been soaked with rain' so the grass is lush and water sits around in puddles in some areas.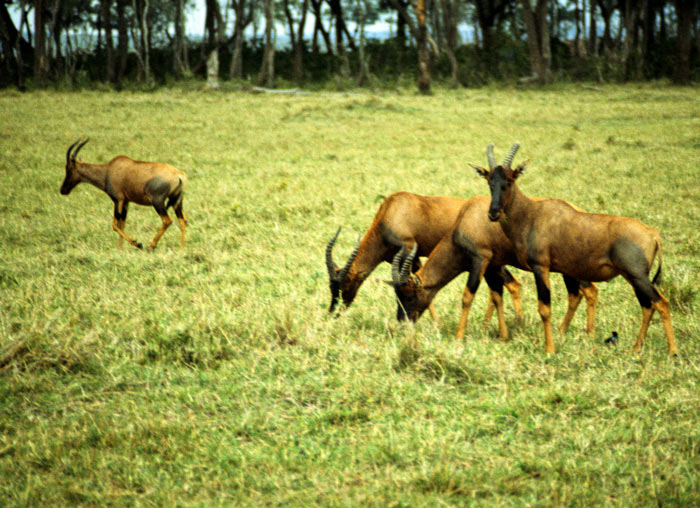 topi

a

t masai mara
The game of the Mara is similar to that of Amboseli' except that the ungulates are much more numerous. We also saw two new species of antelope—topi and klipspringer. We spotted the klipspringer while we were looking up at elephants feeding on a steep hillside.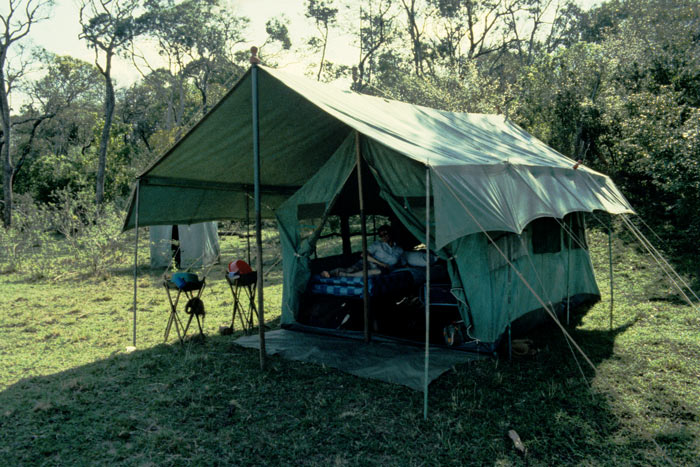 tenting

a

t masai mara
Camping at Kichwa Tembo mobile camp is done the way Hemingway and Rouark described it. When we come in from game run at sunset' the bar is open. Double gin–and–tonic, please. We sit in folding chairs around the campfire. By–and–by dinner is served in a dining tent large enough to seat thirty people comfortably' at tables set end–to–end in one long row. The steak is delicious—the best meat on this safari' so far. After dinner' coffee around the campfire' then to bed in a wall tent large enough to hold two metal camp beds' with mattresses. A washstand has already been set up' and the staff has brought each camper plenty of hot water to wash in. Each tent has a john tent about ten feet back in the woods' with a toilet seat frame for sitting. We hear hyena "whooping" in the dark. Throw another stick on the fire.
Thursday, August 23, 1984
We arose early today for a 6:30 a.m. game drive. Our van #4 had ground to a halt' so we will all have to crowd into three vans for the game drive. No problem.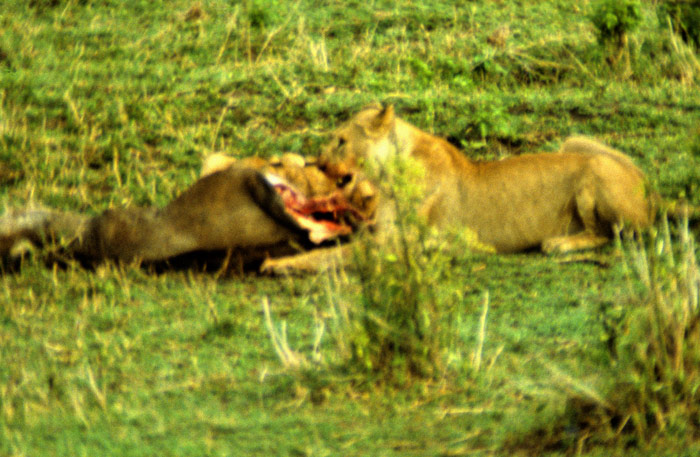 lion

a

t a kill
On the drive we saw a pride of lions feeding on this morning's wildebeest kill—three young cubs' a few other older cubs' and four lionesses' but no male lions. After a bit' a landrover drove too close to the scene' and the boss lioness dragged the carcass into a ravine out of sight. We all roundly cursed the pushy landrover.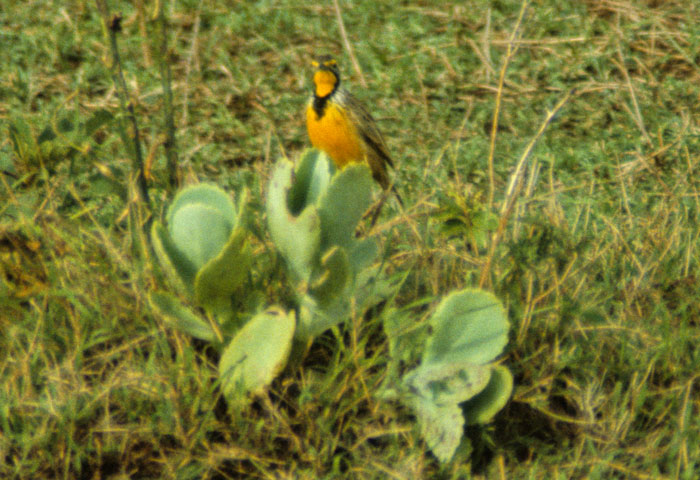 weaver bird
On our game drives we always look for' and find' interesting and colorful birds. We try to identify them in the Field Guide to Birds of East Africa' by Williams and Arbott. Many of the kingfishers' bee–eaters' and sunbirds are particularly brilliant. Aggie has several good sightings to her credit by now.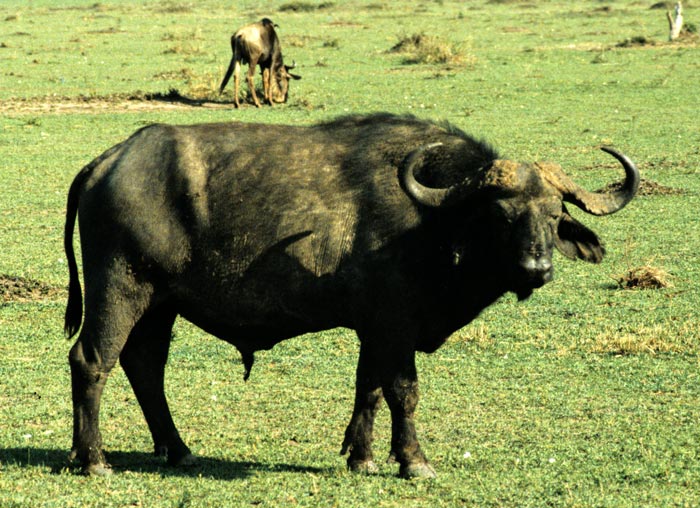 cape buffalo
After the morning game drive' Aggie' John' and I each took a shower. At camp. In the Mara. A portable shower is set up between and behind Aggie and John's tent and the tent I share with Mark Mittleman. Two staff people bring up buckets of water. They pour one bucket of hot water and one bucket of cold water into a large canvas bucket fitted at the bottom with a spigot and shower head. They hoist the water–filled bag to the top of the square orange canvas shower stall. You're then ready to go. You step in and get naked. Pull one rope and warm water falls out of the shower head. Pull the other rope and the water stops. The strategy is to wet down quickly' soap up (using "sopu")' and the use the rest of the water to rinse. It works just fine. Hemingwayesque.
giraffe
After lunch at the Kichwa Tembo Lodge' we undertook our afternoon game drive' the last drive of the safari. The drive turned out to be absolutely spectacular. We saw several cats' cheetah and rhino. We saw a pride of eighteen lions' including three inquisitive cubs. A group of about ten elephants' cows and juveniles' walked by close to the lions. One tiny elephant nursed from its mother. The three cubs' not realizing that elephants are off limits' stalked a cow elephant and her calf. When the tembo got fed up' she flapped her ears' advanced on the cubs' and presumably scattered them. We were too far away to see the cubs running away. Near the end of the drive' we found two lions' a male and female' lying down together away from the pride. The male made a few amorous advances upon the female' but she rebuffed him. Maybe the female was too sleepy. Then the lion made a pass which was reciprocated' and suddenly we were watching wild lions mating six feet from the minibus! These are sights and sounds that are quite rare for spectators. Rob and Jillian had never seen it' nor had Susan. Behind the mating lions' two ground hornbills were performing their mating ritual. The game drive was thus hugely successful.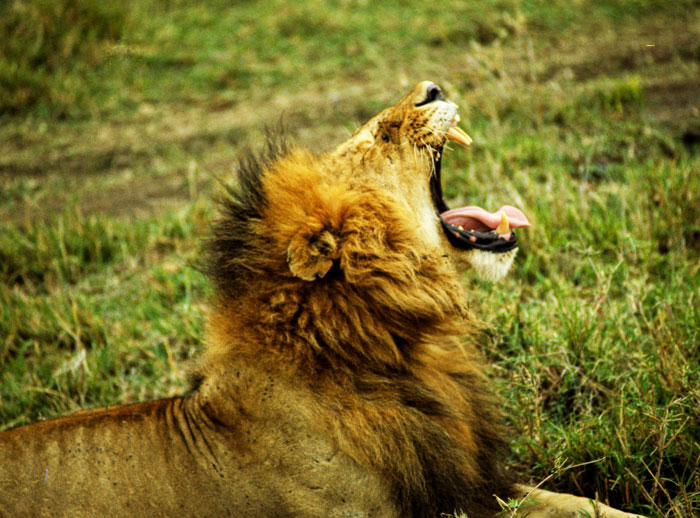 male lion
While we were watching the two lions' waiting for them to mate' Rob in our minibus wanted to know whether our friends in another minibus' earlier on the scene' had witnessed a mating. Because we couldn't make a sound' Rob signaled gestures to the other minibus. He pointed to the other van' made a "goggle"sign, pointed to the lions' then made the universal gesture of poking his forefinger through an "O" made by the thumb and forefinger of his other hand. Judy Lehman' one of the ladies in the other minibus' understood immediately and shook her head "no". Then' after the mating' Judy jubilantly repeated Rob's gesture for intercourse. When our fourth minibus arrived on the scene' after the mating was finished' we tried to communicate to those people not to leave' but to wait for another mating. Judy from her minibus made the intercourse gesture again. Greg' a fellow in the fourth minibus' later remarked that he understood Judy's gesture' but he wasn't aware that she was signtalking about lions! A real joker.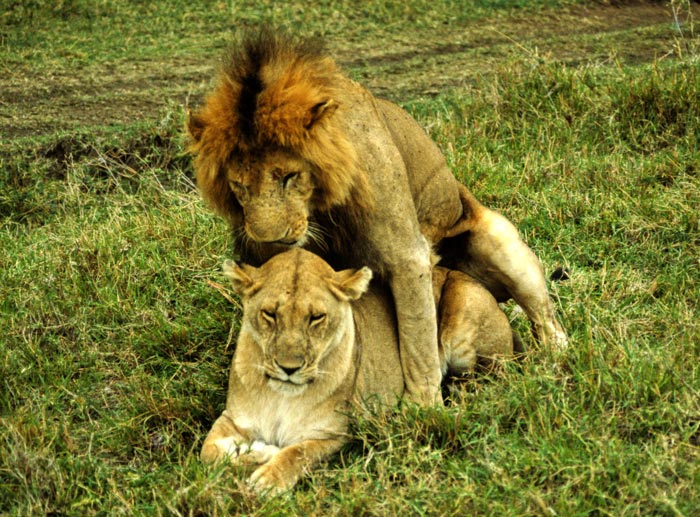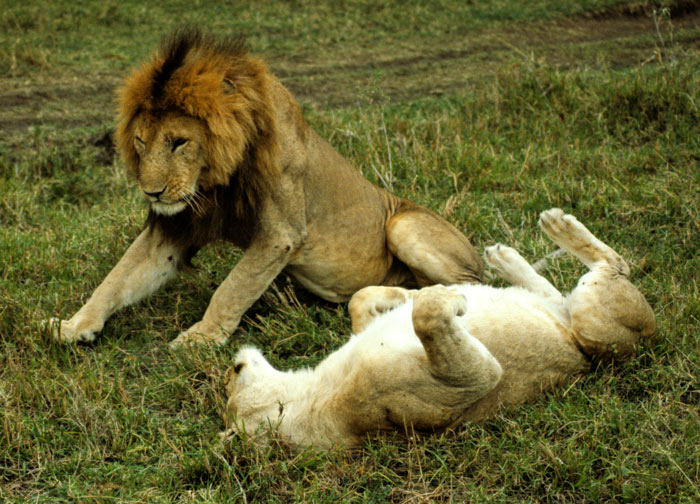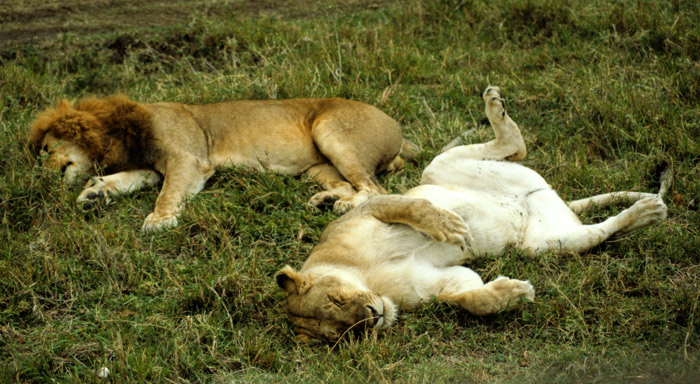 Friday, August 24, 1984—Conclusion
Friday morning we drove out of the Masai Mara Park at about 7:45 a.m. over a terribly rough and dusty road via Narok to Nairobi. We arrived at the Hilton Hotel about 1:15 p.m. Our safari is finished' and we are packing and preparing to go home.
John and I returned to the National Museum to hear Rob give a lecture at the early man exhibit. Rob' during the safari' had given several after–dinner talks on evolution. His theory was that evolution is not progressive or purposive' but simply adaptive to change. Organisms exhibit variations. If a genetic variation assists the organism to reproduce successfully' or at least to pass genes on successfully (as by protecting nieces or nephews)' then the variation may be passed to future generations. As the organism's ecological niche changes over long periods of time' the organism either adapts by evolution or becomes extinct. More than 95% of the species who ever lived are now extinct.
At the Museum' Rob talked about the fossil evidence found in East Africa relating to early man and early primates. He believes that Homo habilis evolved into Homo erectus, thence into Homo sapiens. What existed before Homo habilis is unclear' because the fossil record is blank for the period between four and nine million years ago. He believes' like Stephen Jay Gould' that evolution proceeds in spurts and not in gradual increments. For example' the footprints which Mary Leakey found at Laetoli' which are very old hominid footprints' indicate that the walker was fully erect and bipedal. Not shuffling or stooping. Also, scientists are not clear where Australopithecus afarensis, the famous Lucy' fits in. Richard Leakey' at the National Museum' certainly does not place Lucy into the direct ancestry of modern man. Rob also pointed out that a million years ago' there were three species of man–like creatures co–existing. Only Homo sapiens avoided extinction.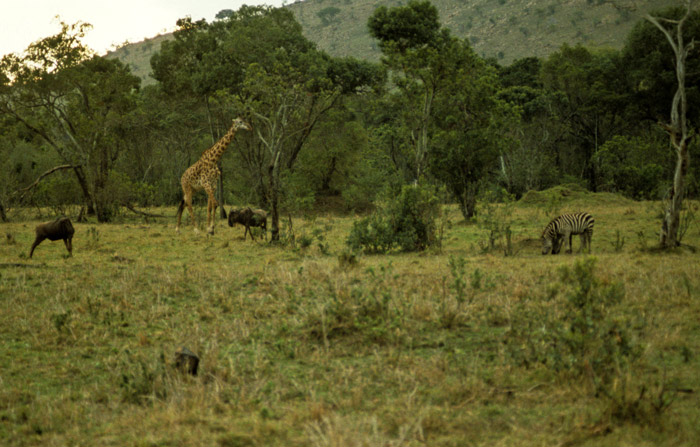 masai mara
It is time to leave Africa. Reflecting back on our travels' I would rank my experiences as follows on a scale taking into account game–viewing' birds' scenery' and accommodations: first' Masai Mara; second' Ngorongoro Crater; third' Samburu; fourth' Amboseli; fifth' Manyara; and then Lake Baringo and Mountain Lodge. Mount Kenya Safari Club' Maralal' and Kericho were just stops to break up long drives between game–viewing parks. Travel takes up a lot of time on safari; one of our drivers said he counted more than three thousand kilometers on our tour. The days have passed quickly. We are wonderfully satisfied with our African journey' but are eager to go home. We shall spend a day in Madrid' and we hope to see the Prado Museum. I shall stop this journal here' though' because it is about our African adventure' and our African adventure is now completed.