Thursday' February 14' 2008 —to Jordan
We are sitting in the Cairo airport at 1:38 p.m., which is seven hours later than Jackson time. What is that? 6:38 a.m.? Little sleep.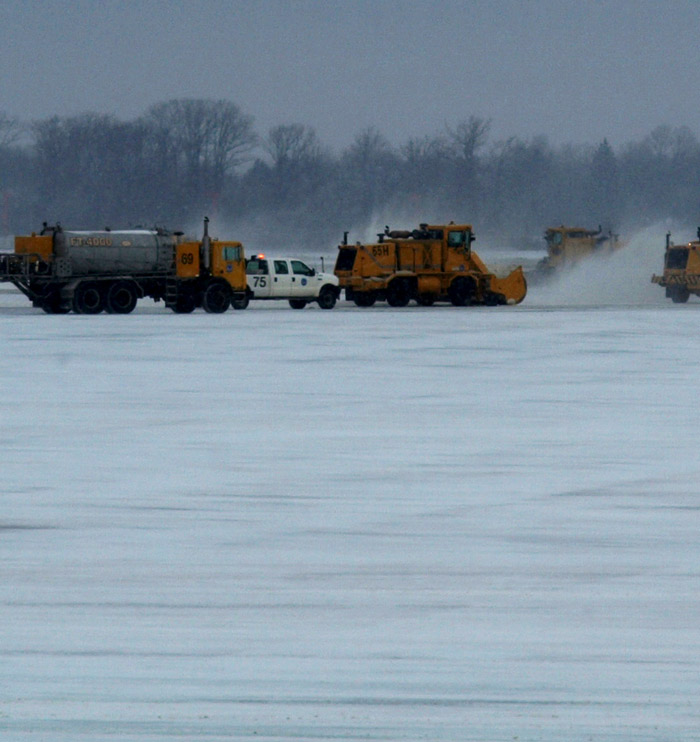 cleveland airport
We began by driving in wintry weather on Tuesday to Columbus. We enjoyed a pleasant dinner with John at Spagio. He was waiting for Jennifer to arrive back from Paris. Then Ag drove up to a Comfort Inn near the Cleveland airport. We chose the Cleveland airport because rates to fly to New York were a little cheaper than from Columbus, Cincinnati, Pittsburg, or Dayton. We were a little worried about getting out of Cleveland because an ice storm had briefly shut down the Cleveland airport for a few hours on Tuesday. Had we chosen the only airport in the country that had shut down for winter weather? Fortunately, Wednesday operations were normal, and we flew to New York's Kennedy Airport without incident.
The Egyptair flight also passed routinely, but with the usual degree of discomfort. At least we were able to spread out over four seats, and that helped a lot. Ag and I took turns sleeping horizontally across three seats, for an hour at a time. It was better than nothing.
So we arrived in Cairo, bought the Egyptian Visas, and made our way over to Departure Building No. 1. We hope to be allowed in the place at 2:00 o'clock p.m. for a 5:00 o'clock p.m. flight. We have nothing else to do.
Switch scene to the Kempinski Hotel in Amman, Jordan. We made it about 7:30 this evening.
mcdonald's restaurant

a

t cairo airport
In the Cairo Airport, we were let in to fetch our boarding passes at about 2:00 p.m. That's a long time until take–off, but we ate a meal at McDonald's. That's right, McDonald's. The International Departure terminal featured a food court on the third floor. McDonald's, Cinnabun, and Starbucks. We ordered a "McArabia", which is highly spiced chicken slices arranged in a pita bread with a sour cream–type sauce. With standard McDonald's french–fried potatoes. One wonders whether Egyptians will pick up a taste for French fries.
On the plane was a bride, in a long–sleeved white gown, with a trailing bit in the back. Apparently she was headed up to Amman to marry a Jordanian. She got applauded a couple of times. As she left the airport, her friend trilled or ululated, in celebration. Set up quite a racket.
When we got off the plane corridor to the terminal in Jordan, we met a nice fellow named Mohammed (it seems like most Muslims are named Mohammed). He escorted us through visa purchase, baggage claim, customs, and check into hotel. Tomorrow we meet the other folks in our pre–Egypt extension group, and take a touring van up to Jerash. Roman stuff. Lots of Roman stuff.
Friday' February 15' 2008 —Jerash' Jordan
Today we drove up to Jerash, an hour's drive north of Amman. The "we" is eight tourists plus our guide Kamel. Pronounced "camel". The tourists are mostly retired types who are well experienced with Harvard tours. Kamel speaks excellent English (he has an English wife), and tries hard to teach us a little about Jordan.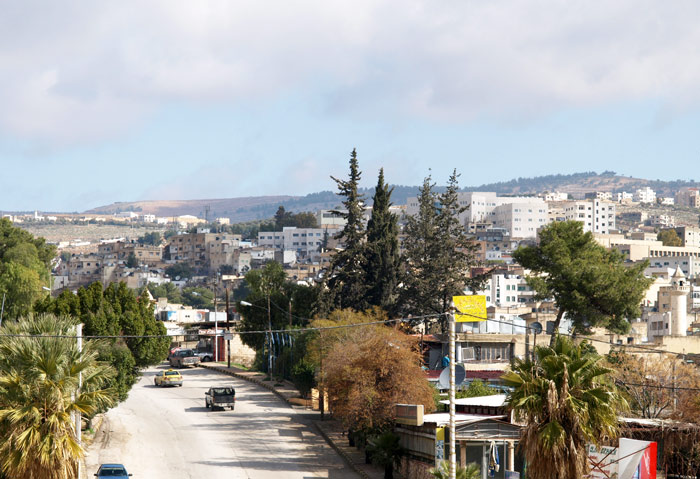 modern jerash' jordan
Jerash is a modern Jordanian city, with a large hillside excavated away to reveal the ceremonial or public part of an old Roman city of the first and second centuries A.D. The Roman ruins include a hippodrome, or horse-racing track, a large theatre, a smaller theatre, the temple of Artemis, and various paved streets, with hundreds of columns. These structures have been restored to some extent, so we are able to visualize easily what the placed looked like two thousand years ago. At the same time, most of what you see is original stone, so you get an authentic feel from it. For example, the earlier columns are Ionic, and the later ones Corinthian.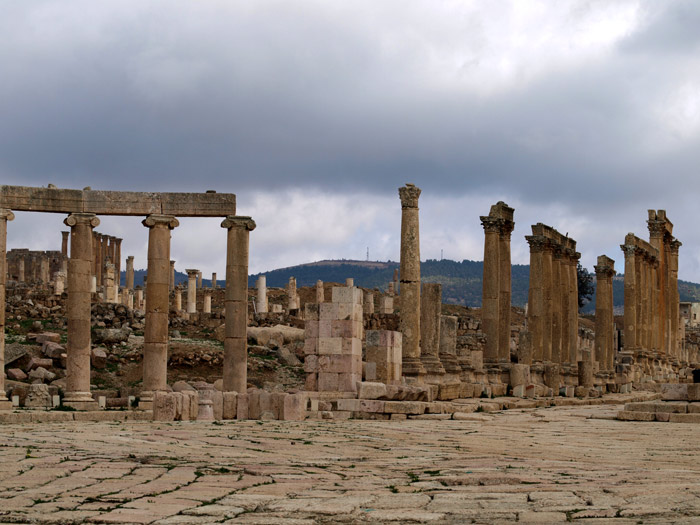 city center' roman period
Jerash had Greek origins, but the Roman period focuses on the early principate, when the emperors were trying to subdue the eastern Mediterranean. Hadrian and Trojan put down Jewish revolts brutally, and set up an imperial apparatus. The Romans strung together an alliance called "Decapolis", or ten cities. Jerash was one of those ten cities. So was Amman, then called Philadelphia. These cities kept the pax Romana, and the Romans subsidized public building.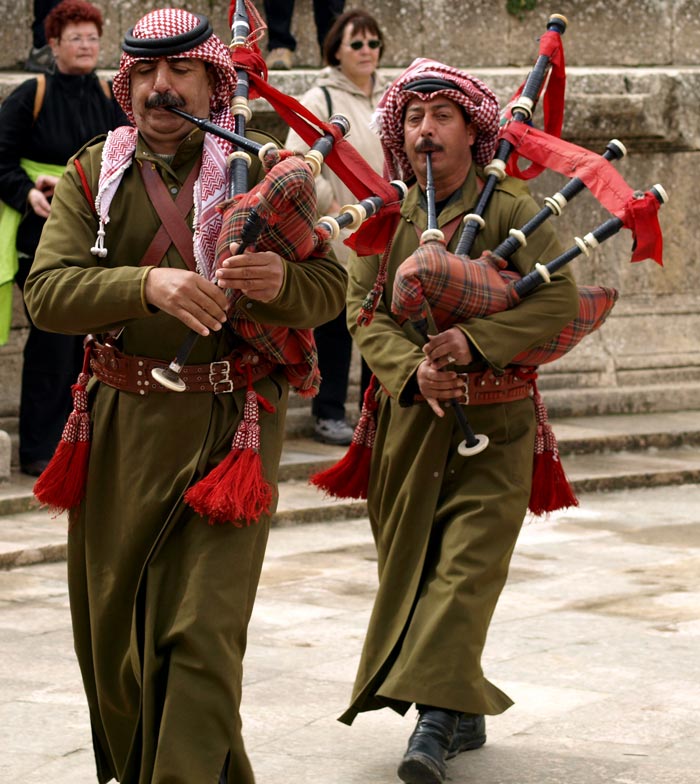 jordanian bagpipers
We were strolling around the Roman ruins, and we hear bagpipes from the theater! "Amazing Grace", on bagpipes. Kamel gave us his theory that bagpipes originated in the eastern Mediterranean, and the Romans took them to England and Scotland. I don't know about that, but these were retired Jordanian soldiers who now play for tourists, for contributions. There were two pipers and one drummer, and they played and marched for the assembled tourists. I got a picture or two. I requested they play "Black Bear Highland Laddie," and by golly, they did. Worth two bucks right there.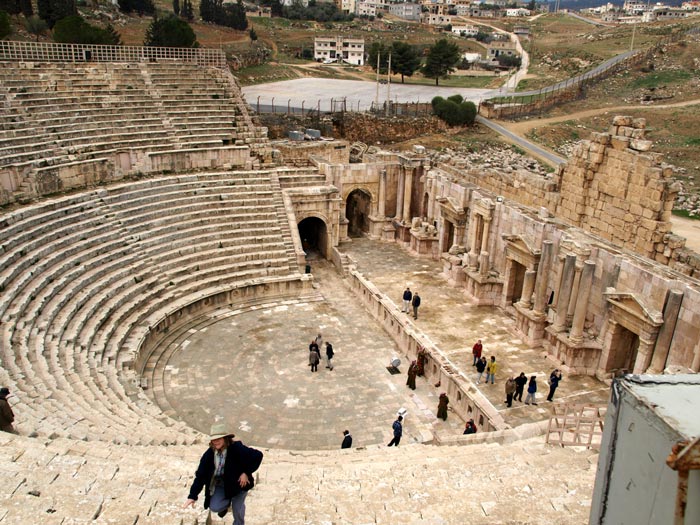 roman–style theater
This theater was not an amphitheater, and no gory gladiatorial spectacles were held there. Instead there was the familiar stadium seating in semi–circle, or a little bit more of the circumference, with steeply stacked stone seats. On the closed end was a stage with backstage areas. The theater still has excellent acoustics. You can hear pretty well from the top row. Ag and I went up there. Kamel said most Roman towns had two theaters—a big one and a smaller one, called the Odeon.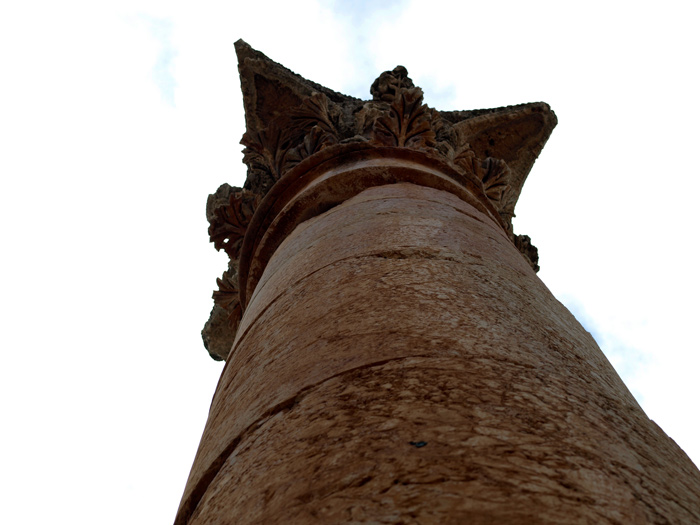 corinthian column
At the Temple of Artemis, Kamel showed how the columns flexed enough to withstand an earthquake in A.D. 749 that destroyed most of the rest of the city. The column's drum–shaped components were held together by metal fasteners in the middle, except that the bottom–most column section just sat on its base. The column swayed under stress. This was a breezy day, and Kamel jammed one of his keys in the crack between the column and the base. You could actually see the key moving as a result of the column's flexing. I placed the tip of a finger in a crevice and I could feel the column pulsing up and down on my finger, with the breeze. Nice demonstration.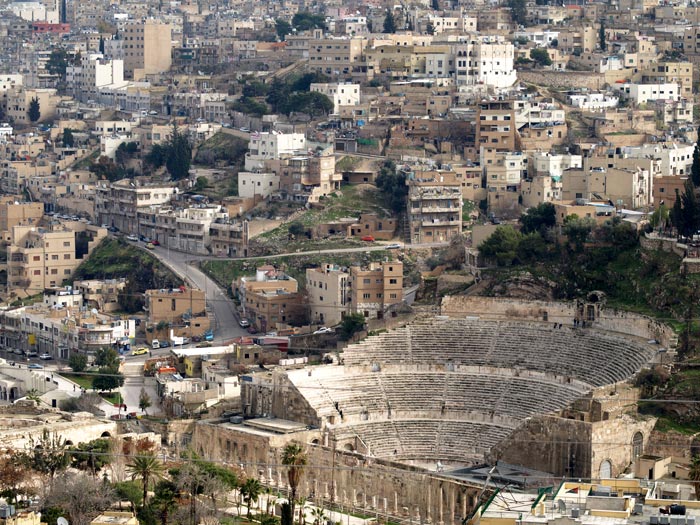 jerash view
Afterward we took a Jordanian lunch at a buffet–style restaurant close to the Roman ruins park. Clean bathrooms. Pita–style bread at every table. Most of the food was vegetarian, though there were some meat balls of goat or sheep. Rice. Olive oil. Really rather tasty and healthful–seeming.
Saturday' February 16' 2008 —Amman
a

nd Jordanian Archeological Museum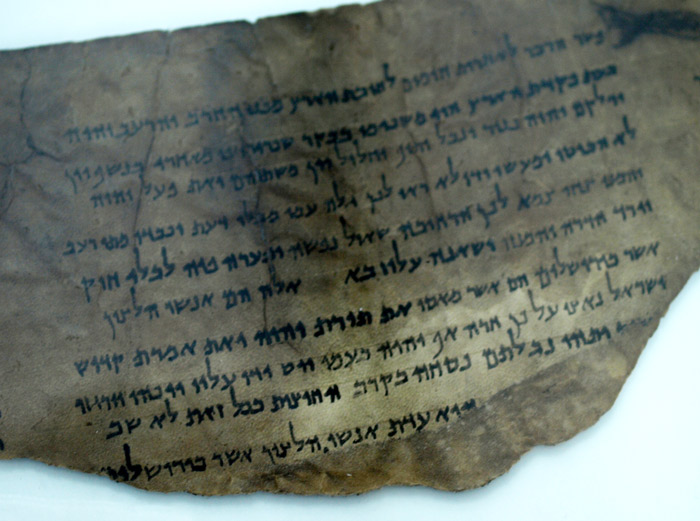 dead sea scroll fragment
Back in Amman this afternoon we visited the Jordanian Archeological Museum up on the city citadel, or castle rock. This museum was remarkable. I had no idea that you could actually look at parts of the Dead Sea scrolls in a museum. We saw bits of the scroll on leather, and also on carved plates of tin.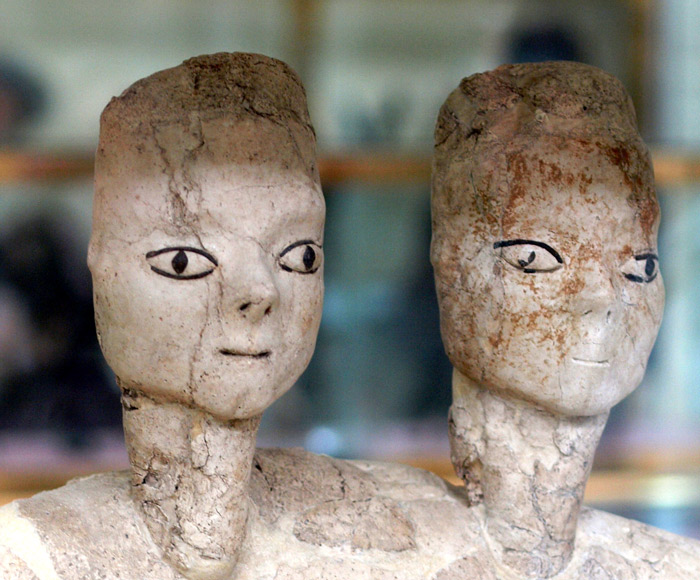 jericho statues
Jericho used to be in Jordan before Israel took the West Bank in the 1967 War. Jericho is one of the oldest settlements in world history, and this museum had several pieces from there. We saw the typical Jericho adorned human skulls, which were plastered over and fitted with stone eyes in their sockets. These skulls are famous as one of the earliest known funerary practices. Then we saw some late Neolithic art, including statues of human beings, dated from 8,000 B.C. to 6,000 B.C. This is just after humans first discovered animal husbandry and farming. Important times.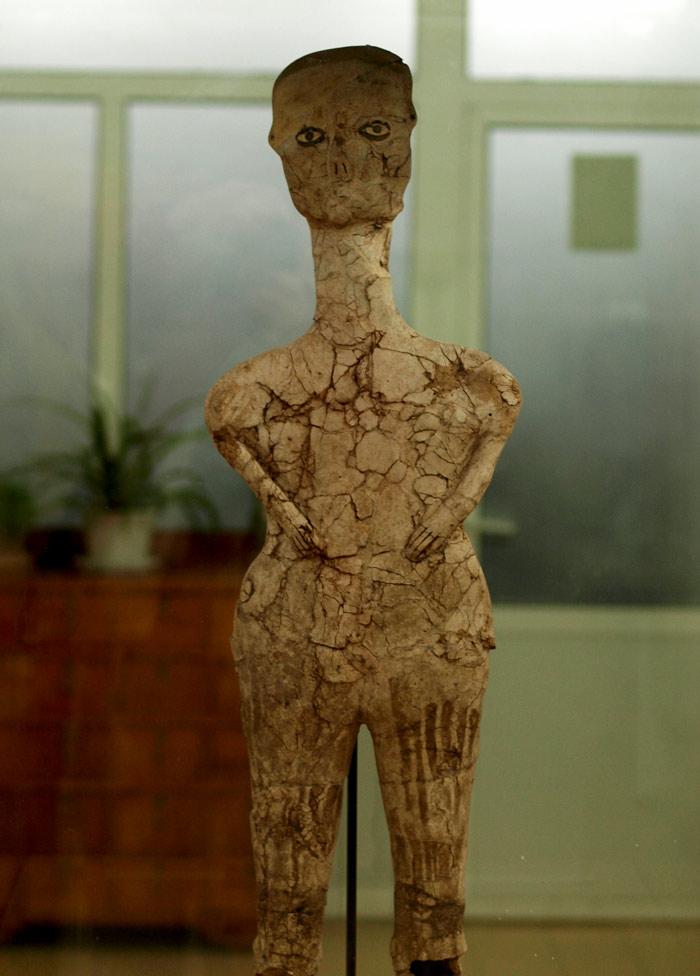 neolithic statue
So, an outstanding museum. The Amman acropolis also held ruins of Roman, Byzantine, and early Muslim churches. The mosque had been renovated to some extent by a Spanish research team. I took bunches of digital photos, but not all of them came out. I shall try to be more careful. Tomorrow we drive down toward Petra, and day after tomorrow we actually visit Petra. By the way, the weather today was breezy and chilly. We needed our jackets.
Sunday' February 17' 2008 —Mount Nebo
a

nd Mosaic Map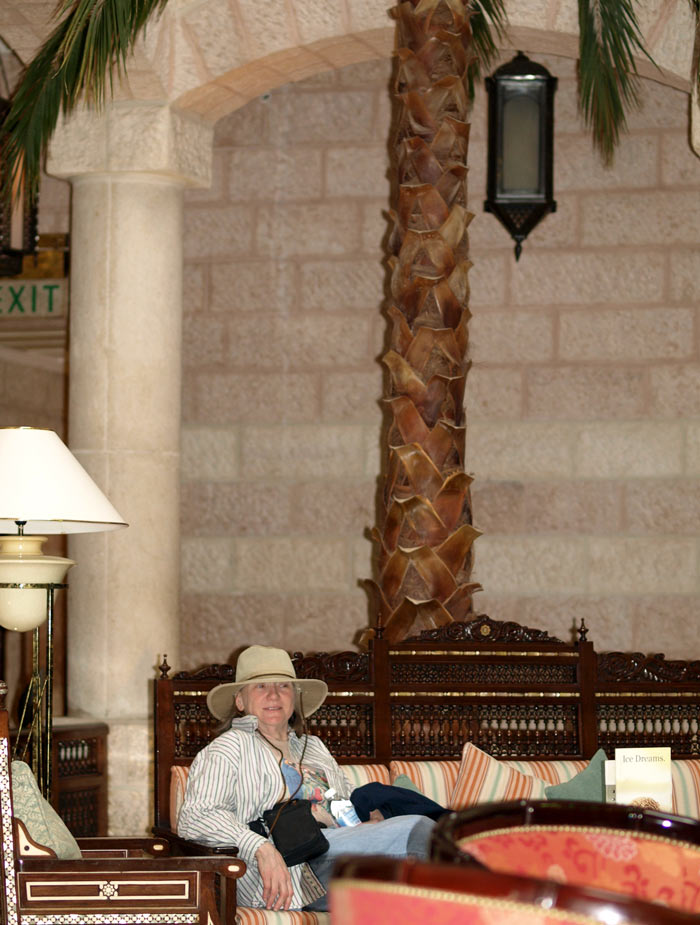 hotel lobby

a

t petra
Yesterday was a busy day, though most of it was spent in our bus. We worked our way south to Petra. We haven't seen Petra yet, but we are poised to do so. Our hotel is the Petra Movenpick, moments away from the entrance to the site.
We stopped at Mount Nebo, which is where, by Biblical and Koran legend, Moses looked over the Jordan Valley to the promised land all the way to the Mediterranean Sea. Moses then died and the Lord buried him somewhere in the Jordan Valley in a place known only to God.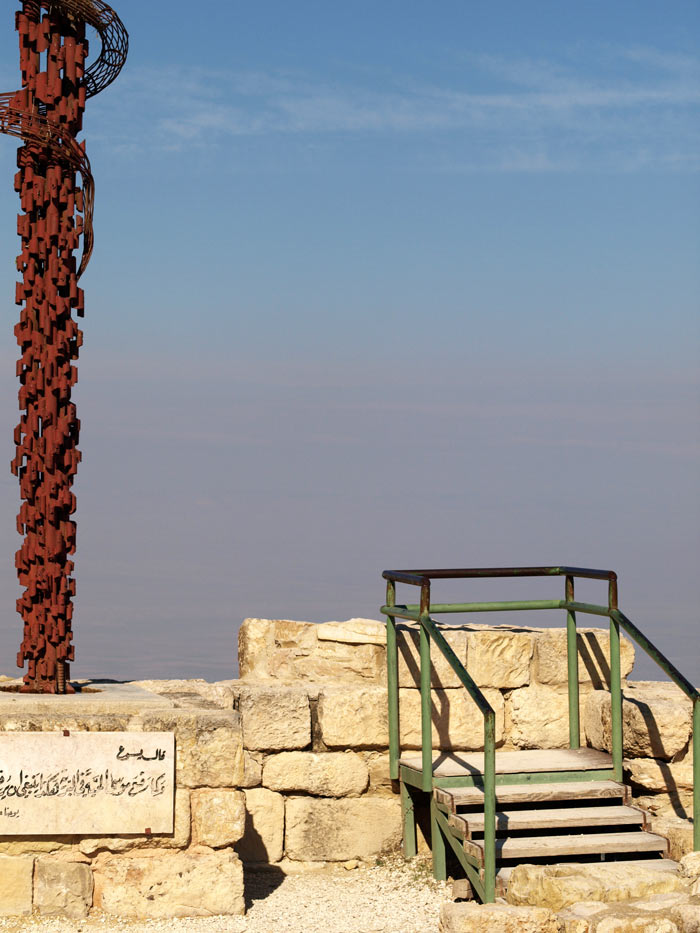 pope's viewing stand

a

t mount nebo
A ruined monastery sits on top of Mt. Nebo, and it is under restoration. Monks last occupied the place in the tenth century, and it was completely tumbled down. The Franciscan Order purchased the site, and they are building a Memorial of Moses. In 2000, Pope John Paul II visited Jordan, and his first sight–seeing stop was Mount Nebo. They still keep the pedestal he climbed up, on very shallow steps, to look over the Jordan Valley.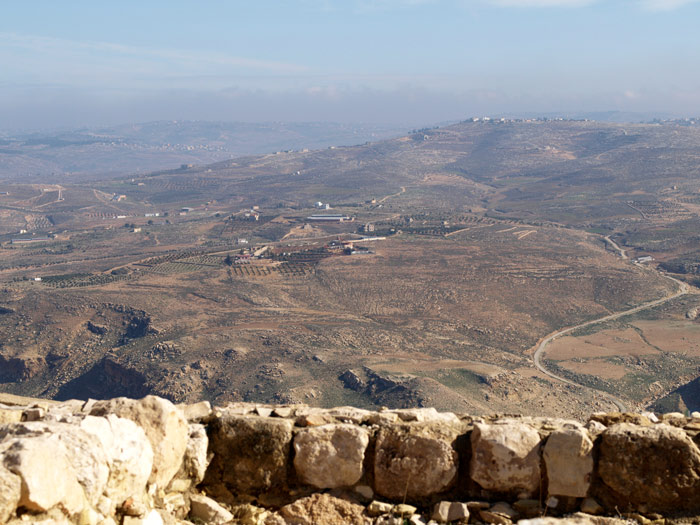 view

f

rom mount nebo
The view was hazy, but we could make out where the Jordan River entered the Dead Sea from the north. On the other side lies the West Bank, which used to be Jordanian but is now occupied by Israel. Just barely visible is Jericho, "on the other side" of the river Jordan. After Moses' death, Joshua and the Israelites crossed over and fought the battle of Jericho.
The Jordan Valley follows the Great Rift, which is the juncture of two tectonic plates along an edge which runs all the way down into Kenya, four thousand miles or so. Because of the slipping and sliding of the plates, earthquakes occur commonly here. Was it an earthquake which cast down the walls of Jericho?
Jericho, by the way, is an extraordinary archeological site. It has been a settlement for as long as human beings have known how to farm. That is a long time. Ten thousand years or so. Unfortunately the political violence on the west bank of the Jordan keeps archeologists from digging. They will presumably go back to the digs after things settle down. I bet Jericho will still be there.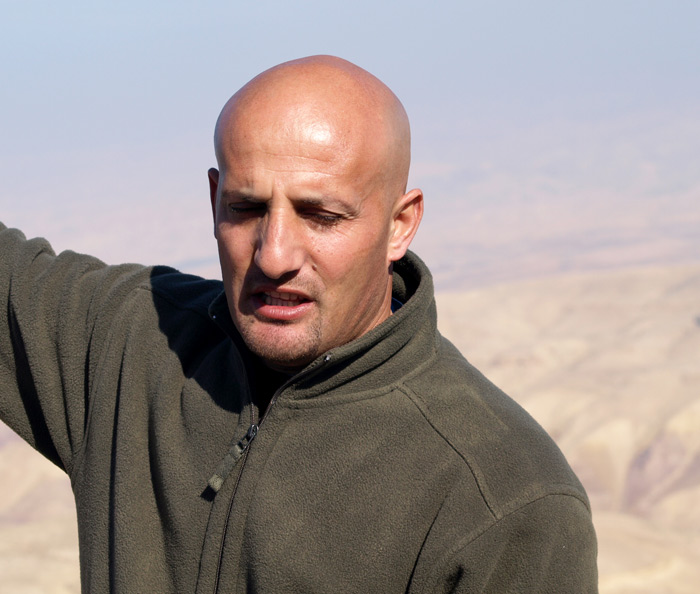 our guide kamel
After Mount Nebo we visited a mosaic workshop. Our guide told us that making mosaic—forming pictorial images with bits of colored stone—is the only Jordanian art form which is native to the region. Indeed, we have seen numerous beautiful old mosaic floors in Jordanian ruins. This workshop was supposed to foster the art form, and most of the artisans are supposed to be disabled. I don't know whether this is all tourist baloney or not, but Ag and I bought two rather pretty mosaic pieces. A Roman Lady and a Tree of Life. We bargained and the whole bit. I will be satisfied with the deal if the artisans get a little money out of it.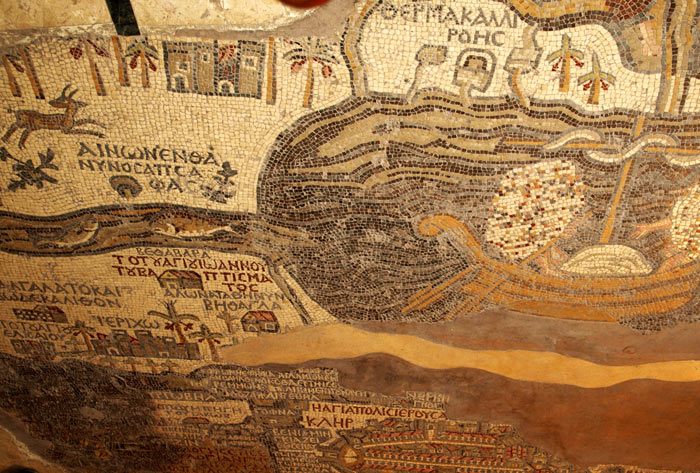 holy land mosaic
There is a modern Orthodox Church in Madaba which is built over an old mosaic map— perhaps 600 A.D.—of the Holy Land. Interesting because it is so old, and is generally accurate, showing the region from the Jordan River south to the Nile. Jordan River, Dead Sea, Jerusalem, and so on. Very nice site. It shows quite plainly that people living fifteen hundred years ago were not just blundering around ignorant and stupid. They know perfectly well where things were. This Madaba was a neat place. Narrow winding streets. Lots of traffic. Call to prayer. Exotic sights and sounds.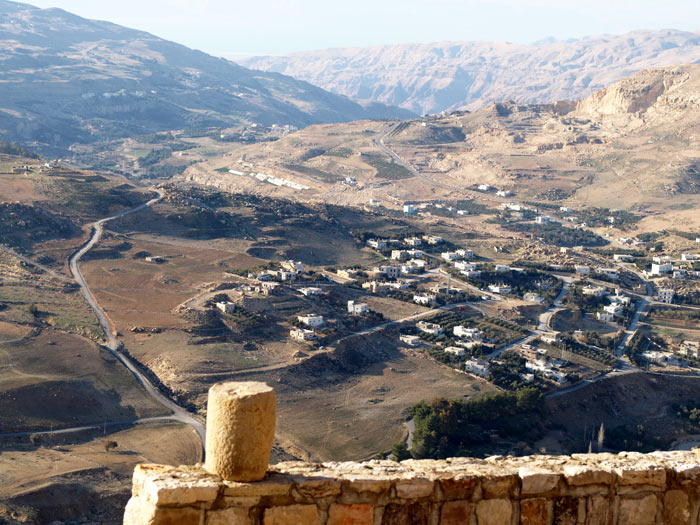 view

f

rom crusader castle
Our last touring stop was a Crusader castle at Karak. The Crusaders kind of threw together a castle in a hurry on a mountaintop south and east of the Dead Sea. Good views of the surrounding valleys. You could tell the castle was built hurriedly because the builders just grabbed up whatever stone was at hand and piled it up. The end product was quite substantial and the Crusaders successfully occupied it for forty–eight years. Ultimately Saladin's Muslim forces besieged the castle and forced the starving garrison to surrender.
Jordan seems such a dry country, though Kamel says it greens up in the spring. I had always heard that the soil in the Holy Land was stony and hard to farm. Believe it. We have seen a few nicely tilled fields, but mostly you couldn't poke a spade into the earth anywhere without hitting rocks. I keep wondering why you fight over the desert. I guess the answer is you would fight over the few tillable bits. Dry or not, the region from Iraq to Jordan to Israel to Egypt is where humans taught themselves a large piece of civilization—namely how to husband animals and to farm crops.
Petra
Cut to later this evening. Ag and I have just finished a seven–mile hike at Petra, with Kamel and Steve and Ellen Hoffman. We all thought the walk was worthwhile, but we wouldn't do it again soon.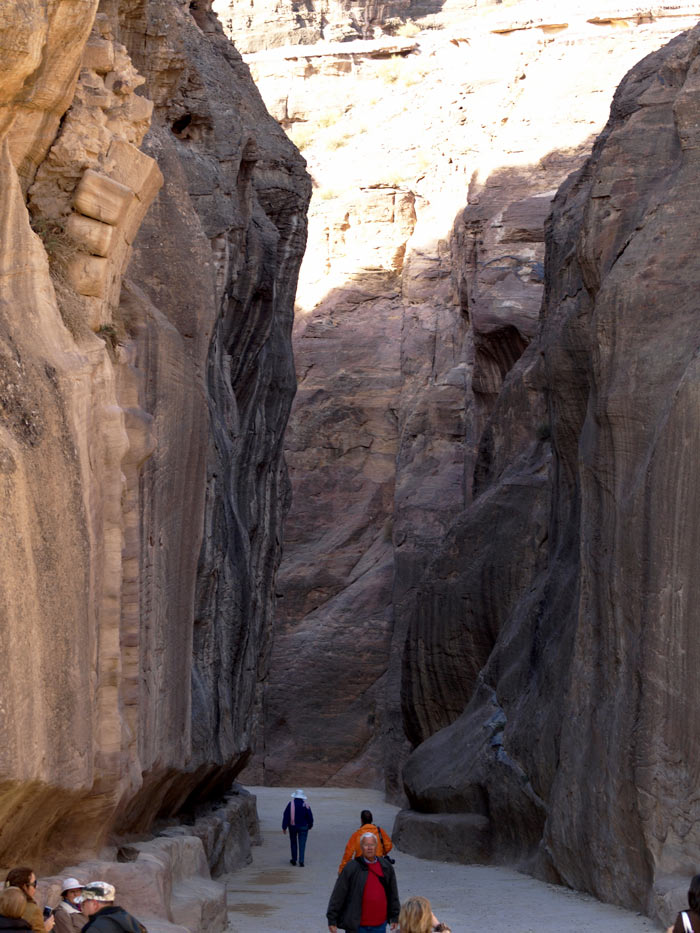 walk

t

o petra
Petra is a group of rock carvings and artificial caves dug into sandstone rock formations. These formations lie along the Great Rift fault, where the African tectonic plate collides with the Arabian plate. Among other consequences, lots of earthquakes occur in the area.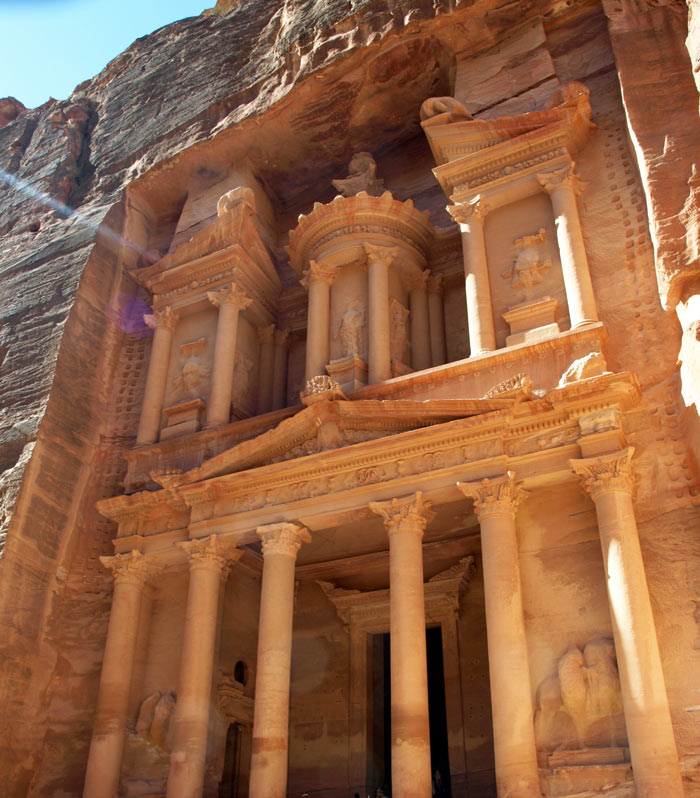 petra treasury
The rock carvers were Nabataeans, Arabs who chose to settle at Petra around 168 B.C. These Arabs found the area, with its steep valleys, could be defended easily. The native sandstone was easily worked which led to scooping out hollows in the rock, and then decorating the rock with carvings. Some of the carvings are massive.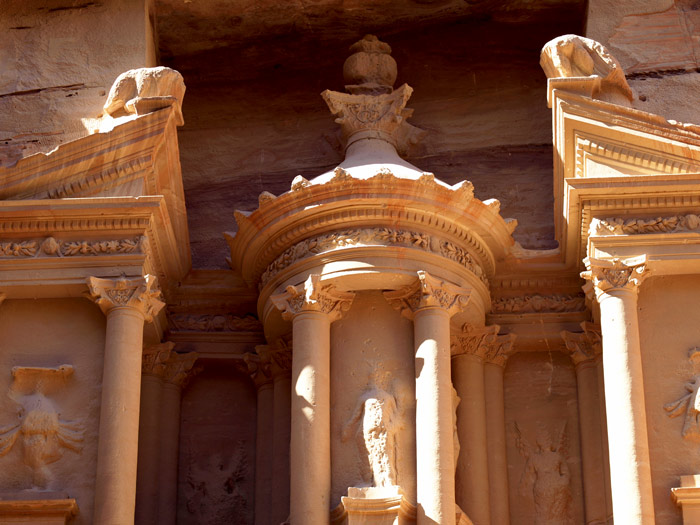 detail

o

f petra treasury
The Nabataeans made their living by trading in frankincense and interacting with passing caravans by feeding and protecting them for a fee. The Nabataeans became quite wealthy. They also figured out how to catch rainwater and divert it through pipes and channels to wherever they wanted. They are known as expert water–handlers.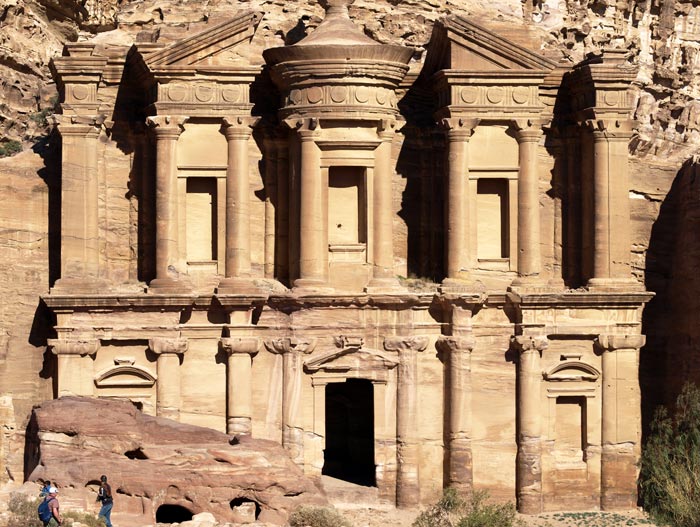 petra monastery
We walked along a trail through the gorge–like valley where Indiana Jones rode his horse in the movie. We came suddenly to the Treasury, a colossal carving in sandstone of a building façade. Some rooms had been dug into the stone behind the façade. You find this beautiful, huge carving that obviously speaks of civilization, in the middle of nowhere. The locale near the famous Treasury has dozens of large and small tombs, shrines, a theater, water–courses, and decorative carvings.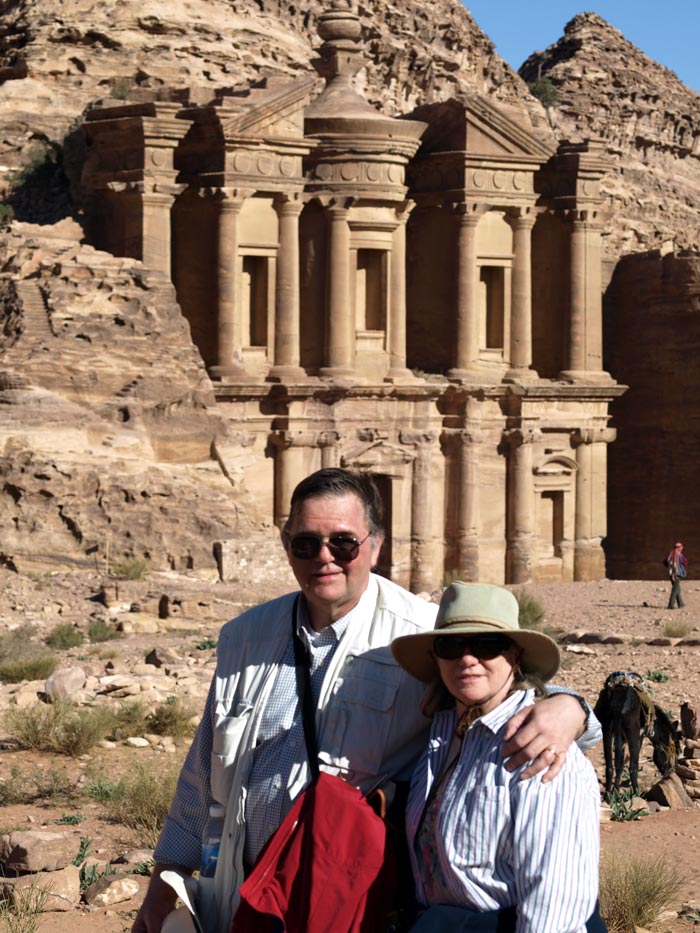 view

o

f petra monastery
The five of us, including our guide Kamel, hiked up a mountain, by a route thought to contain eight hundred steps, to a monastery. I expected a hermit's hut on top of the mountain, but it turned out to be a second colossal façade similar to the first one. Really, really remarkable.
We walked out thoroughly weary.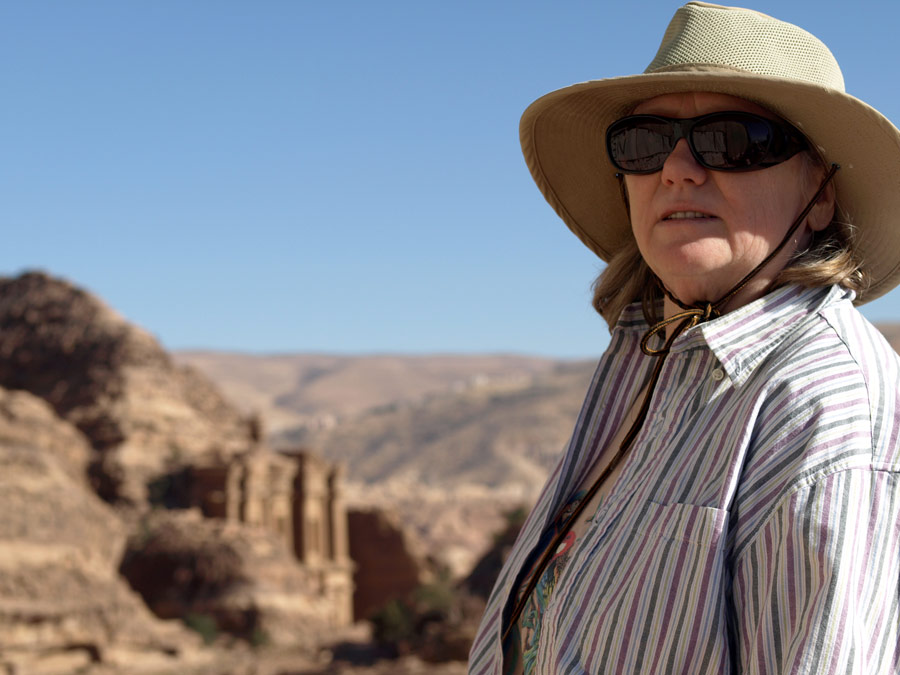 aggie

a

t petra monastery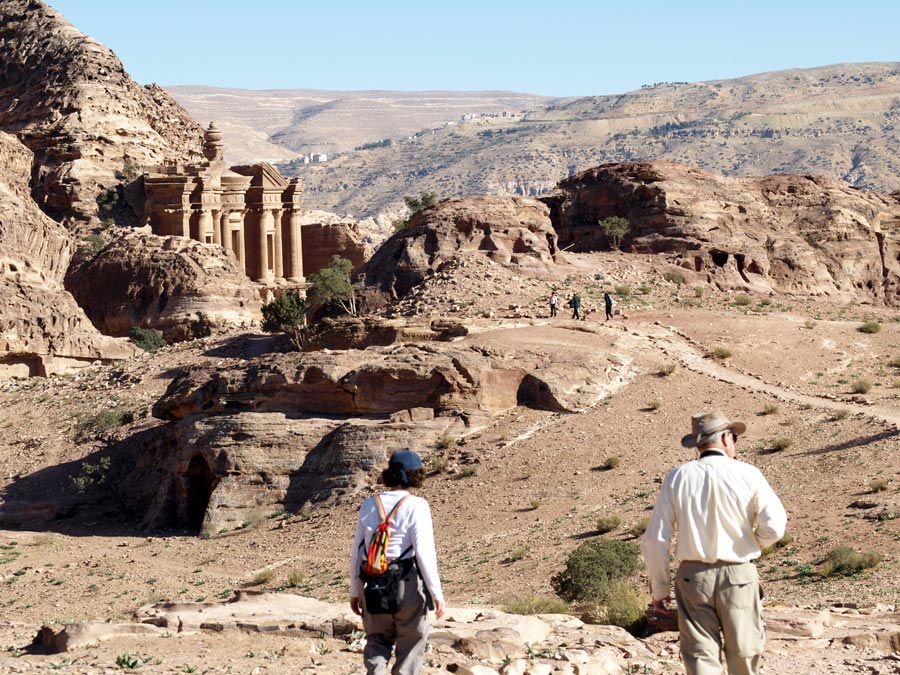 view

o

f petra monastery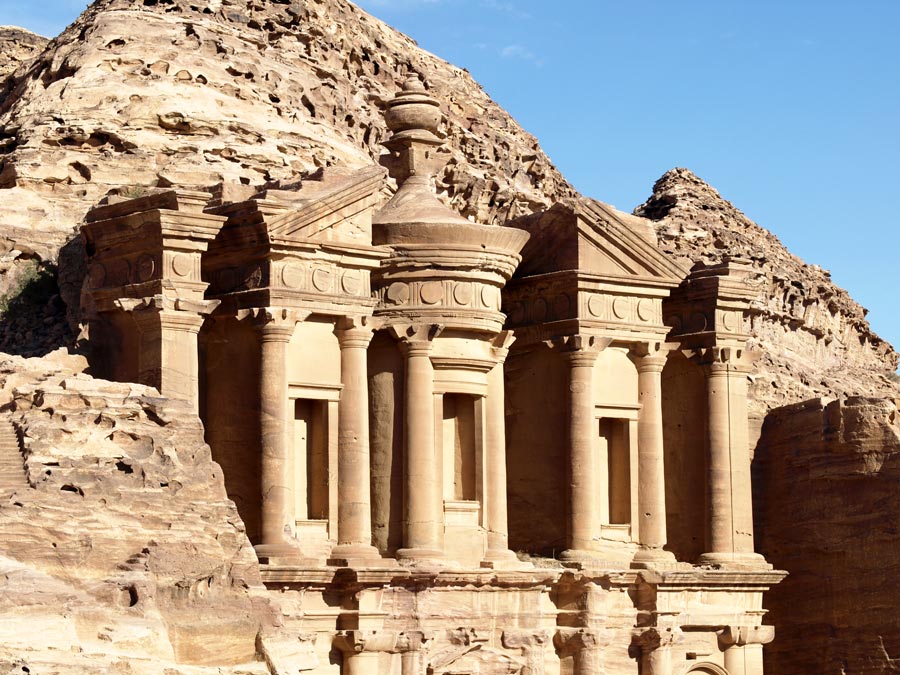 petra monastery
Monday' February 18' 2008 —Jordan River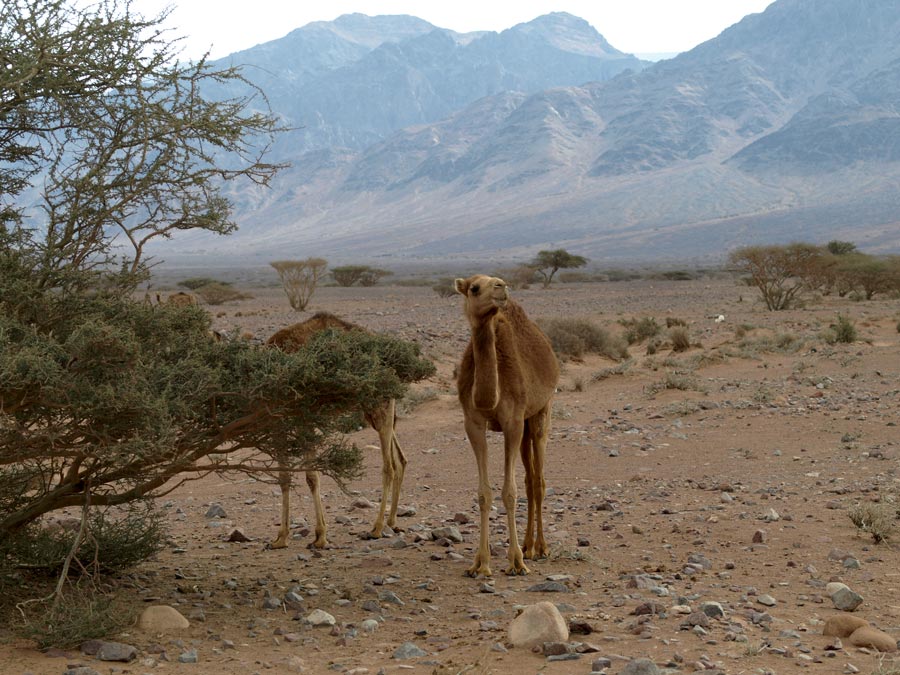 bedouin camels
Today we mostly traveled and rested. We departed Petra and drove up to the north end of the Dead Sea, close to where the Jordan River enters. Along the way we drove across a wadi, or valley, and across a line of high hills—low mountains. I think what happened is that the Arabian tectonic plate butts up against the African plate, or vice versa. I don't know which. The edges of both plates crinkle up a little, like a sheet of paper. Hence mountain ridges rose up parallel to the fault, on each side of the fault.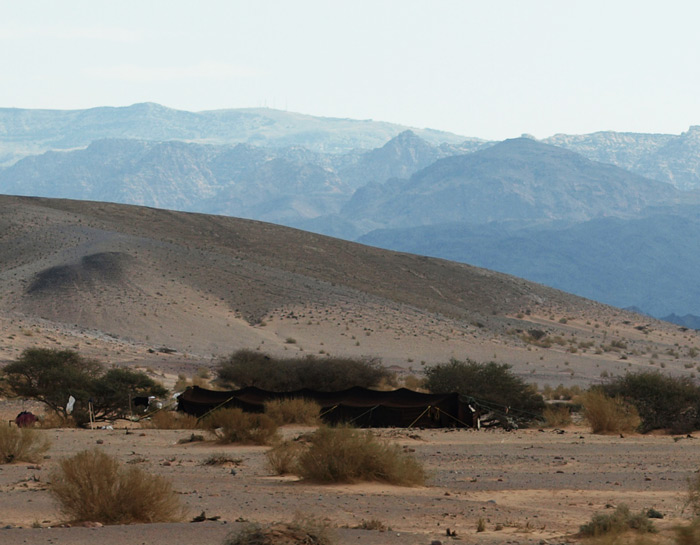 bedouin goat–hair houses
As we drove across the Wadi Araba we saw several Bedouin encampments. Bedouins still have goat–hair tents and camels, but they have added pickup trucks. Instead of moving eight times per year, they move twice a year, uphill at the beginning of summer, and downhill at the end of summer. The government keeps trying to bring the Bedouins in out of wilderness, but they are reluctant to come. They like it out there in a constant campout. We saw several Bedouin goat–hair houses (they don't like the term "tents") in unoccupied spots near the highway entering towns. Reminded me of what I imagined Gypsies do. According to the Bedouins, Gypsies use tents.
From the Bible, Jesus was baptized in the Jordan River, at a spot on the east side of the river. That is, at a spot in Jordan. The Israelis claim, on the contrary, that the baptism site is found on the West Bank. We went to the one in Jordan, at a place named Bethany.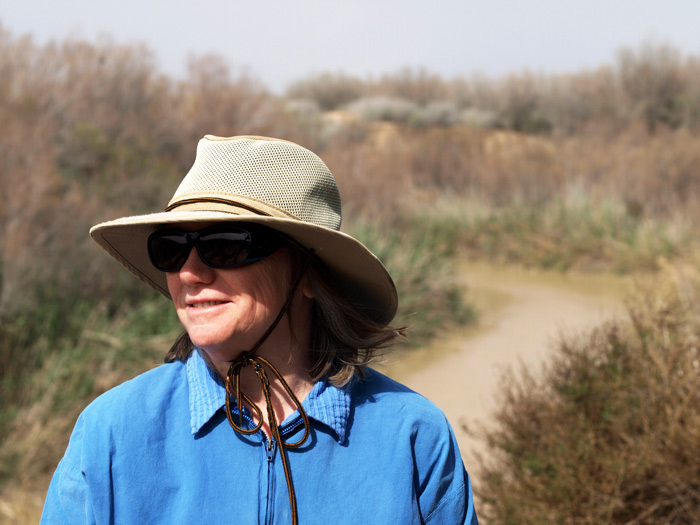 aggie

a

t

t

he jordan river
The Jordan River this time of year is about as wide as Salt Creek. You wonder how this could be what all the fuss is about. Archeologists have found ruins of several churches close to this place on the river. We saw the ruins, including some in situ mosaic floorbits. Somebody centuries ago thought the place was significant. Just to be on the safe side I dipped my fingers in the Jordan River. Muddy water. No tingle.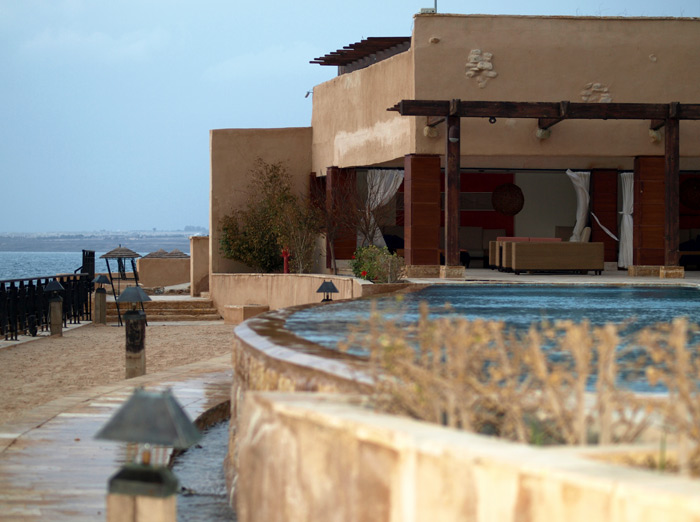 movenpick dead sea spa
Our hotel tonight is the Movenpick Dead Sea Spa. You can get massages, facial mud, wraps, steambaths, and the like. Ag didn't get any of that, but we did take a dip in the heated pool. That was very relaxing. We'll relax until we fly to Egypt tomorrow. Won't be much to report for a while.
Tuesday' February 19' 2008 —Dead Sea Spa
After confirming that we had use of our room until 11:00 a.m., Ag and I roamed around the Movenpick Resort. Down to the Dead Sea to watch a weather system rolling in.
I'm thinking about popular culture, and the way it erodes traditional values. When I was a teenager and in my twenties, that was all to the good. Some traditional values, such as racism and old–style politics, needed changing. Now I'm not so sure. Is it old fartism or is it the truth to suggest that two–parent families make a good foundation for society? Or that divorce is too easy? Or that children need way more discipline? Well, guess what. Muslims answer all those questions on the side of traditional values. Let's not assume that Muslims are our enemies just because they are Muslims.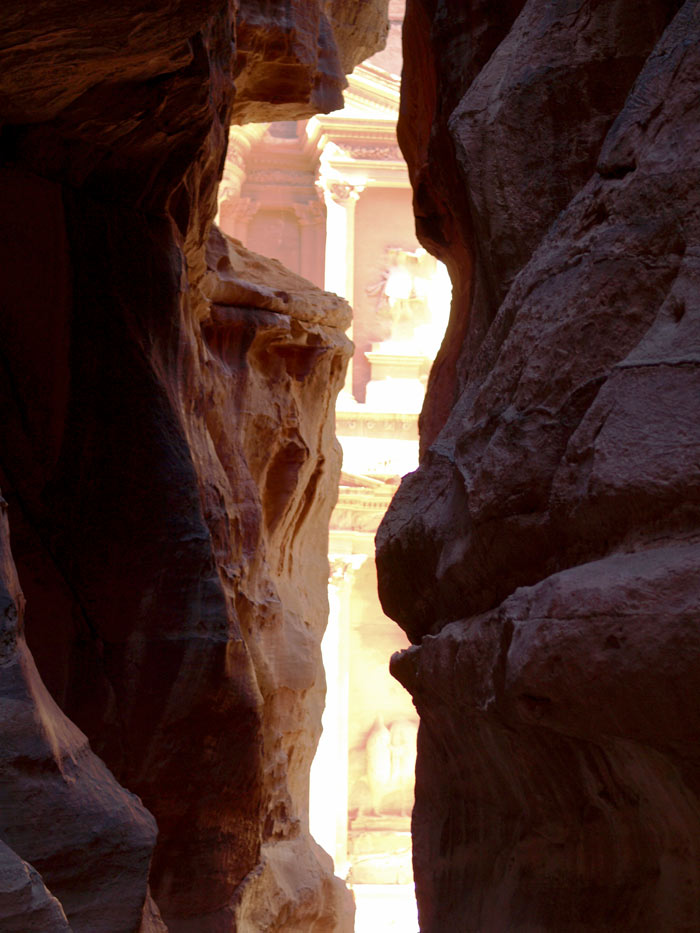 first view

o

f petra treasury
Back to Petra for a bit. I'm reading Jana Taylor's book on Petra, with both text and photographs. She thinks that traders drove their caravans up the Sig, or gorge, toward Petra, and suddenly came upon the view of the Treasury monument. The contrast between the half–lit gloom of the gorge trail contrasted starkly with the brilliance of the rose façade in the sunlight. It was the Nabataean version of shock and awe, good for setting up a commercial bargaining session.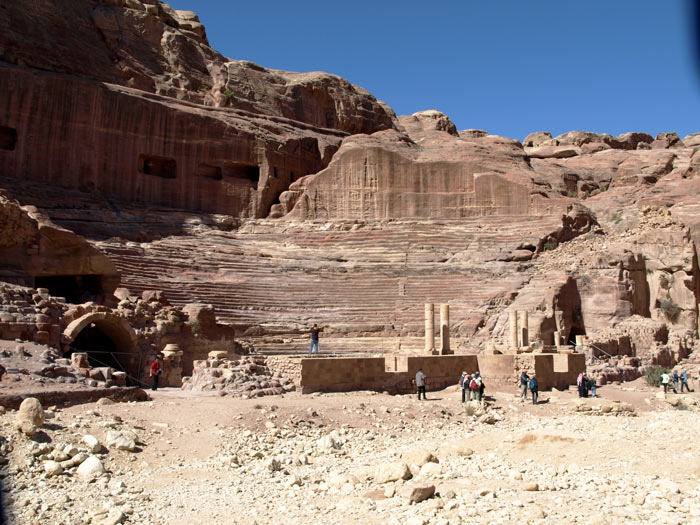 amphitheater

a

t petra city
The Treasury entrance to the City of Petra was not the only way in. It was the way in that outsiders had to use. They came in through the cemetery, so to speak, so they could see all the funerary monuments. The Nabataeans also carved out a theater in the necropolis, apparently because that is where the natural outcrop for it was found. There was no other suitable place to carve seats in a semicircle, sufficient to seat 5,000 people.
The City itself features a main road flanked with columns, mostly broken down now. There was also a temple which has only recently been excavated. We saw some remaining plaster pieces, with ancient paint still discernible.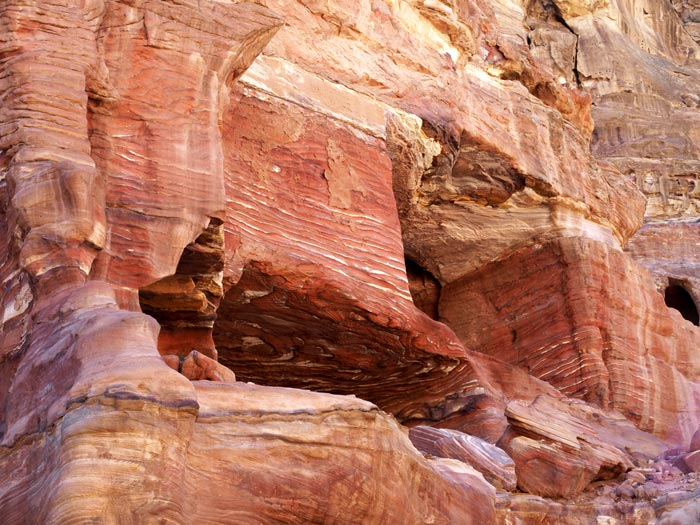 textured sandstone wall

a

t petra
Moreover, the sandstone itself contains bits of minerals which lend color to the rock. Iron for red, copper for green, sulfur for yellow, and the like. When the sun hits the stone at various angles, the colors change hue and intensity. A slanting light thus looks completely different from the scene at high noon. The contrast in the rock changes also, of course, with shadows forming at various times of the day.
Altogether, I would like to have walked through Petra for another day. Unfortunately, neither Aggie nor I were capable of it the day after our seven-mile hike. Instead we did the sensible thing. Rest.
And so, on to Egypt.
Wednesday' February 20' 2008 —Alexandria
Our flight to Alexandria was ninety minutes late, so we pulled into Egypt at about midnight. Tired. This morning at the Alexandria Sheraton Hotel we jumped up perky and ready to go. Our guide Mahmoud took us around the city.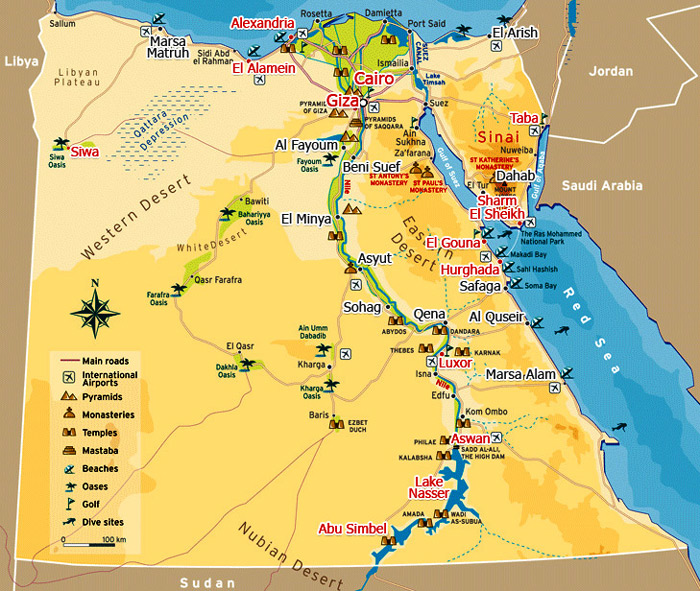 map

o

f egypt
Alexandria has about three million people, except in summer when another two million (!!) come to town. We saw the empty apartment buildings and deserted beaches which fill up in the summer. Alexandria appears to be arranged in a semicircle around a piece of the Mediterranean Sea. A six–lane beach road runs along the sea, but on occasion more than six lanes of cars squeeze onto the road. I mean, lots of traffic.
Author's Note: In 2001 Aggie and I had taken a tour of Egypt, so we had already seen many of the features of this tour in Egypt. We had not been to Jordan, or to Alexandria, or to the Sahara Desert. In our view Egypt is an absolutely remarkable place, and well warranted a revisit. At this writing, in 2015 during a period of political upheaval, however, we cannot recommend a visit. Wait until calm returns.
The motor vehicle drivers here are extraordinarily skillful. They need to know where the road is, and where the road is going, and what footprint your own car has, and what the other cars are likely to do. I watched our driver maneuver several times within inches of the other car. At road speed—a highly impressive performance.
We had one dicey bit where we were very slowly proceeding down a street where scarf and clothing vendors had set their stands up in the right–hand lane, illegally. We were forced to drive down the middle of the street. Then here comes an oncoming streetcar trolley. He's on tracks, and he's not budging out of the tracks. We had to wait for the vendors to move their stuff to the right so we could squeeze by.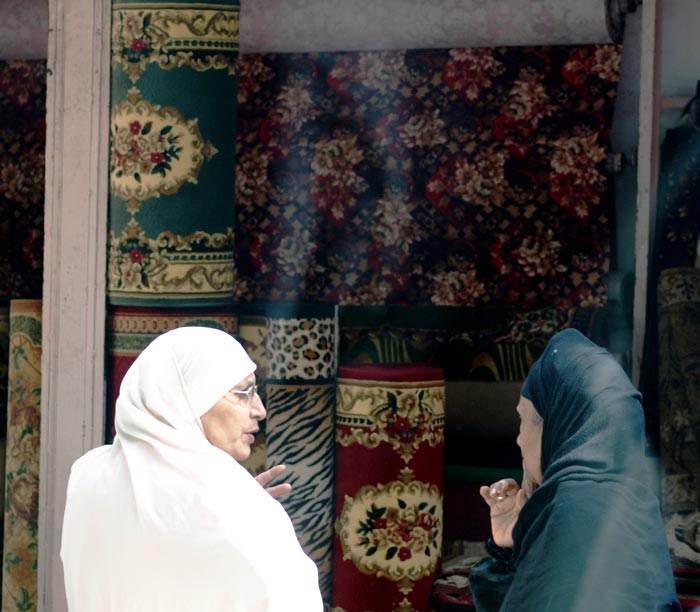 street scene

a

t alexandria
This scene was really oriental–seeming, by the way. Lots of small shops, each dealing in a specialty. Clothing. Used books. Brass hardware. Wood. Used car parts. One fellow was fitting a new engine into a car, out on the crowded street. Crane and all. Lots of noise. Lots of activity. Good stuff.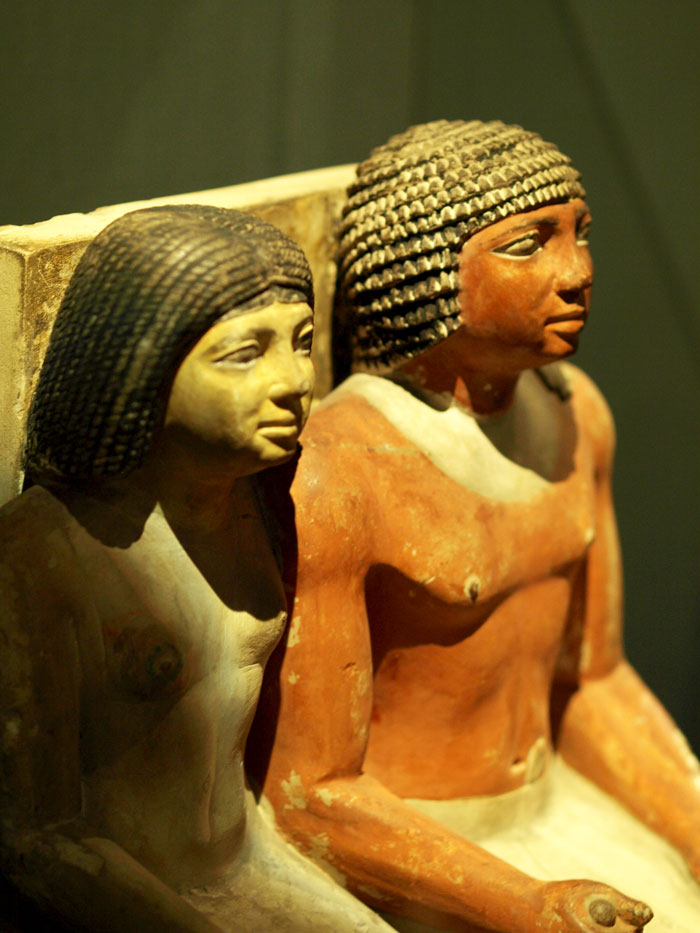 alexandria national museum
We first attended the Alexandria National Museum, a small but excellent museum. The basement held ancient Egyptian artifacts, the first floor had Greco–Roman, and the upper floor had Christian and Islamic pieces. Ag and I both liked the ancient Egypt floor best. The lighting was perfect for available–light photography. I took a lot of shots which turned out well.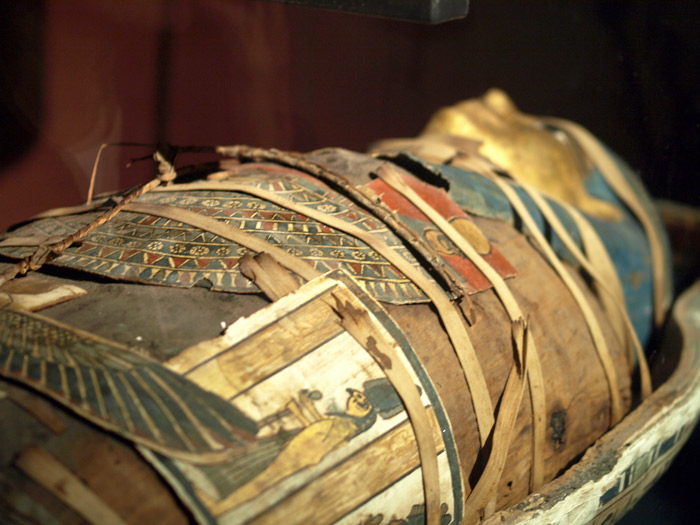 coffin

a

t alexandria national museum
Below the basement was a sub–basement with a mummy and coffin displayed. Mahmoud showed us the coffin where the Ka, or spirit, was looking for the body. The mummy was still wrapped, and the idea was to show the decoration.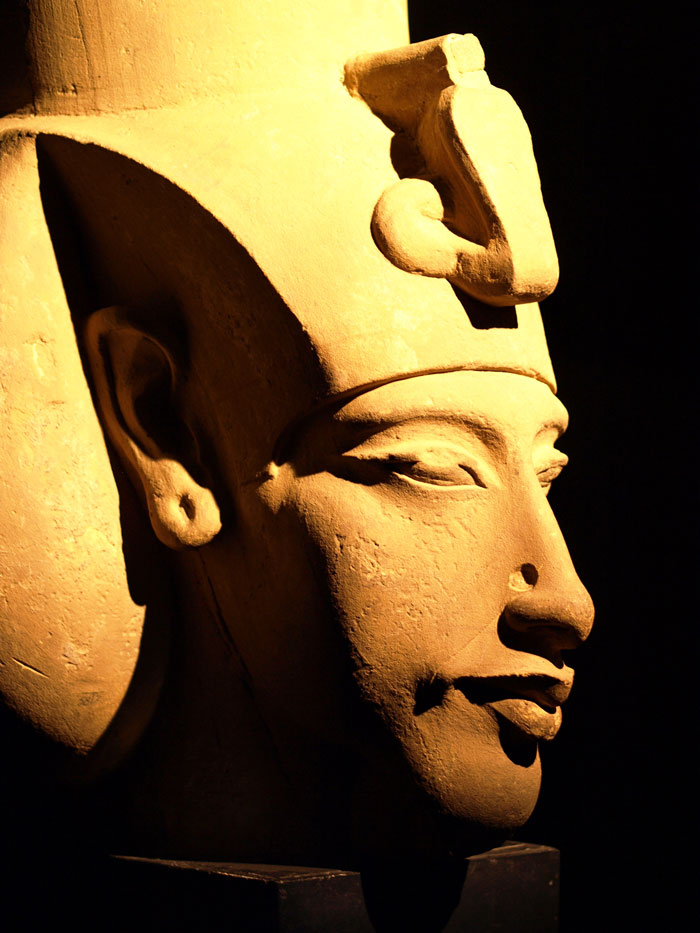 pharoah akhenaten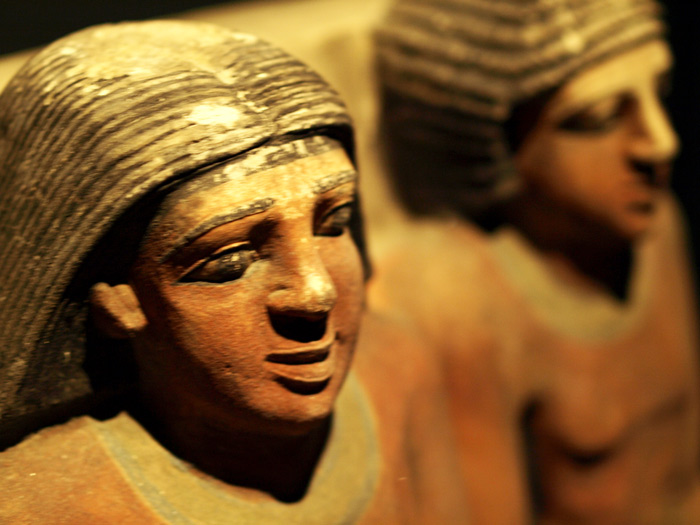 egyptian figure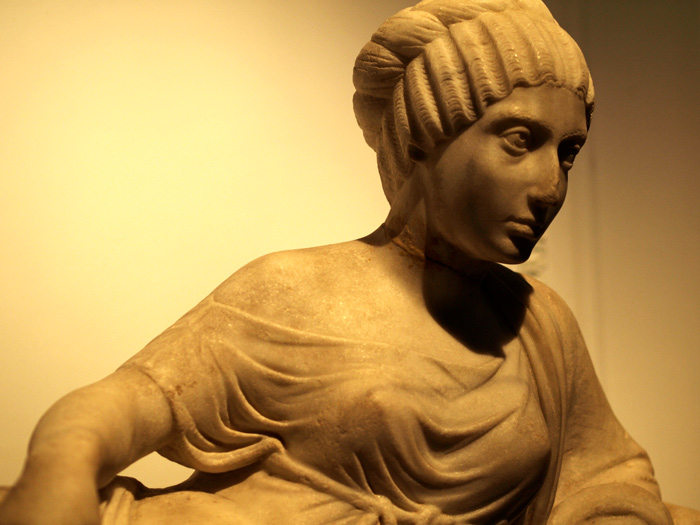 roman figure
goddess
After the museum we visited various sights (or sites, either one) around the city. We saw an excavated Roman–style theater, still in quite good condition. We descended into catacombs where the funerary art blended Roman and Egyptian themes to the point of confusion.
We took lunch at a fish house on the Mediterranean, along the bay where underwater archeology was going on. That is, divers were looking for artifacts. The lunch was delicious. Hot Egyptian pita–type bread with various vegetarian dips. Broiled fish. Calamari. Beer.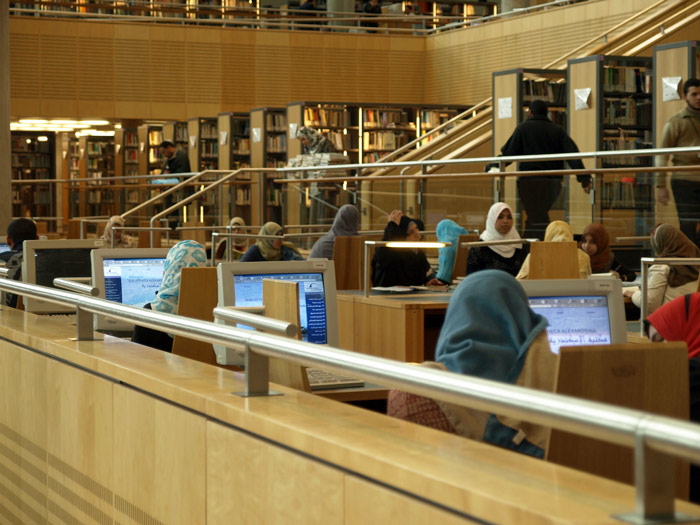 library

o

f alexandria
After lunch we visited the new Alexandria Library. This brand–new library is enormous, and is supposed to evoke the previous center of learning which the Romans had burned down.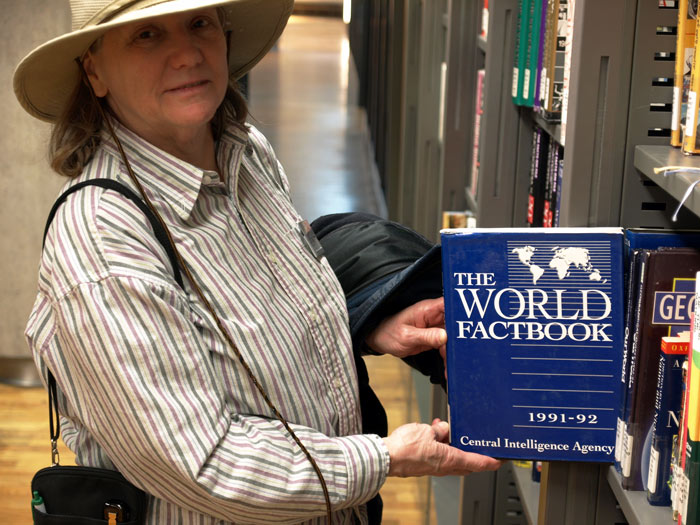 library

o

f alexandria
Ag and I strolled through the stacks. Numerous English–language volumes were shelved. We saw Bill Cosby's book on parenting, a volume on Greek homosexuality, and a book on female sexuality. All of these indicate no censorship was happening on those particular shelves.
We are supposed to go out for an Egyptian dinner this evening.
Skip to 10:30 p.m. We had the Egyptian dinner. Mahmoud took ten of us downtown in Alexandria to the fancier shops. We walked along for a while, window shopping. The stores still seemed like small proprietorships. The shops were open at eight o'clock at night, and lots of people were walking around, shopping and socializing, drinking tea.
We stepped into a restaurant and ate lentil soup, falafel, and different kinds of foul (pronounced "fool"). Foul is a dish made of fava beans, which you mix up with garlic, olive oil, onions, and the like. You tear off a piece of pita bread and swab it through the foul to load it up with goo, then eat it. Vegetarian, and healthful as all get out. The meal reminded me of eating at an Ethiopian restaurant like Jennifer Cochran takes us to on occasion.
Coming back, we stopped at a hole–in–the–wall where a fellow was baking and selling cake soaked in honey. Heavy and rich. After that we returned to the hotel in cabs. Ours just doggone near had an accident. I saw this car behind us closing on us in a hurry. Thankfully he swerved off just in time. We made it back safely to the hotel.
Friday' February 22' 2008 —Al–Alamein
a

nd Siwa Oasis

Muslim's sabbath. Yesterday we boarded a big ol' tour bus for the long ride west from Alexandria into the desert, then south to an oasis called Siwa.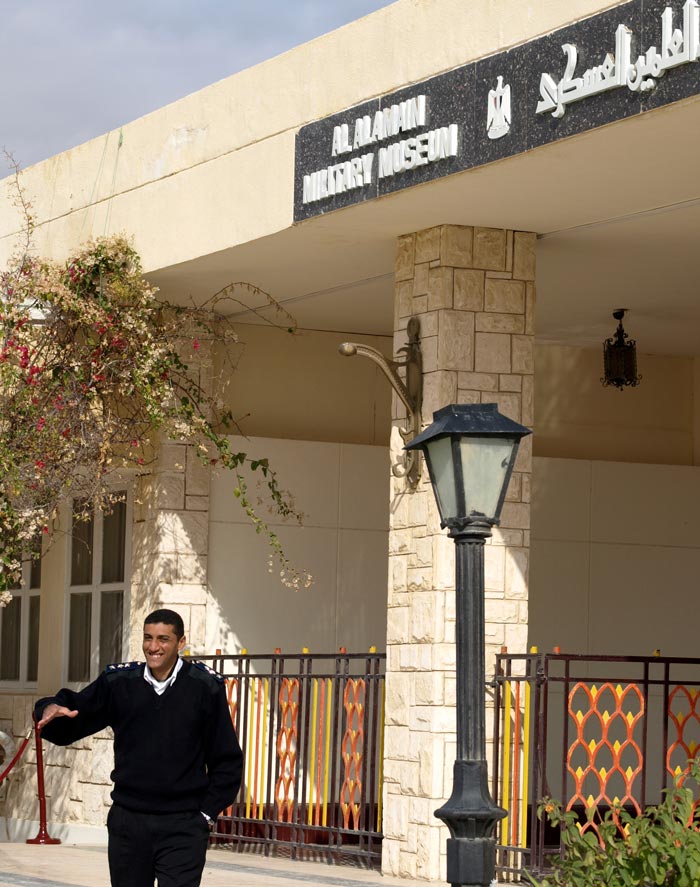 al–alamein museum
About fifty miles or so west of Alexandria we stopped at the El–Alamein Museum. In North Africa in World War Two, the Axis (Germany and Italy) and the British pushed each other east and west along the coast road from Tunisia into Egypt. One side would win a battle and push forward until they overran their supply resources, and the other side would be close to their supplies. Then the other side would win a battle and reverse the process. The Axis pushed east and the British pushed west.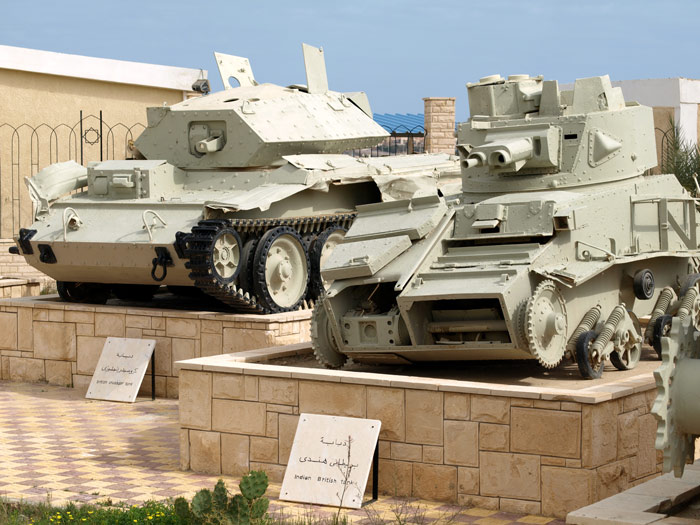 battle wrecks

a

t al–alamein museum
In 1942, Rommel pushed too far east. He ran into Egypt up to El–Alamein. His front was squeezed into a neck of land between the Mediterranean Sea and the Al Qattara depression, which was not suitable for military maneuvering. That is, Rommel was boxed into an area where he had to face the guns and tanks of the British. Montgomery enticed Rommel in, and assembled about a two–to–one advantage in military strength. Then blew him up.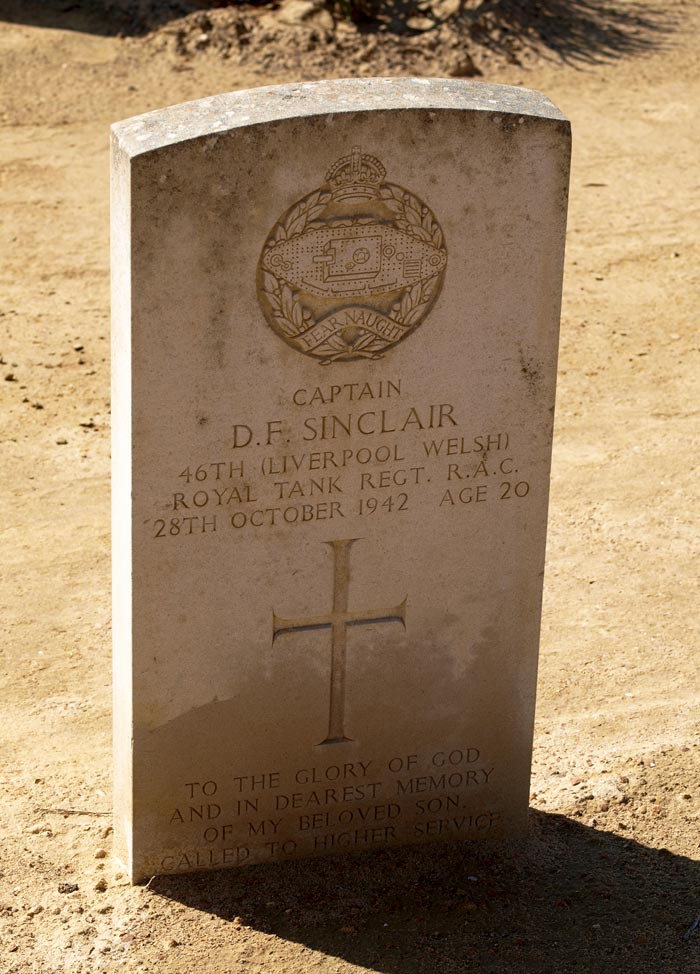 captain sinclair's tombstone
After the museum we visited the Commonwealth Cemetery, with row upon row—thousands of them—of gravestones. I saw a stone for a twenty–year old captain. He must have been an outstanding soldier.
The land looking south from the coast road appeared dry, dusty, and flat. One supposes that military vehicles could move around easily on it—at least until you hit the Qattara Depression.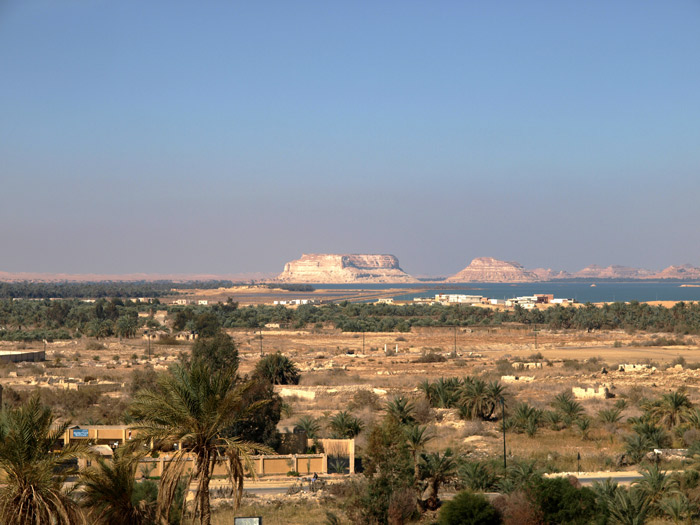 siwa oasis
So we found the Siwa Road and turned south. This desert was not French Foreign Legion desert. Instead, it was absolutely dry dirt. Not a shrub anywhere. Then there is this lake in the desert—Siwa Oasis. The lake is several Lake Almas big.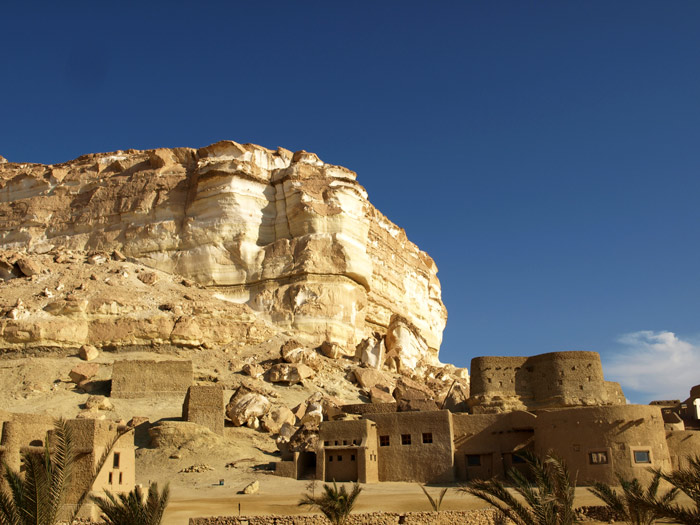 siwa ecolodge
We pulled into a so–called eco–lodge. I think that's code for no electricity. The hotel looked like houses in the American southwest Indian villages, like at Taos, New Mexico. Sand-colored stucco over plain wood frames. We had to use candles and flashlight, to see by. There was plenty of water, even hot water, though. Mahmoud says Siwa has plenty of water. It's just starting on the tourist business, so it has only a few hotels.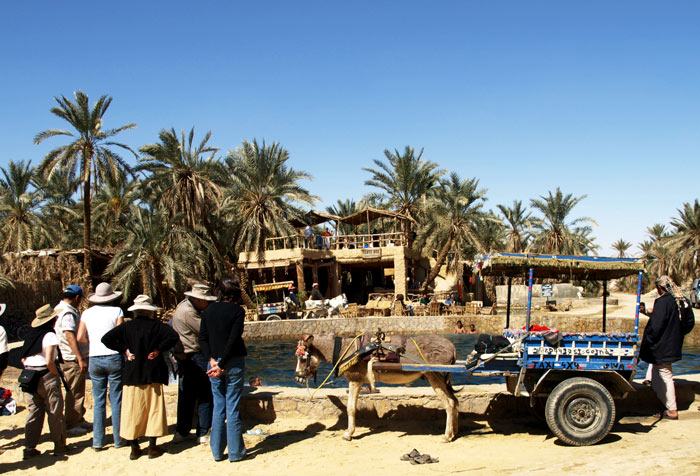 boys swimming

i

n cistern

a

t siwa
This morning we saw some of the sights. First was the Mountain of the Dead, which is a necropolis. Funerary caves everywhere. Mahmoud took us to three of them which had ancient Egyptian painting. One of them was quite good, with paintings of gods, stars, and the like. Second, we climbed to the Oracle of Alexander. Alexander came to Siwa to visit an oracle, actually an altar, to confirm that he was the inheritor of godly powers. Not surprisingly, the god confirmed that Alexander was the son of gods. Third, we visited a spring which filled a twenty–foot deep cistern where teenaged boys were swimming.
siwa street market
We returned for a delicious vegetarian lunch. Bread, spaghetti, with pickled zucchini, tomato stuffed with peas, and orange slices. Very nice lunch, and just the right size. This evening we'll return to Siwa City to catch the sunset.
We discovered at lunch that Mahmoud has a degree in theology. He thinks it's a problem that Muslims do not work out for themselves what is correct doctrine, and instead rely on preachers who are misguided. Sound familiar?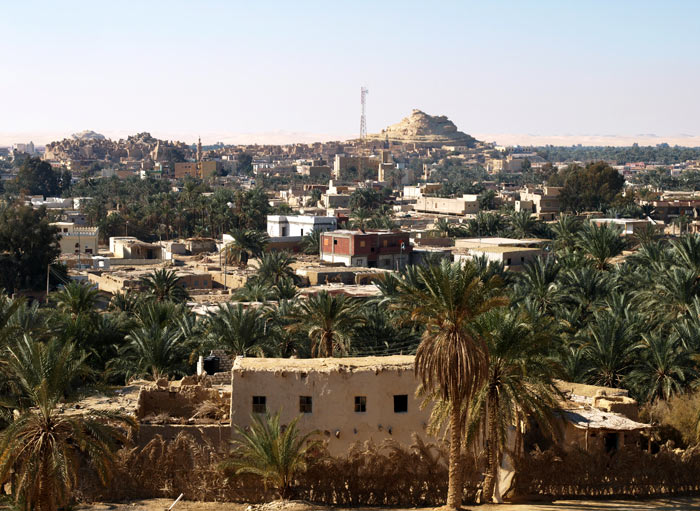 siwa town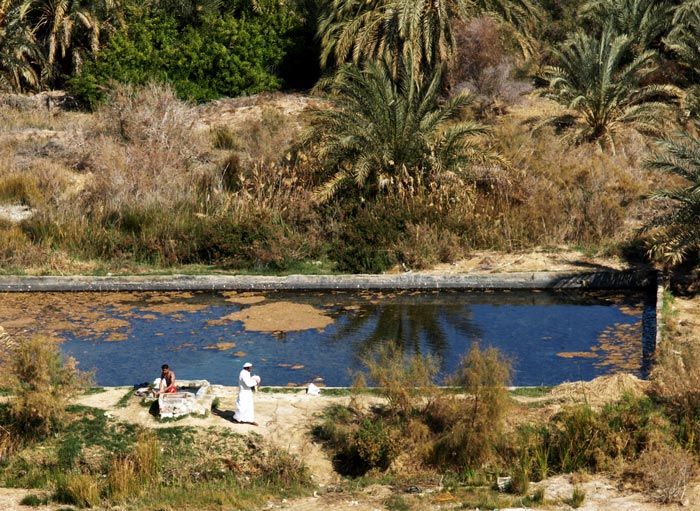 bathing

a

t a cistern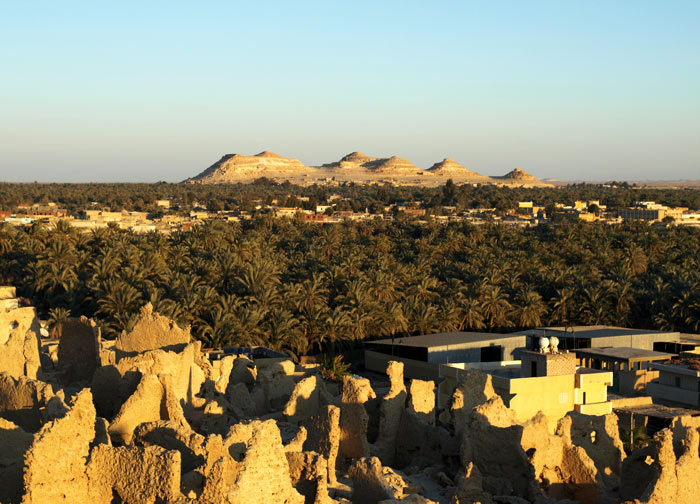 date palms

a

t siwa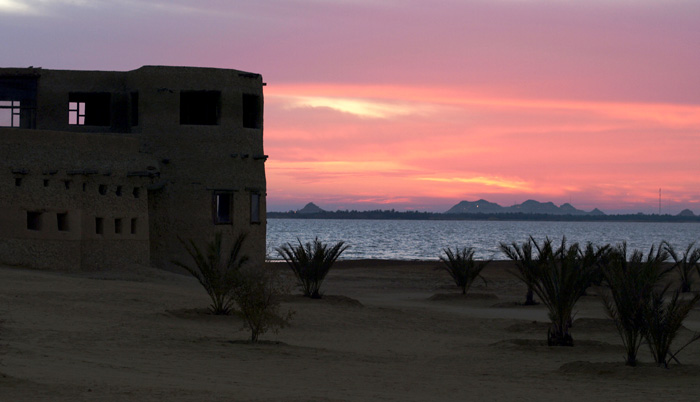 sunset

a

t siwa
Sunday' February 24' 2008 —Sahara Campout
Been out in the Sahara. Literally no way to write in my journal.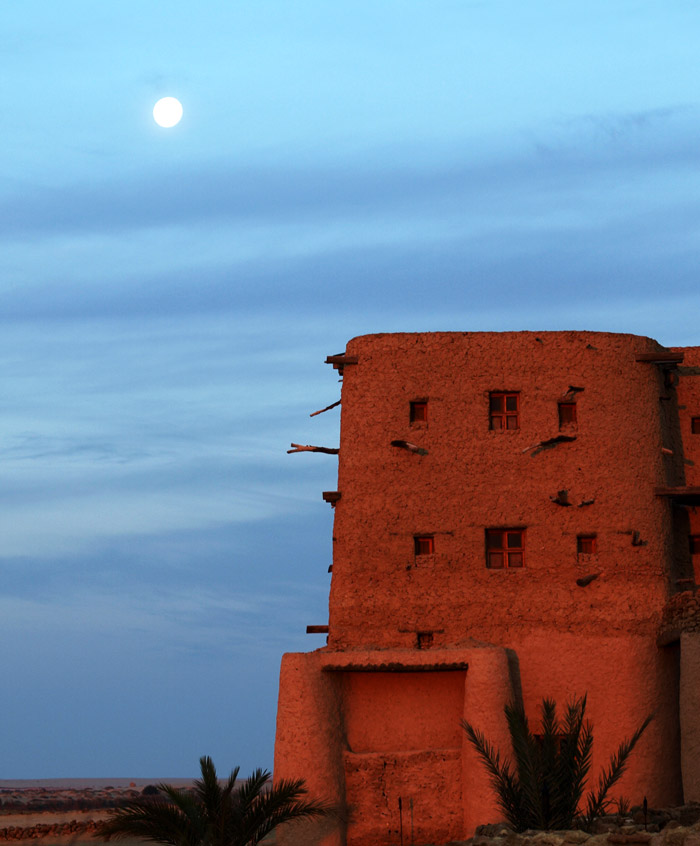 siwa ecolodge

i

n

t

he morning
Friday we went out at 4:30 p.m. to walk through old Siwa village for a while. We then climbed up in the mountains to a high vantage point. From there we watched the sunset. Foolishly we also waited for the moon to rise. We waited about forty-five minutes until Momoud summoned as down. Then off to dinner at Eco-Lodge. The cooking was excellent, preparing mostly vegetarian dishes. The dessert was a date pudding. Absolutely delicious. Everybody thought it smelled like chocolate, but it was actually date.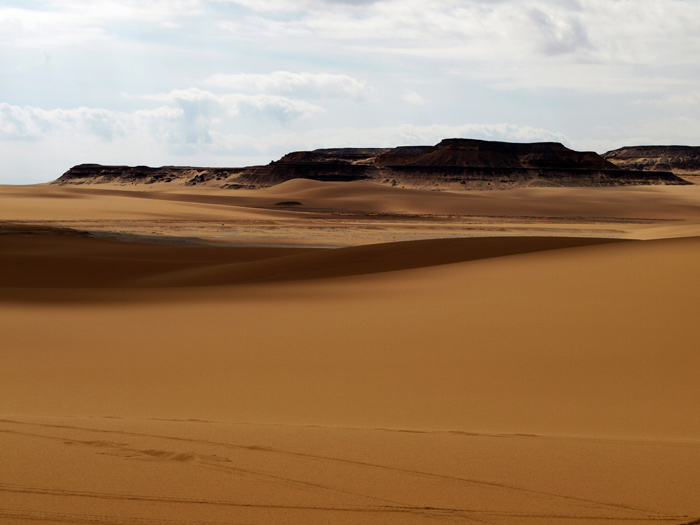 sahara desert
Saturday we drove along a one-lane desert road for about eight hours to an oasis called Bahariya. The activity of the day was the ride itself. Most of the desert seems to be dry—very dry—sandy dirt. Occasionally we came upon sand dunes several stories high. Our four vehicles had wide tires, so the drivers drove at high speed right out to the top of a dune. Wild ride, sand rooster tails, all that teenage driving stuff.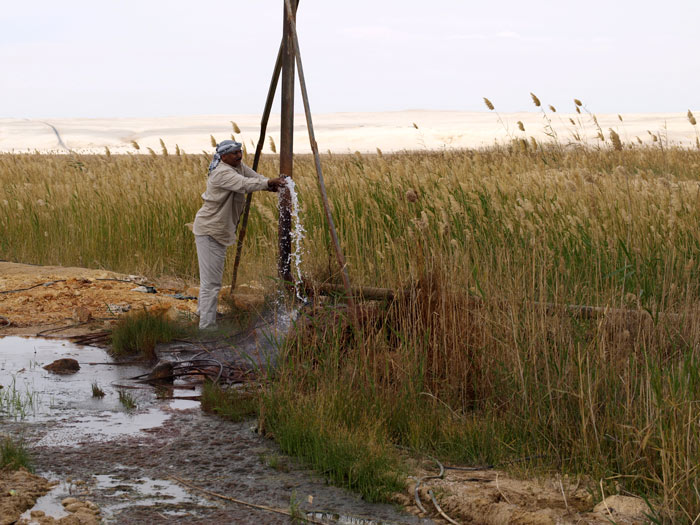 oasis
We had lunch on the road. It was a buffet off the hood of the Toyota vehicles. I liked the canned tuna with onions best. We stopped for the lunch at an oasis which featured a hot–water spring. Gabie Whitehouse and I spotted and identified white wagtails. I saw a dark–colored raptor, but we were unable to identify it.
At Bahariya we drove out to a spot in the desert, where a team of workers had already set up a campsite. The tent was obviously too small for me to fit into, so Ag and I arranged to sleep under the stars, on pads set up behind a windbreak made of rugs strung up along poles. The place was out of the wind, and offered freedom of movement.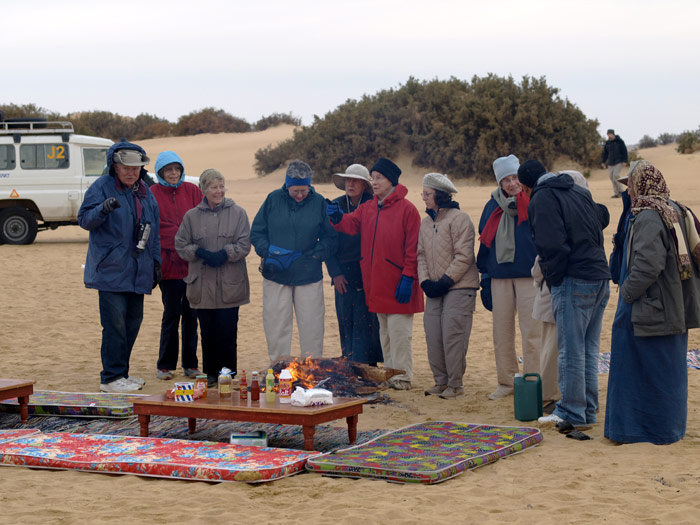 desert campsite

a

t al–bahariyah
What I liked best was the appearance of the desert floor in the full moon. There was a ghostly gray glow, and you could see quite well in the moonlight the expanse of sand and occasional clumps of bushes or trees. The camp staff had provided sleeping bags and blankets, so the sleeping arrangements in the cold night were quite cozy and warm. For dinner we ate veal, rice, and barbecued chicken. There were no bathroom facilities, because this was just a patch of desert. Our drivers set up a throne for the ladies and a designated bush for the gentlemen. Nature provided the sand, and I poured out about a tablespoon of sand from each shoe later on.
This business of restrooms could be a little disconcerting. In our desert camp we were told that a particular bunch of scrub was the place behind which the ladies' toilet was, and another bush was for the men. Then for some reason the designations were switched. The word didn't get all the way down.
So here I am strolling toward the ladies' bush, all unaware. I was shocked out of my reverie by a woman's voice (Sandy, a lady from California) who asked me politely but firmly where I thought I was going. I said I was sorry and asked where the men's bush was. She quickly replied "You can use the whole desert for all I care, but not here." So I rather sheepishly found another bush to pee behind.
The next morning we saw the sights. Just outside town, archeologists found in the 1990's a graveyard of first and second century A.D. mummies. Each mummy had a golden face mask, so the place was called the Valley of the Golden Mummies. The face masks showed a mixture of Egyptian and Greco–Roman features. Hair was represented, and it was Roman style. The gold chest pieces displayed typical Egyptian afterlife themes. Obviously when the Romans took over, the old traditions continued, with a little bit of outside influence. The mummies on display were all still wrapped, and the wrappings were extraordinarily intricate, making patterns of crossing cloth ribbon over the corpse. Cocoon–like.
We also descended into a tomb of about the same period, and the tomb paintings still appeared fresh and colorful.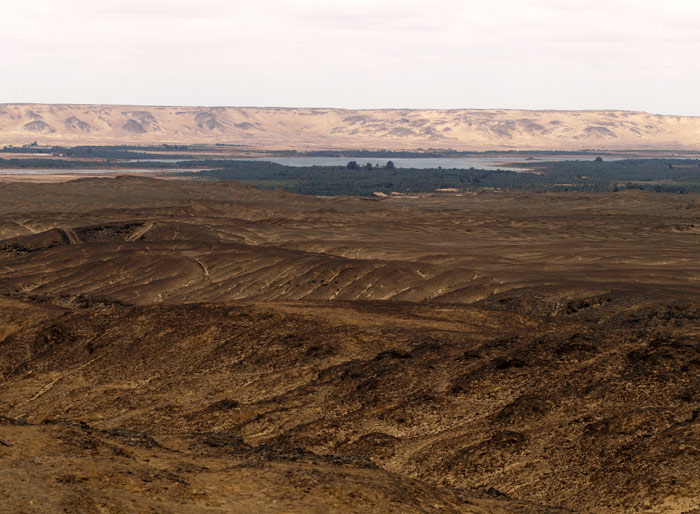 al–bahariyah oasis
Afterward we drove a short distance into the desert to get an overview of the Bahariya oasis. This is called the black desert because scattered across the surface are flakes and slabs of hematite shale, which is of course black in color. We drove up a hill, and the vehicles parked. Ag and I and several others walked up to the summit of the hill, where a structure had been built from the shale slabs. It is broken–down now. Mahmoud told us this is English Mountain because the British in World War II set up an observation post to watch for Italians or Germans advancing southeast across the desert from Siwa oasis.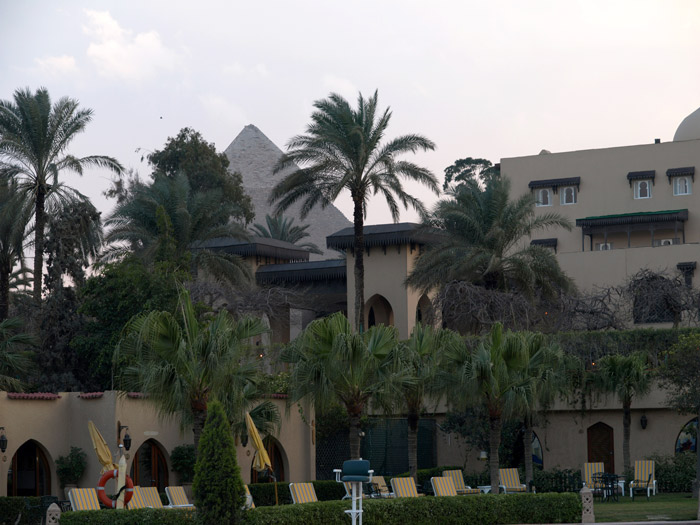 mena house

i

n giza
Yesterday afternoon we drove about four hours, to the Mena House at Giza. This hotel was built as a palace in about 1869, so it is, well, palatial.
Monday' February 25' 2008 —Mestaba Tomb
a

nd Step Pyramid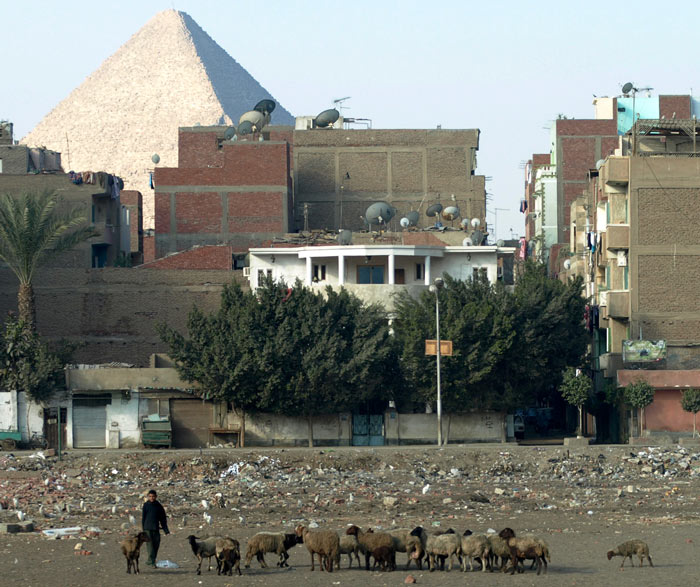 street scene

n

ear cairo
Today we visited monument–type sites around Cairo. Ag and I had seen them all before, but we enjoyed the places again a second time. We first visited two mestaba–type tombs, dating back to the Old Kingdom. These were tombs of officials who had some role in the construction of the pyramids or in the governance of the accompanying town. The owner carved on the sides of the rooms in the tomb scenes from his everyday life, to show the underworld folks that he was a hard–working, successful Egyptian, and deserved to go to the happy place.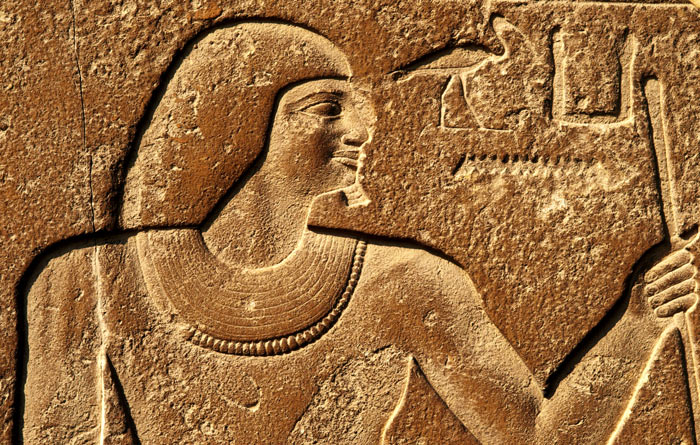 wall carving

a

t saqqarah
The resulting carvings showed daily life in highly detailed ways. Carvings showed how to process gold. How to fish, and how to set up a fish farm. There were detailed carvings of sailing ships and reed boats. Mahmoud was able to show that each set of the carvings told a story of a sort. The owner of the tomb and his family and their pet monkey boarded a ship. The ship had numerous rowers and a sail. A strong wind came up so the sailors furled the sail, but the rowers kept rowing. Then the storm passed and the sail was put up. The rowers rested. The monkey was shown scrambling around the yardarm. That was a very nice explanation.
We descended by a sloping shaft into the tomb of King Teti. At the bottom were a couple of rooms. One room had intricate hieroglyphs on the walls, and the other room contained an empty sarcophagus.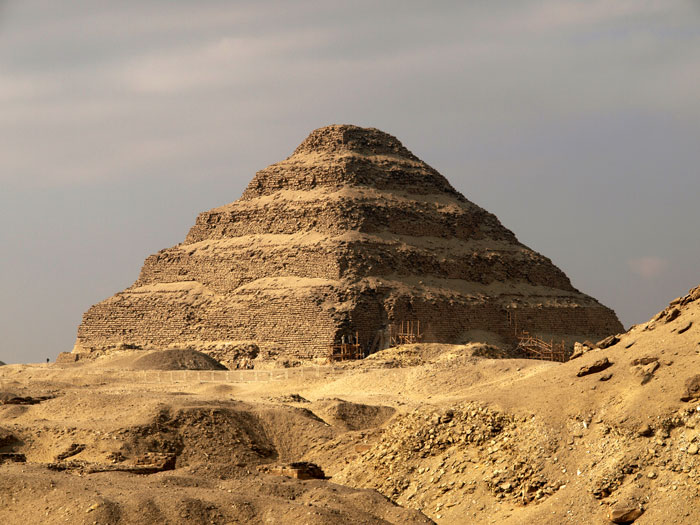 step pyramid

a

t saqqarah
The step pyramid technically isn't a pyramid at all. It was a series of rectangular mestabas built on top of one another. Each of these ancient structures—pyramid or pyramid–like monument—had a courtyard and a temple. At the Step Pyramid, archeologists are actually reassembling the outer temple from the sundry tumbled–down limestone building blocks. Like assembling a jigsaw puzzle. The result is impressive, and I couldn't tell how much of it was restored. It all looked original.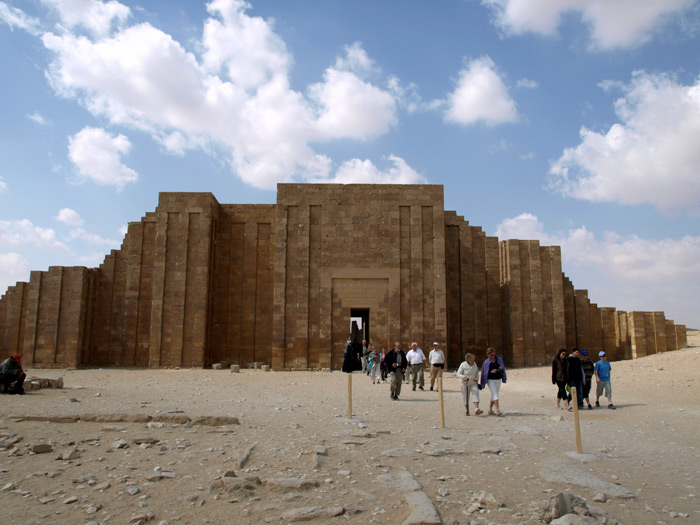 entrance

t

o step pyramid
Egyptians were the first people to build stone structures that are still standing. The oldest such structure is the Step Pyramid. "Oldest surviving stone structure on earth'" Mahmoud said. Afterward we viewed the Bent Pyramid, the Red Pyramid, and the Memphis sculpture museum.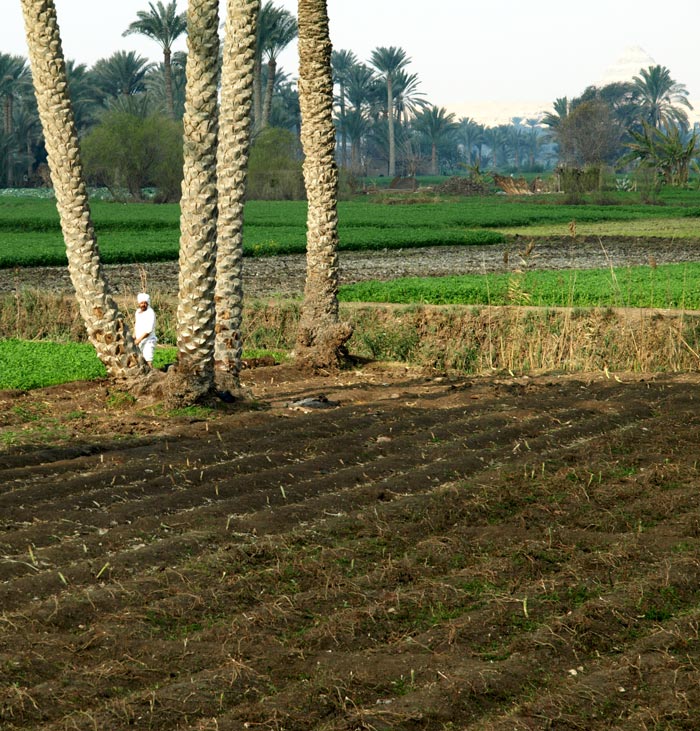 saqqarah farmer
saqqarah buffalo

a

nd herder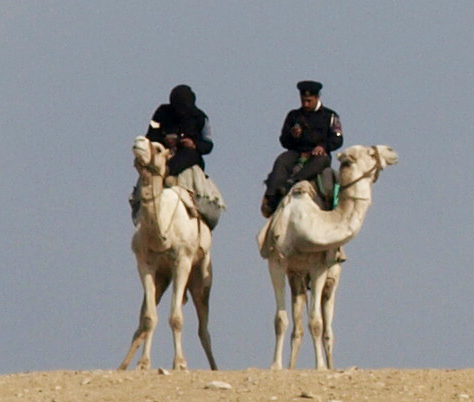 tourist police

a

t saqqarah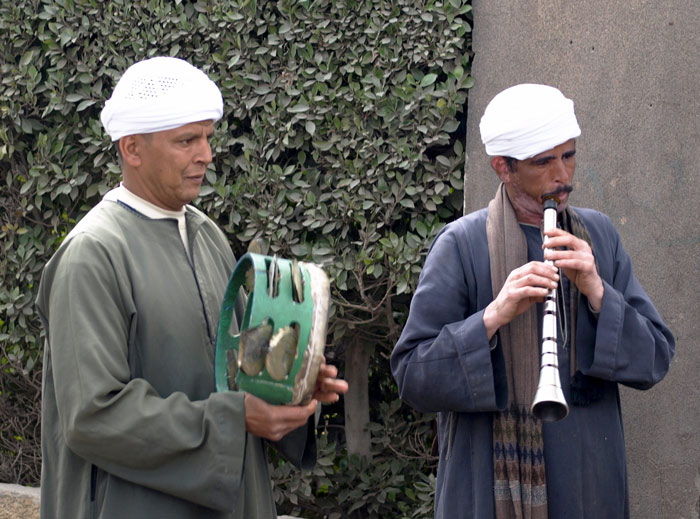 musicians

o

utside restaurant

a

t saqqarah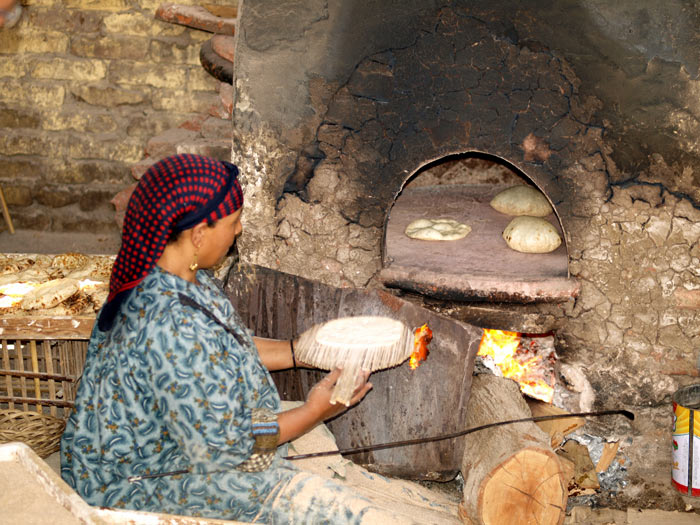 baking bread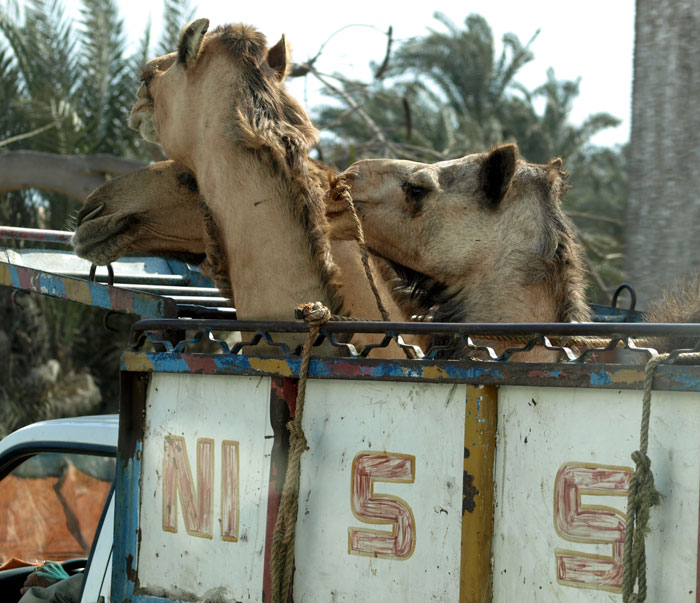 camels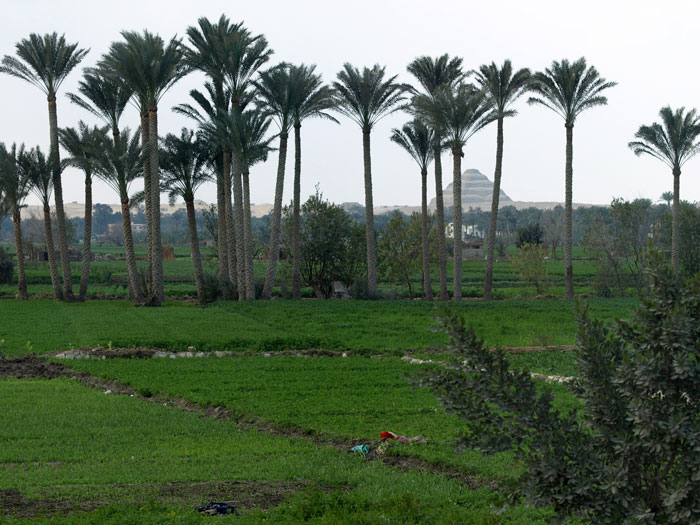 saqqarah scene (step pyramid behind)
Tuesday' February 26' 2008—Bent Pyramid' Great Pyramids'
a

nd Sun Boat

The story is by now pretty familiar about how the genius Imhotep 4700 years ago (!) figured out how to place one stone on top of another to make a tall, long–lasting structure. Later on, builders wished to simulate how light, or the spirituality of Ra, shone from a point in the sky down to earth. That's a pyramid shape. Think from the top down, not from the bottom up. The builders then piled stones up in a pyramidal fashion, using a wrap-around earthen scaffold. They placed all the stones, including rough–cut facing stones in one level, then built the ramp up a bit to place the next level, and so on. When they reached the top, they checked their angles carefully, and commenced to grinding and polishing the facing stones as they gradually removed the earthen scaffold. Brilliant scheme, and obviously effective. Along the way they took into account entrances, tomb chambers, corbelled roofs, and all that.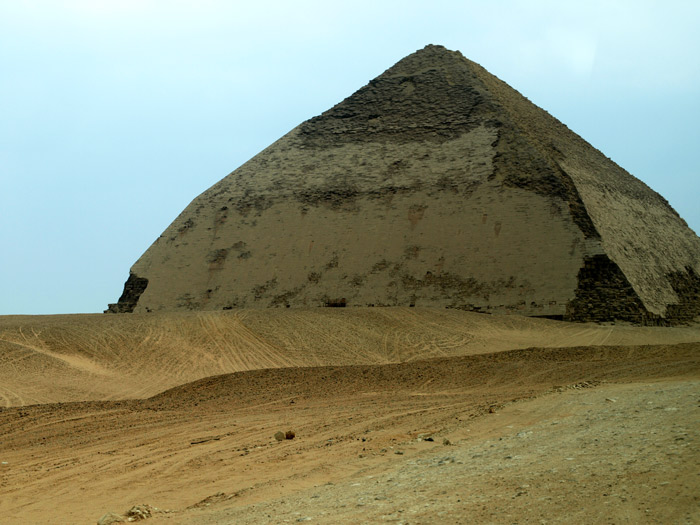 bent pyramid
There was some trial and error on the angles, as shown by the Bent Pyramid, built in Snefru's reign. The angle problem was fixed, and there were no more known bent pyramids. And the things are big. We'll be seeing the three big ones today, and also the Cairo Museum.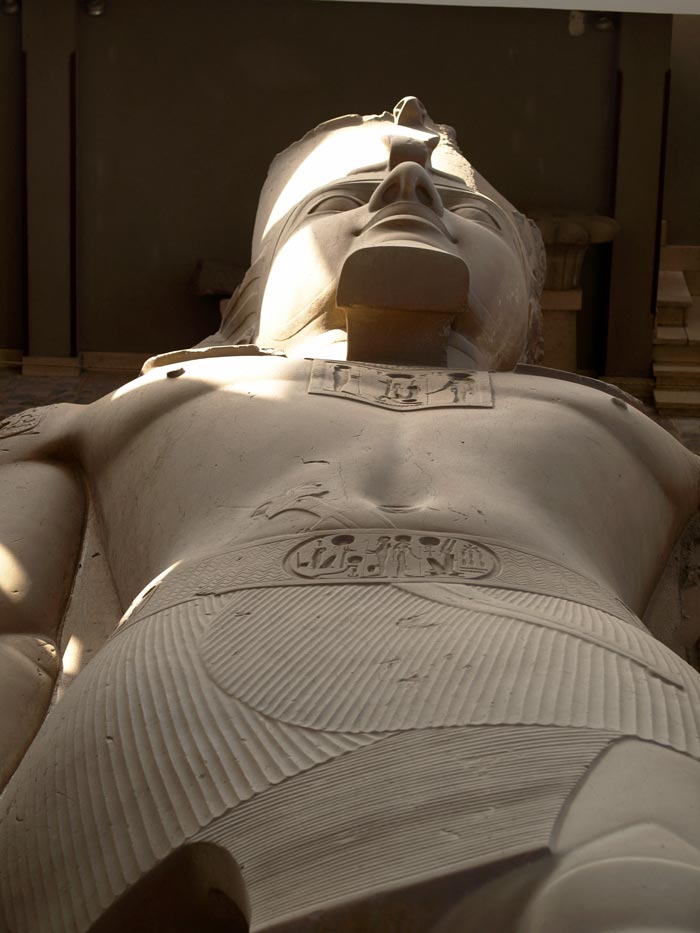 pharoah ramses i

i

a

t memphis
About Cairo. Ag and I have noticed some upgraded security since last time. When we pulled past the unlocked but guarded gate at Mena House, a guard ran a mirror device under the vehicle, and looked into our van. I saw a fully–armed guard on the roof of the building at Memphis Museum. Ramesses II was safe. I feel no urge to exit the gate at Mena House, alone or with Ag. Our group will probably walk to a close–by restaurant, but we will exit as a group.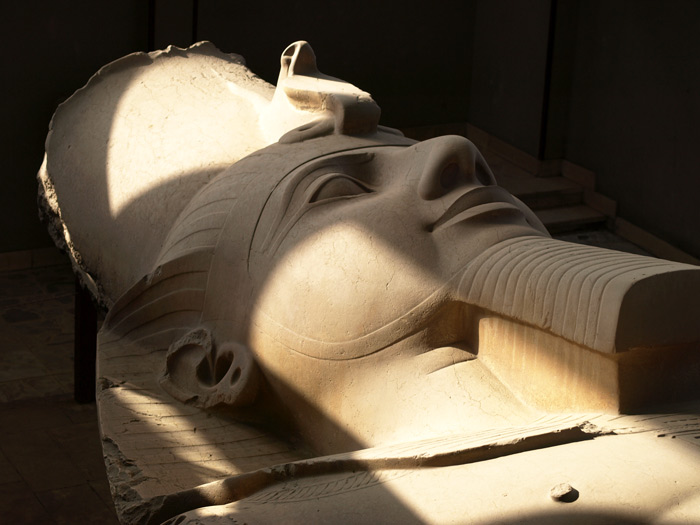 ramses i

i
Ag had a nice exchange with Mahmoud on tour yesterday. He was explaining that usually when a wife is shown with a husband in Old Kingdom art, she is depicted smaller than the husband, and placed behind him. Aggie remarked, "The little woman." Mahmoud related that in one of the tombs, the lady outlived the gentleman. She had a new room in the family mestaba tomb carved, and did not depict her late husband, even once. Little woman my butt, she seemed to say.
Cut to Tuesday evening. We spent all day touring the pyramids and Cairo Museum. Mahmoud told us that all pyramids were built around the tip–top of a limestone mountain, with limestone rock as a core. You just carve the rock so that it ties in with your limestone blocks which you use for the pyramid exterior. Well, of course you do. You must place your pyramid on limestone bedrock in the first place, to hold the enormous load.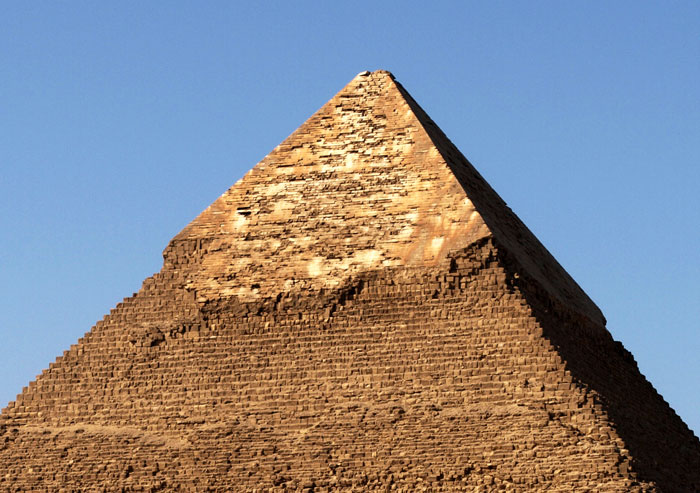 cheops pyramid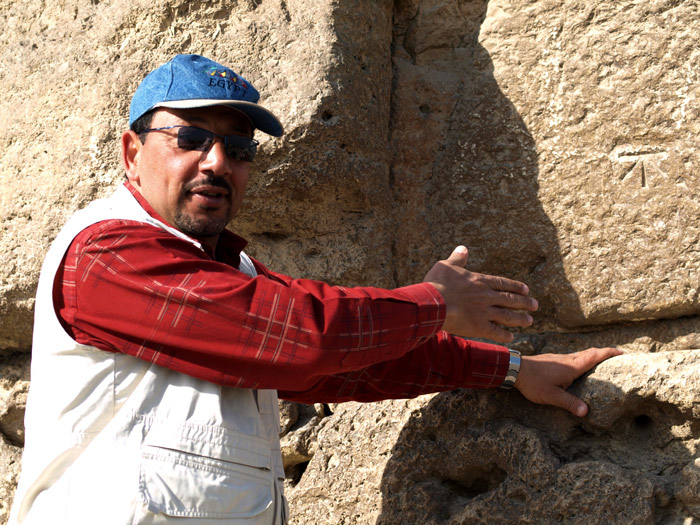 mahmoud

a

t cheops pyramid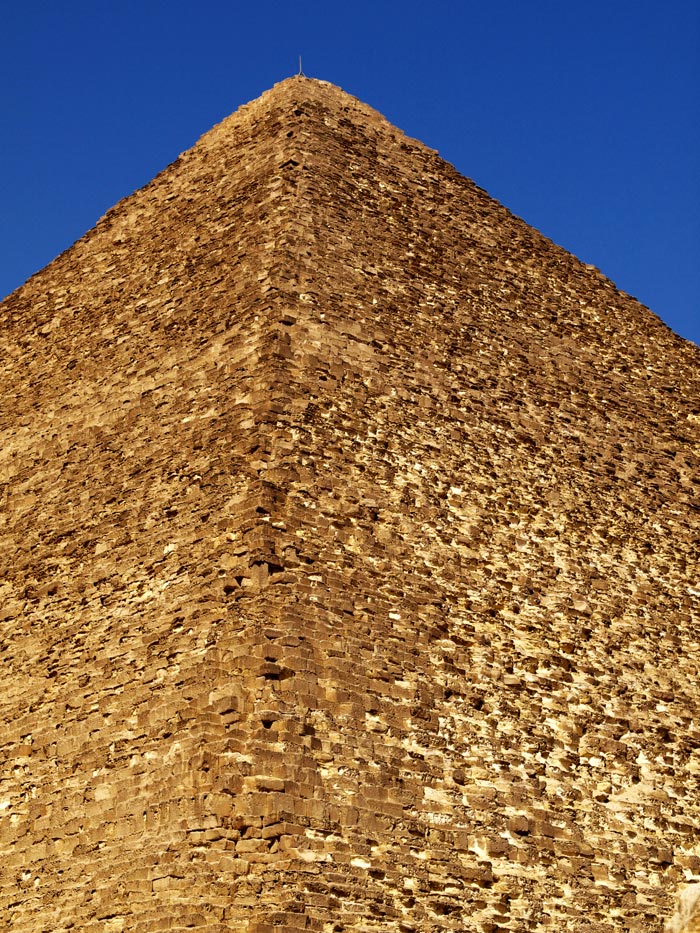 cheops pyramid
plaza

a

t cheops pyramid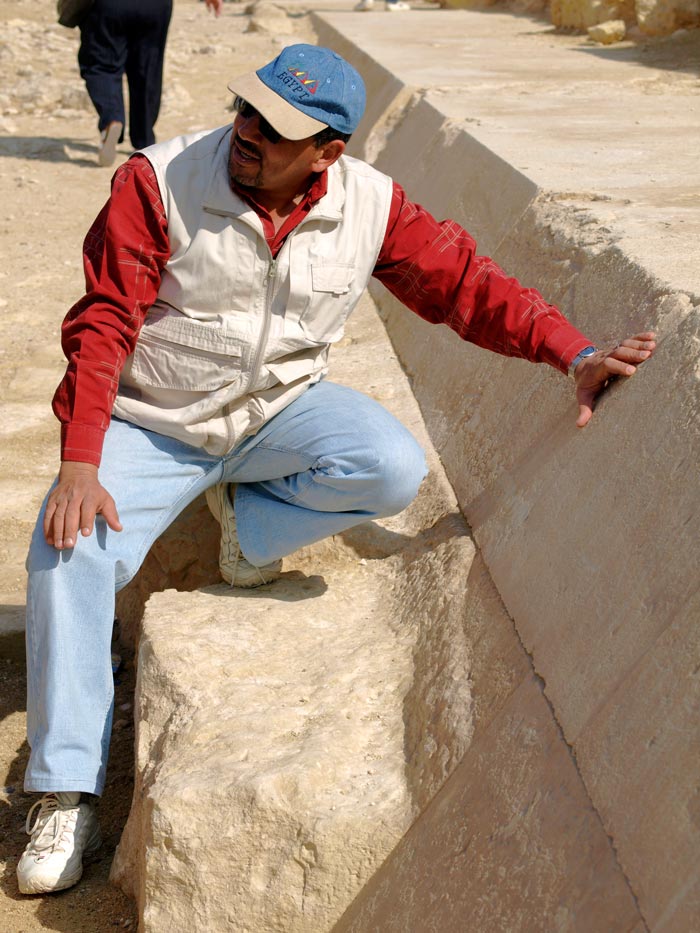 mahmoud

a

t cladding stones
The Egyptians used water as their carpenter's level. They apparently got up a long course of water, and then marked off their next course from that. They cut the limestone blocks at the quarry in the same relation as the blocks in the pyramid. Top block on top, and so on. That way they pretty much knew the blocks would fit together well.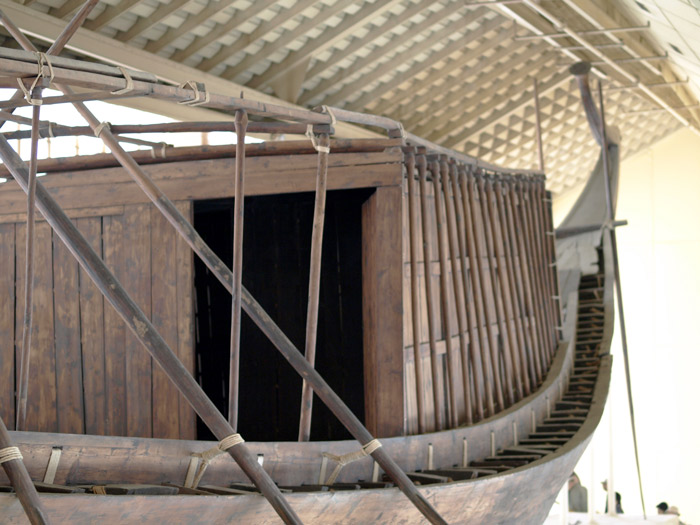 sun boat
We saw the Sun Boat again. It is still impressive. At 140 feet long, it is the longest in length surviving prehistoric boat in the world. Longer than the Viking boat which was similarly recovered. They still had rope from the Sun Boat, from 4600 years ago. I couldn't get a good answer from Mahmoud whether there is mud on the oars, or not. He thought most of the oars were restored. I saw mud, no doubt. Could the restorers have added the mud?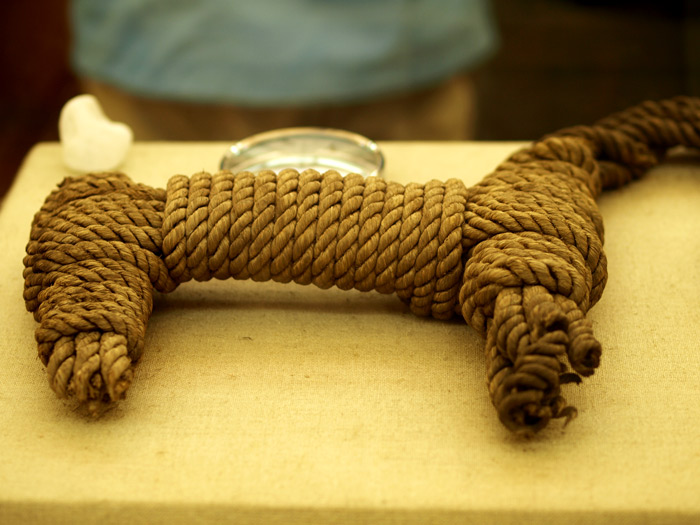 rope

f

rom sun boat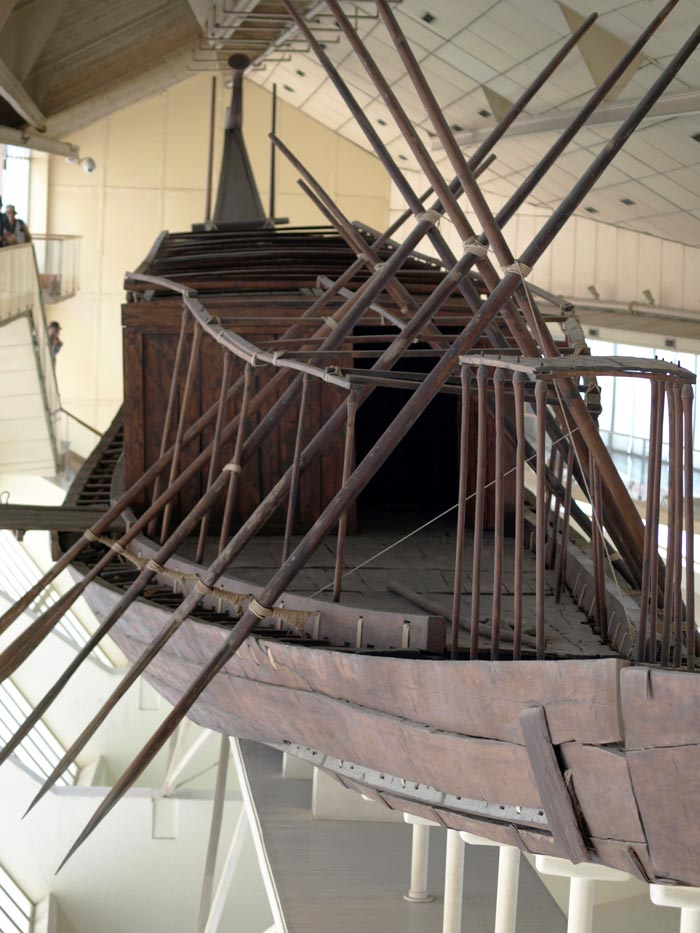 sun boat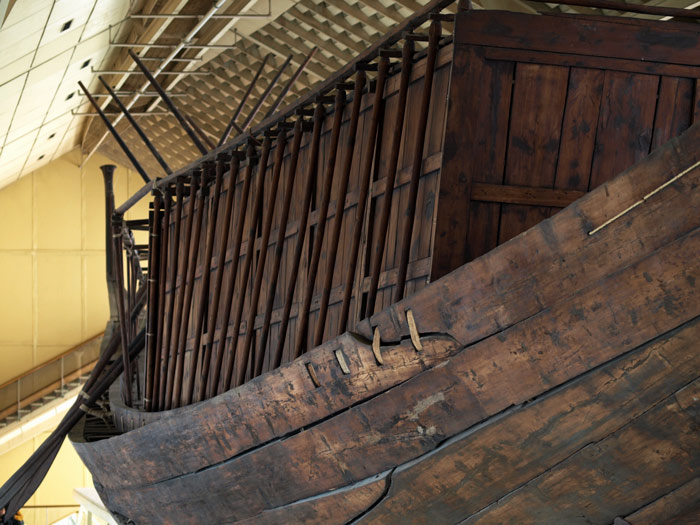 sun boat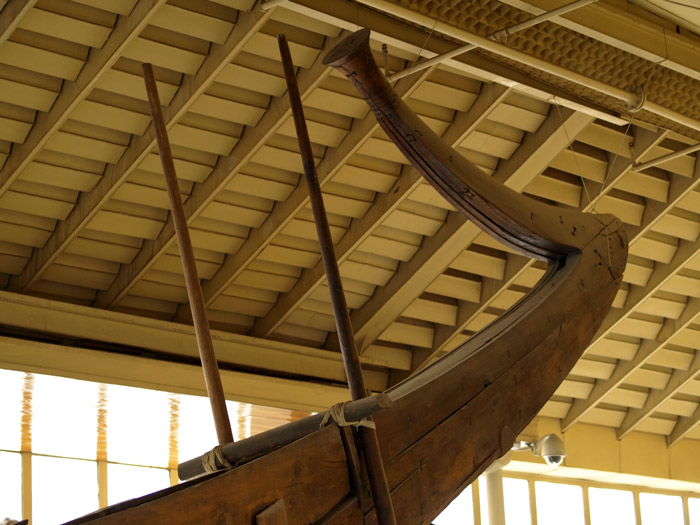 sun boat
The Cairo Museum was almost too crowded to function in, but Mahmoud showed us around for two hours or so. If you are very lucky, the statue you are looking at will have eyes. The eye is carved from ivory, with an iris hole filled with crystal, and a small black pebble for the pupil. When you shine a light on the face of such a statue, the eyes shine back. You can imagine why a tomb robber might be frightened when he shines his torch or flashlight around inside a tomb.
We saw the King Tut gold. Hundreds of pounds of it, made up on order after the king died. The mummy of Queen Hatshepsut has been added to the Royal Mummy room. A liver box, whatever that is, was found with a tooth in it. On the outside of the liver box was carved Queen Hatsheput's cartouche, so an archeologist concluded the dried–up liver and the tooth inside had to belong to Queen Hatshepsut. Sure enough, the tooth fit perfectly into a vacant space in her mouth. Her museum card calls her a rather obese lady between 50 and 60 when she died.
Tomorrow morning early we fly to Abu Simbel to see the temples of Ramesses II.
Wednesday' February 27' 2008—Abu Simbel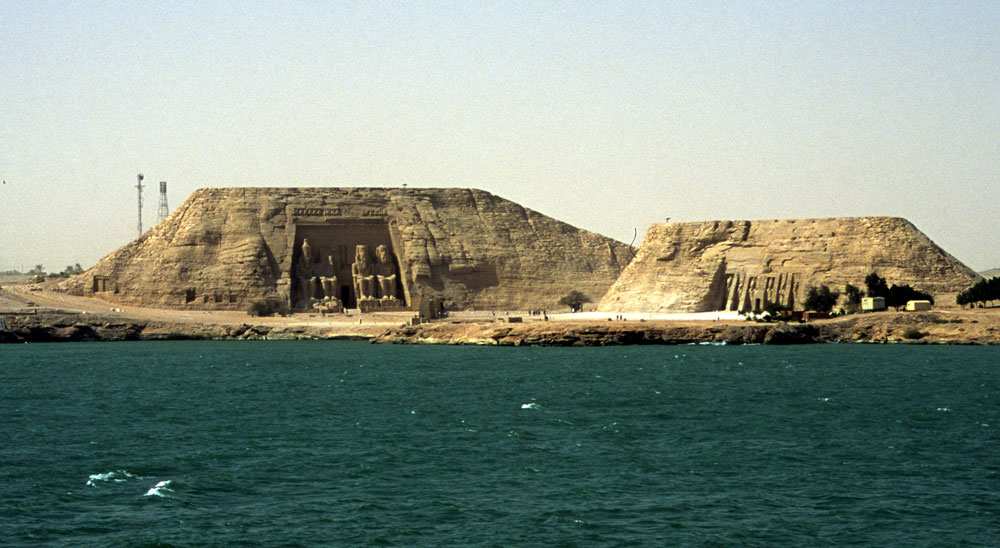 abu simbel

o

n

t

he nile
We made it down to Abu Simbel. To do that, we had to get up at about 4:00 a.m. to take a bus to the airport and catch an 8:00 something–flight to Aswan. Then we hopped a brief fifteen–minute flight from Aswan down to Abu Simbel. We got here at lunchtime and immediately checked into the Kasr Ibrim lake boat and ate lunch. That all ran smoothly except that many of the group had colds and were dead tired.
ramesses temple

a

t abu simbel
Mahmoud got us out to the Abu Simbel temples about 3:30 p.m. Ag and I had seen them before, but they were still extraordinarily impressive. Both inside and out. Ramesses II put up temples for himself and his Queen Neferteri. His temple commemorated his victory over the Hittites, and was intended to overawe the neighboring Nubians. Queen Neferteri's temple, I suppose, commemorated Queen Neferteri.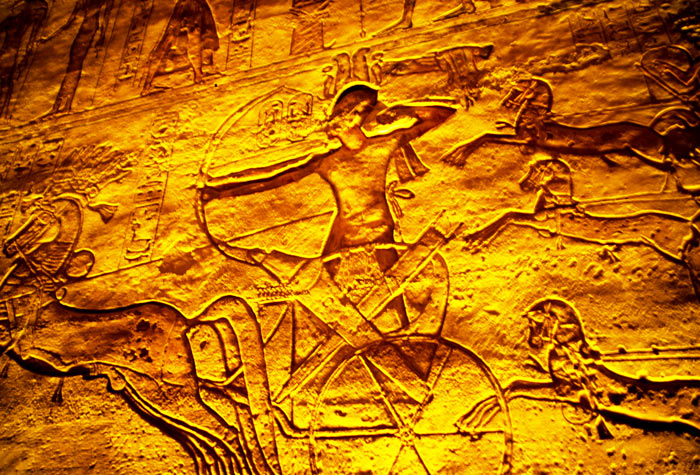 wall carving

i

n ramesses temple
The wall carvings inside the temple of Ramesses are excellent. They depict the king's military victories and his devout behavior in relating to the gods. Interestingly, in the altar room, or holy of holies, the king himself was positioned amongst a grouping of Horus, Amun, and Ptah. He was seated in the same posture as the gods. Or should I say, "as the other gods."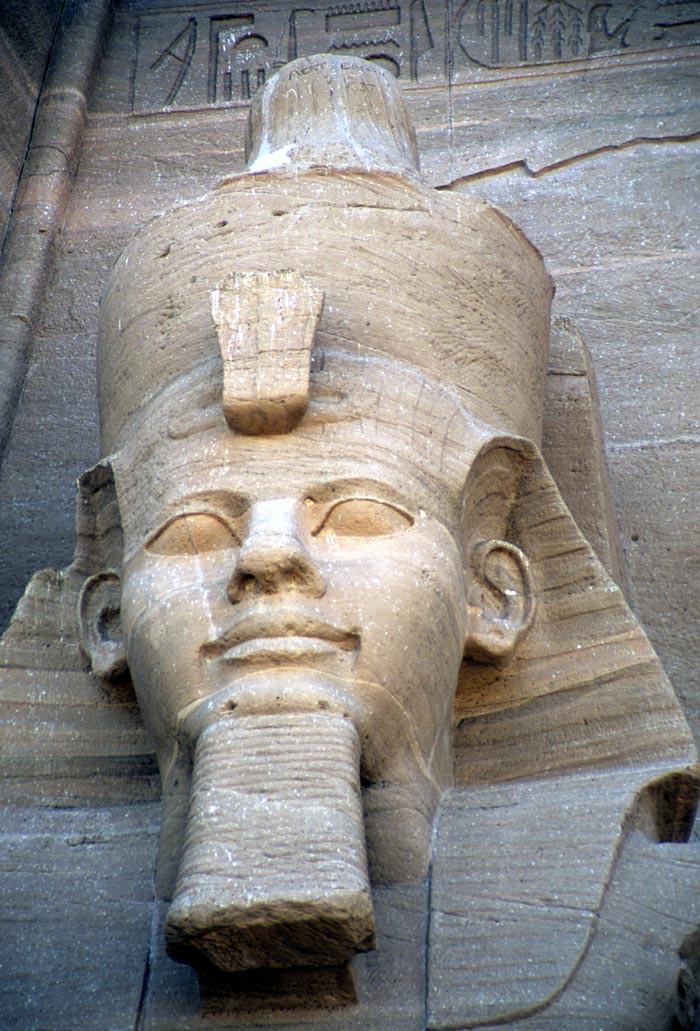 ramesses

t

he great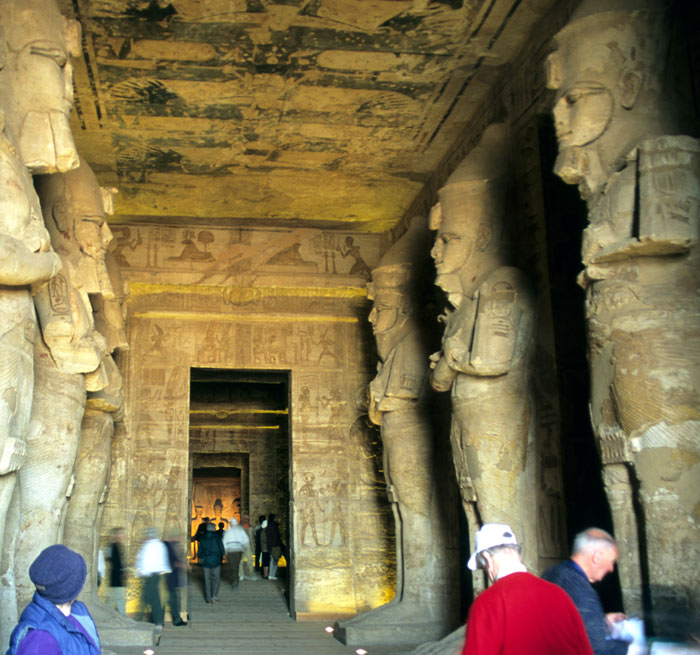 inside ramesses' temple
In the evening we watched a light show at the temples, but we were all tired, and we had a hard time understanding the French–to–English translation. So maybe the best thing to do is go to bed and sleep for a long time.
Thursday' February 28' 2008—Amada Temple' Temple of Derr' and Tomb of Penne
Ag and I did get lots of rest last night, and it is morning. We have not yet left our docking place behind Abu Simbel. The boat will leave its dock and then swing close by the temples so we can see them from the deck. Our room is a secure little hotel room, just like it was last time we were here in January of 2001. Same boat – the Kasr Ibrim.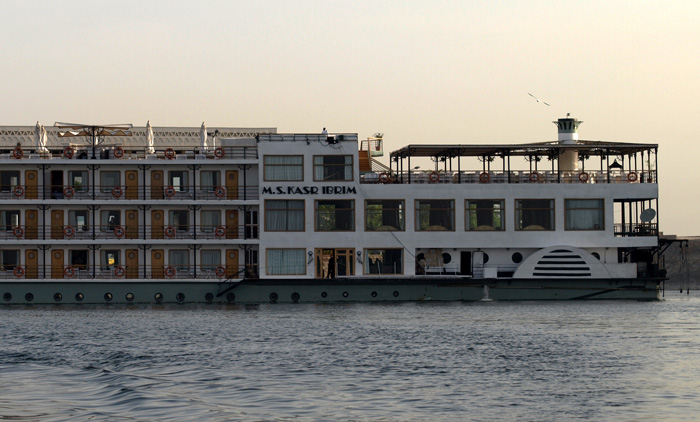 kasr ibrim—lake nasser cruise boat
We noticed on Cairo roads lots and lots of traffic but very few traffic lights. In the little coffee shop where we took a break last evening before the light show, there were no posted prices. Or at least the sales clerk did not pay attention to the price. Egyptians go through life negotiating. Drivers implicitly negotiate with other drivers to stop so a street can be crossed. This is not for the timid or the inattentive, by the way. And prices—well, we all know that prices are adjustable up or down. One of our party (a woman) was quoted a price of 30 pounds ($6) for a box of cashews which was marked in Arabic 15 pounds. I asked about a different package of cashews, also marked 15 pounds and was cited 20 pounds. So there you go.
Most ancient empires collapsed and stayed collapsed. Egypt didn't. There were three kingdoms—Old, Middle, and New. That means that twice the regime collapsed, and rose again. Mahmoud suggests that Egypt never completely collapsed. Never, as he put it, "Went to zero." Before that point, they made a deal with someone else or some other military power, and came back. Gradually the country reunited north and south and drove away the outside attackers.
The Kasr Ibrim disembarked, and she swung around and proceeded directly in front of the Abu Simbel temples. Thence to breakfast.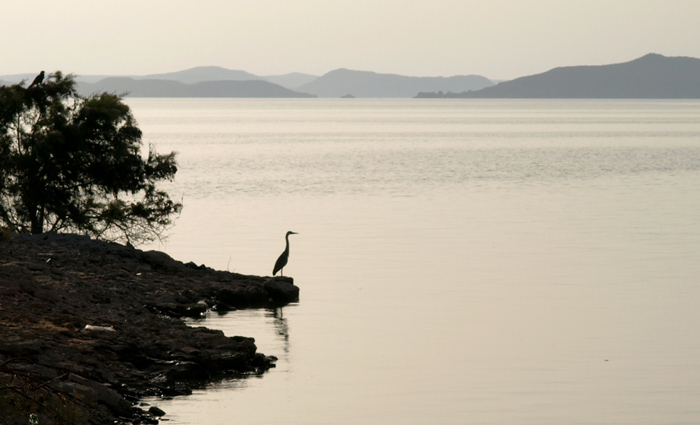 lake nasser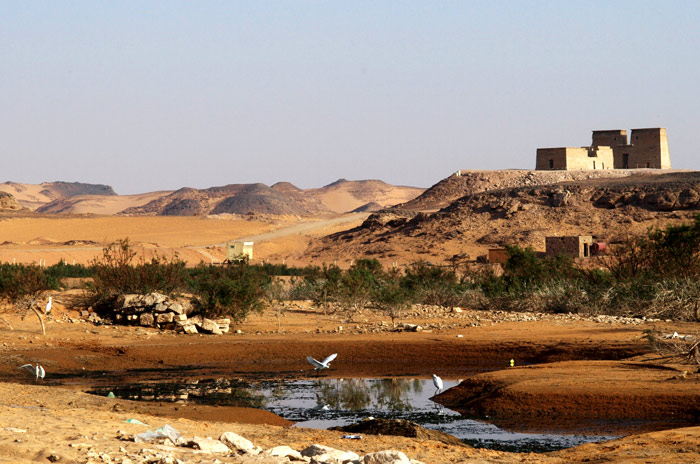 lake nasser shore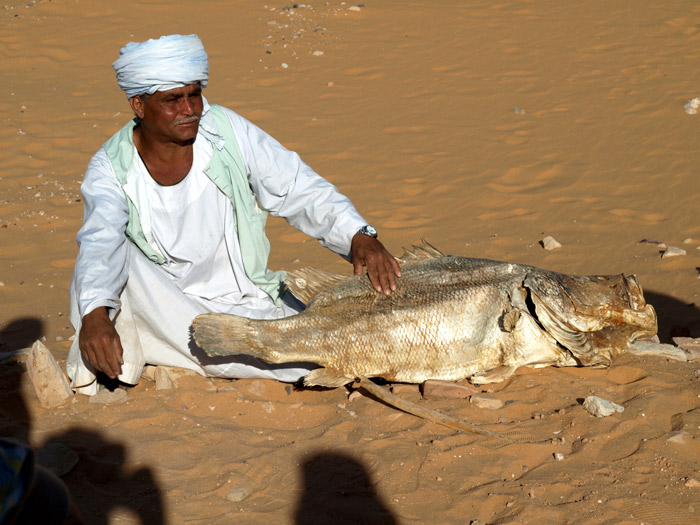 nile perch
At noon we stopped briefly at a pile of old bricks which used to be a Byzantine outpost. Way before that it was an ancient Egyptian outpost to support the gold trade with Nubia. Thence to lunch.
We went ashore at about two-thirty to check out some sites which had been removed from their original locations below the waterline. As Lake Nasser rose behind the Aswan Dam, a dozen or so archeological sites were moved, including most famously Abu Simbel. The sites we visited today were Amada Temple, Temple of Derr, and the Tomb of Penne. We saw very nice wall carvings and paintings from the New Kingdom. In one room a wall painting depicts the selection of the temple site and building the temple. The Temple of Derr was a dry run or model for Abu Simbel. For example, at the altar in the Temple of Derr were four places for seated gods, including Ramesses II, similarly to the holy of holies at Abu Simbel.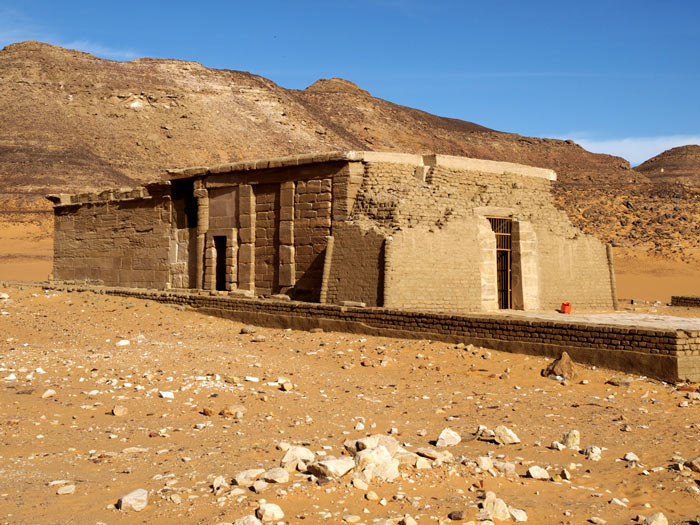 temple

o

n lake nasser shore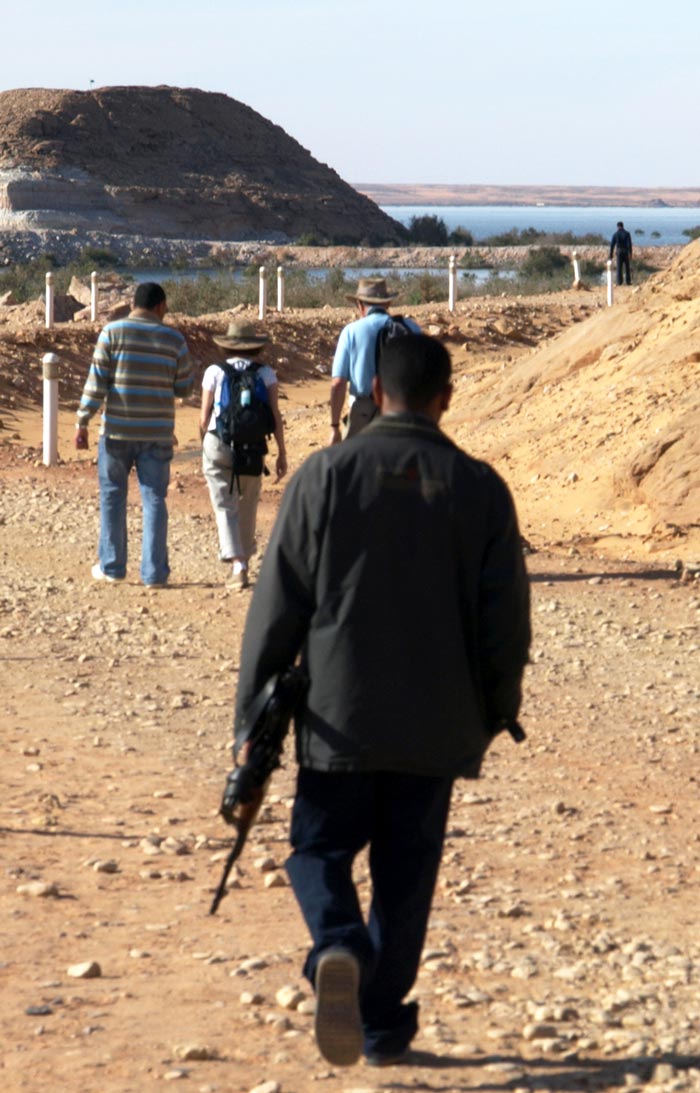 tourist policeman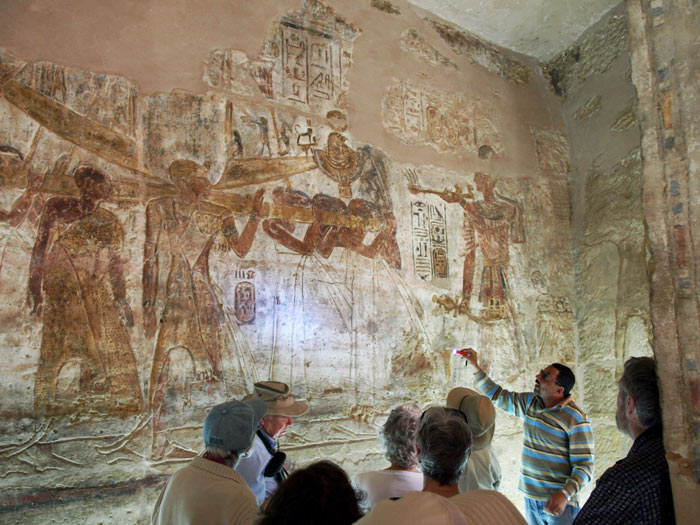 mahmoud

i

n temple

o

f derr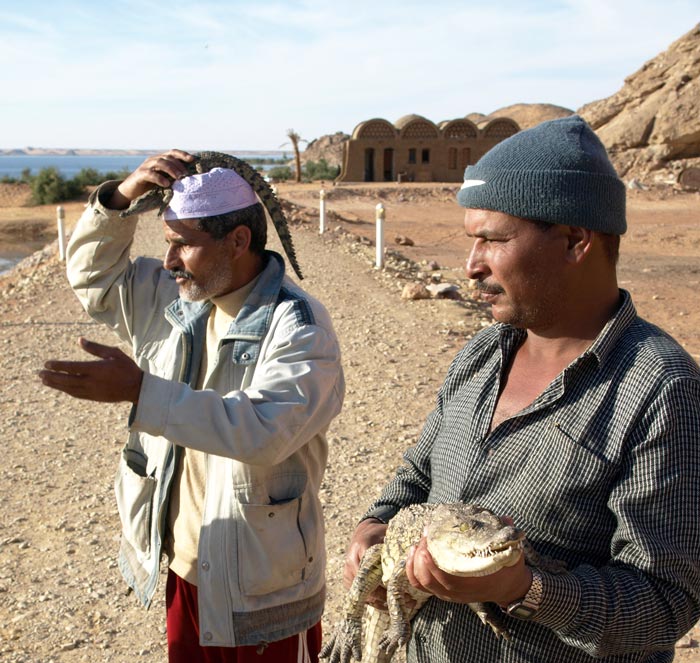 crocodile guys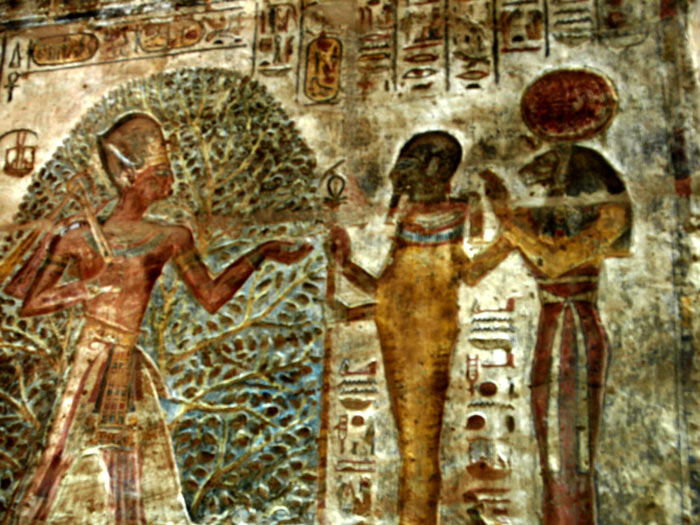 wall painting

i

n temple

o

f derr
After dinner Mahmoud announced that the stars were out with no moon. Many of us trooped up to the sun deck, now star deck, and lay down in the darkness looking up at the stars. We saw seven constellations, and one blue and white twinkling object which appeared to jump around in the binocular field.
Friday' February 29' 2008—Wadi al–Sebua
temple

a

t wadi al–sebua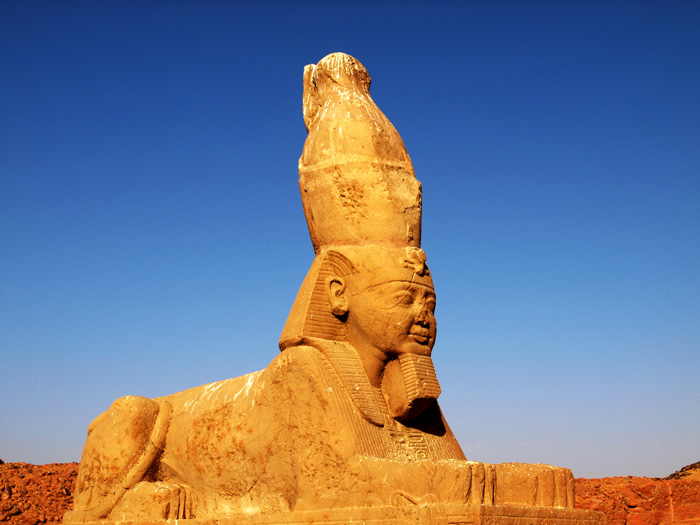 sphinx

a

t wadi al–sebua
This morning we got up early and visited Wadi al–Sebua, or Valley of the Lions. The Temple of Wadi al-Sebua impressively features an avenue of sphinxes leading up to the pylon, then a courtyard of red stone after the pylon. We entered the temple itself and found numerous wall carvings. The temple was used as a church during the Christian period, so the figures in the altar were demolished.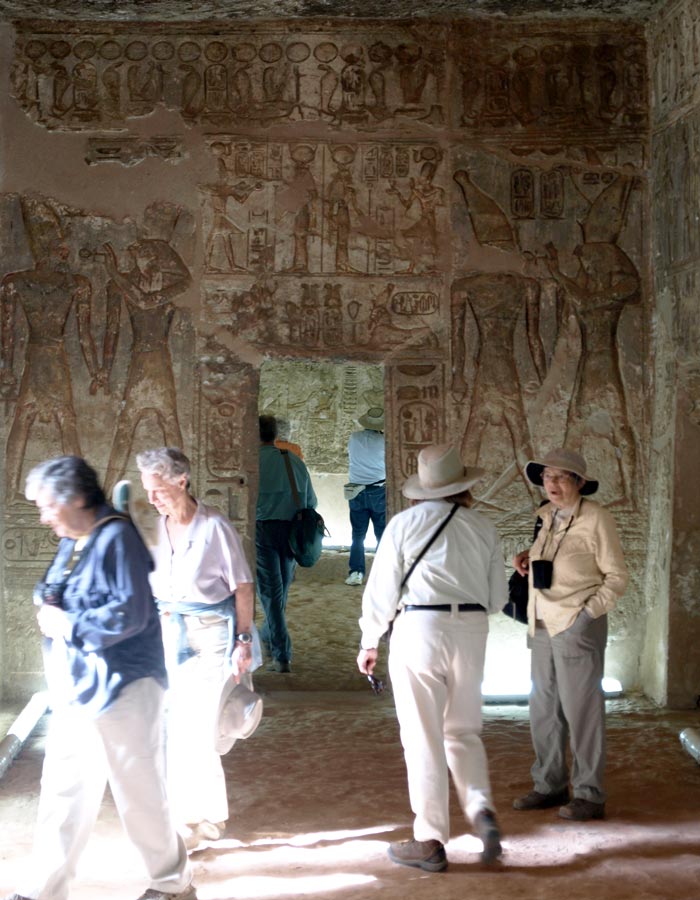 wall carvings

a

t temple

a

t wadi al–sebua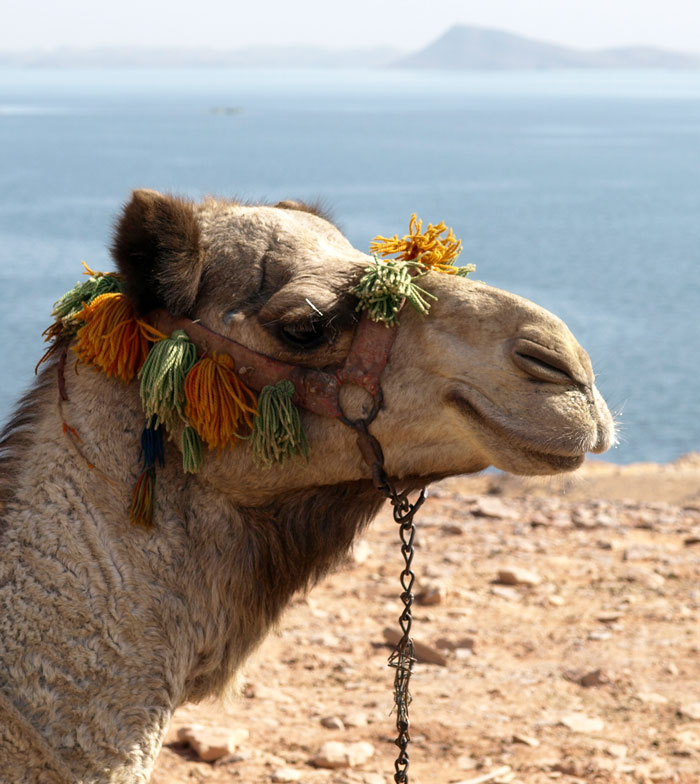 my camel ride
Ag walked, but I took a camel ride to the next set of temples, named Dakkah and Maharraqa. These were built during the Greco-Roman period, so they held less interest for us.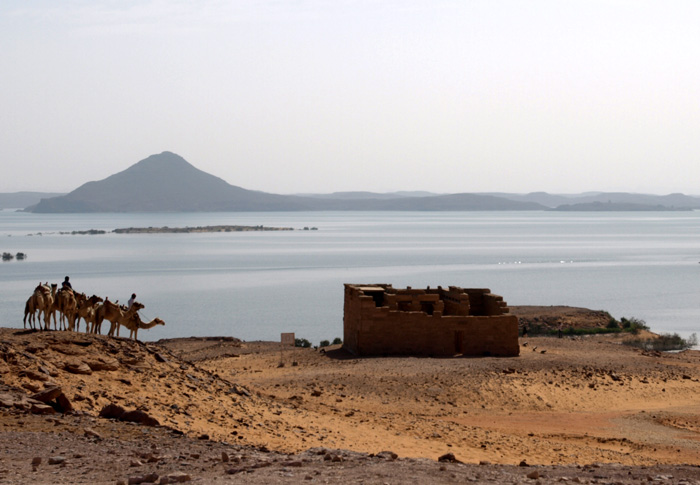 lake nasser

a

t wadi al–sebua
We took the launch back to the Kasr Ibrim, and relaxed the rest of the day. As we undocked, we saw a raptor of some kind with prey in its talons land on a rock just outside our window. Immediately a flock of black kites and a heron jumped into a fray to get at the food. I couldn't see what happened, but Mahmoud later said the heron got the food. Afterward we saw kites circling the rock. Ag and I also saw two brownish birds which might have been eagles perching, and then cruising aloft.
Mahmoud gave a short lecture about how the legend of the eye of Horus can be traced through to the symbol for "prescription" in medicine. The "Rx" is derived from the hieroglyphic symbols for the eye of Horus from old Egypt. How about that.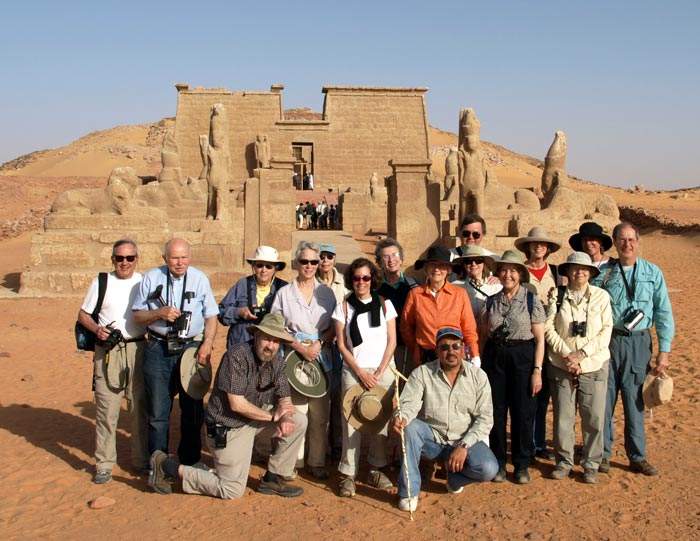 tour group

a

t wadi al–sebua
The afternoon's prime activity was Scrabble. Ag played a game, and I played a game. I also played George Whitehouse a chess game, and won. Lost a close Scrabble game. Tomorrow will be the last day with our travel group. It has been a congenial group, with no one acting like a jerk, the whole time. We'll do a few things in Aswan, then fly to Cairo to get ready to fly home.
Saturday' March 1' 2008—Aswan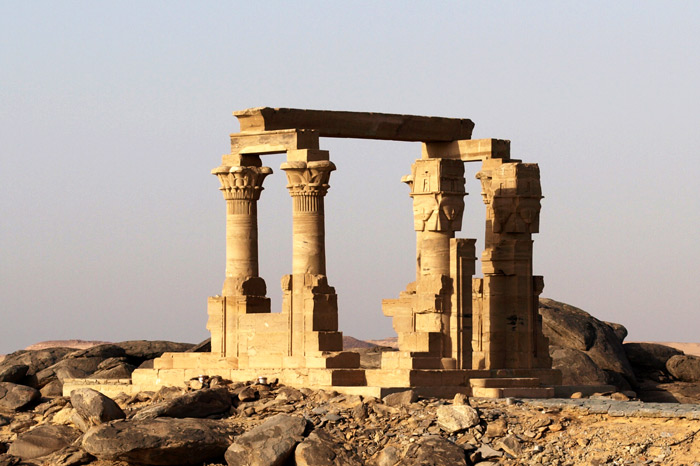 temple

o

f hathor

a

t philae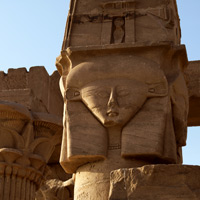 temple columns

a

t philae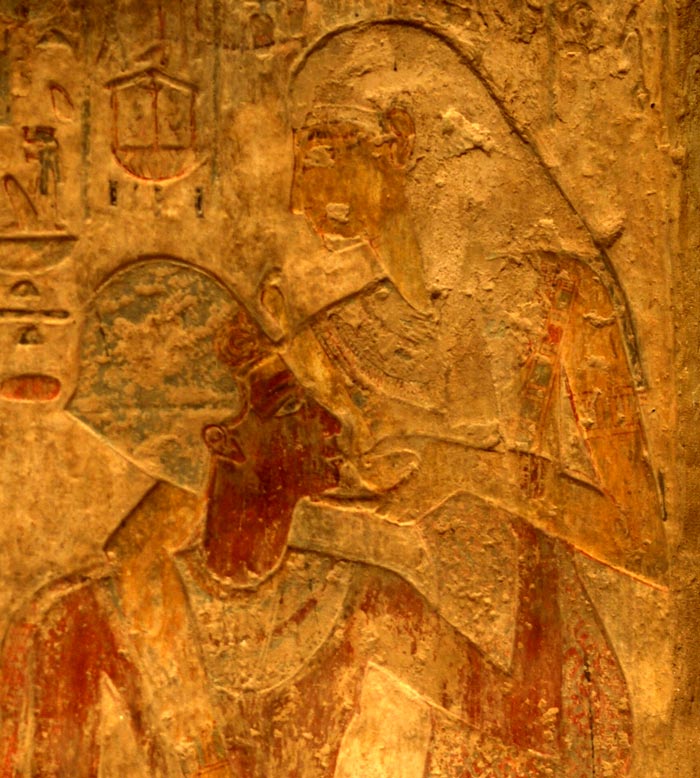 painted wall carving

a

t philae
This morning Mahmoud got us up early to see a few sights in Aswan. We took the Kasr Ibrim launch out to see the Temple of Kalabsha, the Temple of Mandulis, and a small temple' Bayt al-Wabi. After a while the temples all ran together. I do recall in one of today's temples, Ramesses II was trying to prove he was the son of a god. So his draftsman showed him suckling at a goddess's breast. True. I took a picture of it.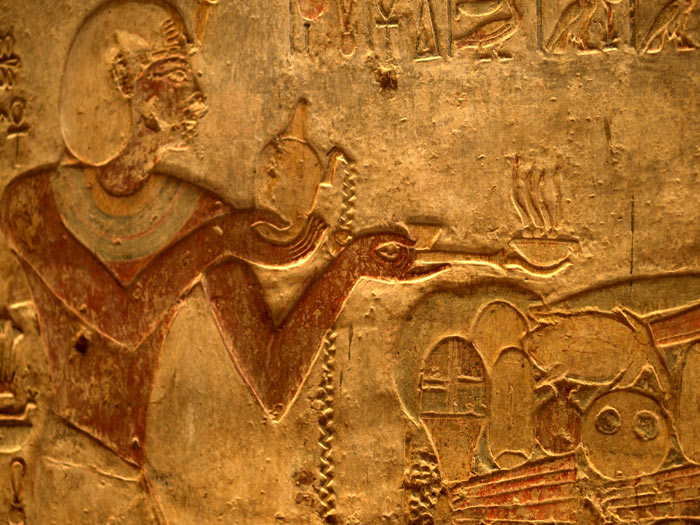 painted wall carvings

o

f food items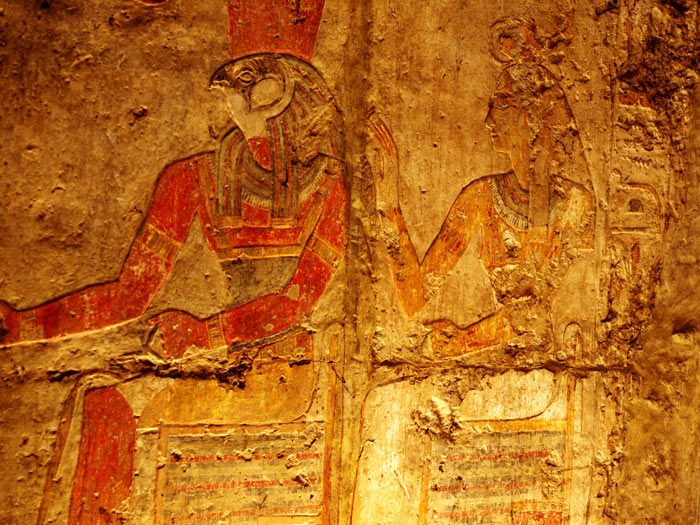 painted wall carving

o

f pharoah and queen
After lunch we visited the Nubian Museum, which is located close to the old Cataract Hotel. I enjoyed it very much, but I missed one statue which Ag and I remembered from last time. A standing pharaoh in slate or some other perishable black mineral. I don't think I was imagining it. I'll dig up my photo of it. I'm pretty sure I took a photo of it.
aswan museum—baboon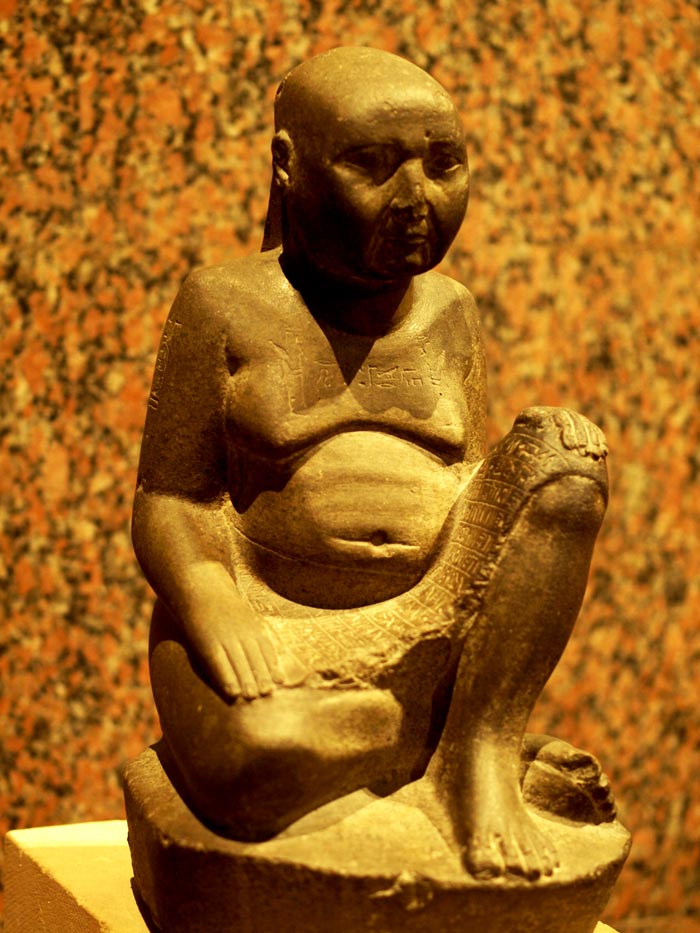 aswan museum—scribe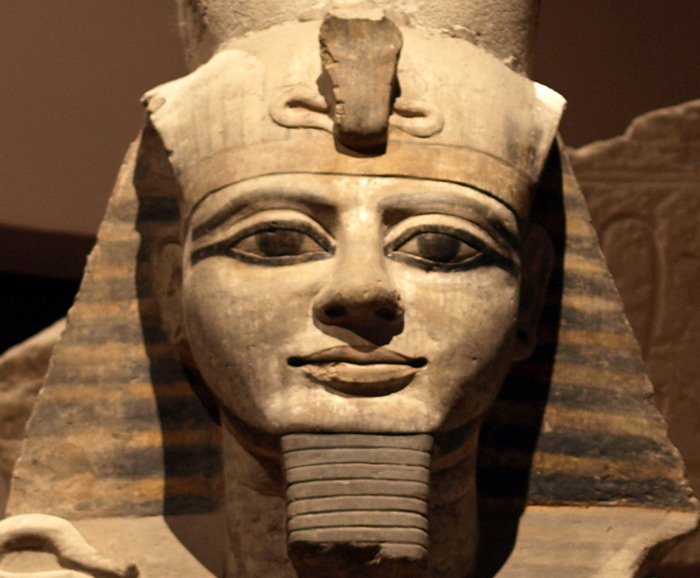 aswan museum—pharoah
In the late afternoon we took a flight to Cairo, to this number–one hotel. Tomorrow morning, back to Cairo International Airport, and fly home. Tonight we're at the Cairo Merriott Hotel, a super fancy hotel in a ritzy district in Cairo. Casino, Rich Arabs. The whole bit. Too bad we have to get up at 4:45 a.m. tomorrow morning, and so can't enjoy the place.